Nov. 23, 2022
Nov 23rd, 2022
With the classes winding down for many of our learners, I hope everyone had a good fall semester. It has been a rather busy few months and I want to extend my thanks to our staff and faculty who continue to support our learners in so many ways. If you see me in the hallway, please say hello and let me know how you are doing.
Twice recognized for research excellence
Congratulation to Dr. Lydia Goff, a PGY5 orthopedic surgery resident whose paper The Queen Bee Phenomenon in Canadian surgical subspecialties: An evaluation of gender biases in the resident training environment has been recognized by two national organizations. In October, Dr. Goff and her team received the Best Postgraduate Paper at the Canadian Conference on the Advancement of Surgical Education. Dr. Goff's team, which included Faculty of Medicine alumni Dr. Helena Greene and Dr. Alexandra Munn, also received the Canadian Society for Clinical Investigation (CSCI) Resident Research Award for Memorial University. As part of the CSCI award, Dr. Goff provided a presentation this week at the Faculty of Medicine and it was wonderful to hear about their research.
From left: Dr. Nicolas Smith, myself, Dr. Lydia Goff, Dr. Laurie Twells.
GivingTuesday
On Nov. 29, Memorial University is once again joining GivingTuesday, the global day-of-giving. This year, thanks to a generous group of donors, our Giving Tuesday Champions, gifts made between Nov. 27 and 29, 2022, will be matched up to $50,000 by Memorial University with a donation to the Thriving Student Fund.
Please consider joining us this Giving Tuesday by selecting the Thriving Student Fund on the donation form (or any other area at Memorial) to have your gift counted and matched! For more information, visit the GivingTuesday website. To share your giving story and motivate others on #GivingTuesdayCA, Memorial University is inviting donors to take an #UNselfie and share their message of support on social media between Nov. 27 and 29, 2022.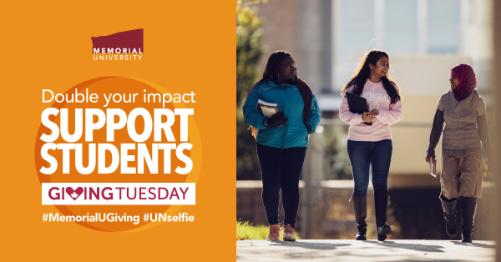 Meditation sessions
Weekly meditiation sessions are available every Tuesday at 12:30 p.m., and all learners, staff and faculty are welcome to attend. Faciliated by Faculty of Medicine learners and the Office of Learner Well-Being and Success, please email LWSwellbeing@mun.ca for more information.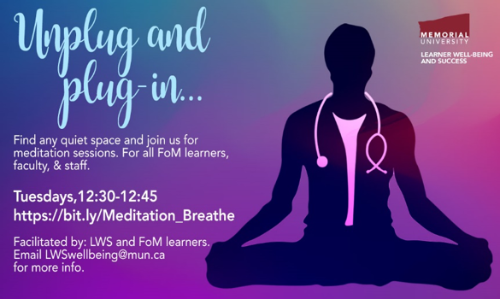 Faculty of Medicine holiday initiative
Many families and students at Memorial are struggling to make ends meet – let's work together as a faculty to make that easier to do this holiday season. Your support via donation is greatly appreciated.
The Faculty of Medicine is hosting an initiative in support of the Single Parent Association of Newfoundland (SPAN) and the food bank. Monetary or gift card donations are being accepted by etransfer to lisa.breen@mun.ca or can be dropped off in person to the Faculty of Medicine Admission Office, room 2M202.
IBM SkillsBuild
Through a partnership with IBM Canada, Memorial's Centre for Analytics, Informatics and Research (CAIR) is offering Memorial employees free access to IBM's digital training program SkillsBuild, which offers approximately 1,000+ online, self-paced courses for IT and non-IT jobs.
Some examples of courses include:
How to communicate effectively in the workplace.
Learn more about Diversity and Inclusion in the workplace.
Improve Microsoft Excel skills.
Fundamentals of Project Management.
Fundamentals of cybersecurity (no advanced computer skills needed).
Learn more about data science through the Data Fundamentals learning path.
Memorial University's Human Resources website had more information about this program and how you can register for SkillsBuild.
Five days of holiday kindness
Planning for the Five Days of Holiday Kindness is underway. During the week of Dec 5-9, there will be opportunities to purchase candy grams, donate to the Ronald MacDonald House Lights of Love Tree Season of Giving, and many other events. More information will be shared when available through the Office of Learner Well-Being and Success.
Memorial's Report to the Community
On Dec. 2 at 11 a.m., join President Vianne Timmons and campus leaders from across Memorial as we connect all of Memorial's campuses in a conversation and a questions and answers session about our connections to communities as part of the 2022 Report to the Community. You may join in person or virtually on Dec. 2 at www.mun.ca. More information can be found in the Gazette.
Joint Doctor of Medicine degree with UPEI
The first edition of the University of PEI's Faculty of Medicine e-news is now available. This newsletter will provide regular updates on the development of the joint degree program. You can sign up for the newsletter on the UPEI Faculty of Medicine website. Thank you to the many faculty and staff here and in Prince Edward Island who are working together to establish this new program.
The holiday break is quickly approaching and I hope you all have a good week. My final update for 2022 will be in December.