2015 awards
Dean's awards recognize remarkable faculty and staff
On April 27, the Faculty of Medicine recognized recipients of the Dean's Research and Service Excellence Awards, and the Max House Teaching Award for Excellence in Continuing Medical Education and Continuing Professional Development.

The Dean's Research Awards, created by Dr. James Rourke, recognize faculty members whose contributions to research in their fields have made them active and valued participants in Memorial's vibrant research community.

The Dean's Service Excellence Awards recognize outstanding contributions by non-academic staff in a division or discipline for job performance, service and dedication to faculty, staff and students, and contributions to the achievements of goals for educational programs.
SERVICE AWARD (MANAGERIAL)
JANET MCHUGH, MPM
Ms. McHugh joined Memorial in 1981, and is currently an admissions officer with the Faculty of Medicine. In her role, she interacts daily with the admissions committee, interview committee and prospective and current students. Additionally, she liaises with other departments within the medical school and the university. She was a key player in development and implementation a major change in the interview process to a hybrid of the Traditional and Multiple Mini Interview (TaMMI) in 2013. Ms. McHugh is a member of the MCAT (Medical College Admissions Test) Psychological, Social and Biological Foundations of Behavior (PSBB) Committee and the MCAT Validity Study Committee of the Association of American Medical Colleges.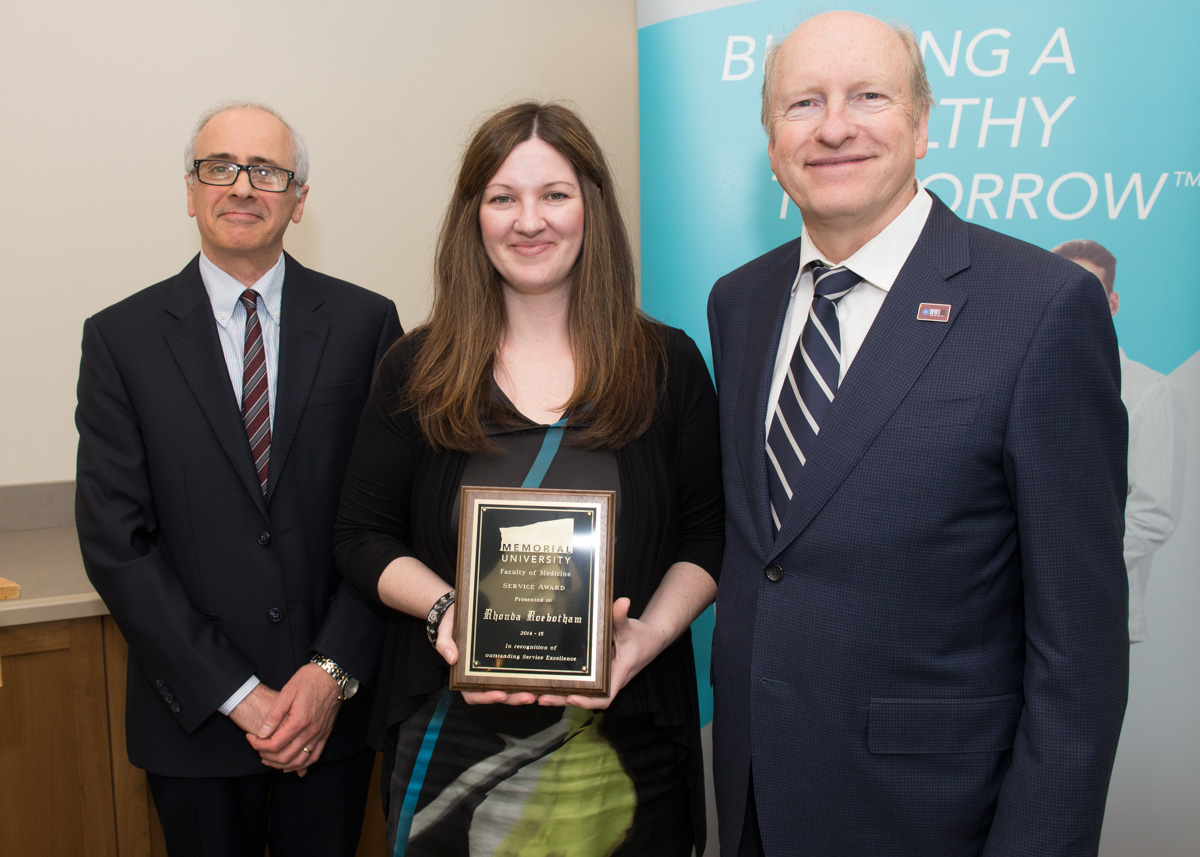 SERVICE AWARD (NON-MANAGERIAL)
RHONDA ROEBOTHAM
Ms. Roebotham began her career at Memorial in 2000 and is currently the academic program administrator with the Office of Research & Graduate Studies (RGS). Ms. Roebotham is responsible for providing academic advising and administrative support for graduate programs within the faculty.
She assumed the role of academic program assistant in 2007 and academic program administrator in 2011. Ms. Roebotham was involved in creating a practical, extracurricular workshop for graduate students in the Faculty of Medicine called Thesis Club. This workshop focuses on practical topics geared to graduate student success and has received very positive feedback from participating students.

The Dean's Research Excellence Awards recognize faculty members whose contributions to research in their fields have made them active and valued participants in Memorial's vibrant research community.
For this recognition, awards were presented at the junior and senior level to acknowledge exceptional faculty.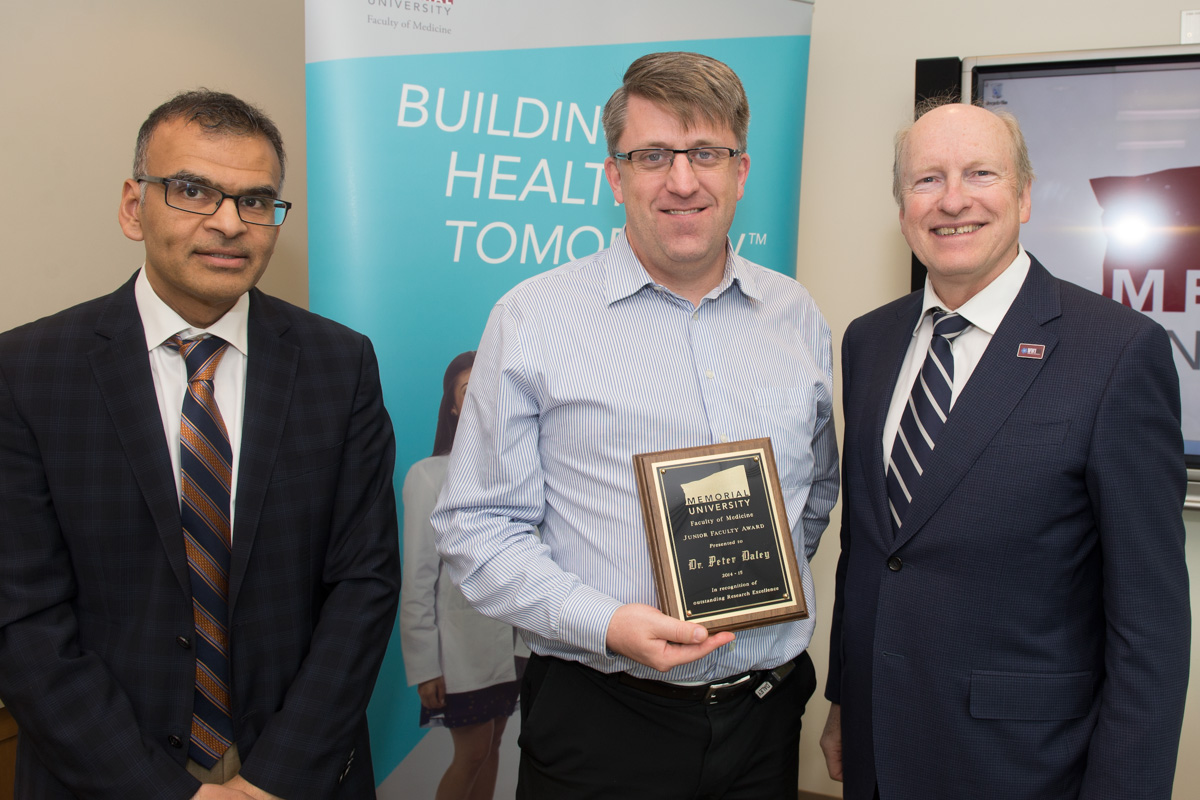 JUNIOR FACULTY AWARD (CLINICAL)
Dr. Peter Daley
Dr. Daley has been an assistant professor of medicine since 2011, with cross-appointments to laboratory medicine and clinical epidemiology. He is also the sole appointed infectious disease physician and functional chief medical microbiologist for the province of Newfoundland and Labrador. His contribution to clinical research is in the field of diagnosis and management of infectious diseases of humans. His work involving a randomized clinical trial of vitamin D as a treatment for tuberculosis was published in 2015. He has also published 15 other papers in diagnosis and epidemiology of tuberculosis.

He and his students have investigated urinary tract infection in long term care facilities, transfer of bacteria between humans and animals in an Aboriginal village, mastitis among cows, the impact of laboratory tests on physician behavior, algorithms of diagnostic tests, performance of commercial diagnostic tests, and recruitment of patients into corporate clinical trials of novel antibiotic therapies.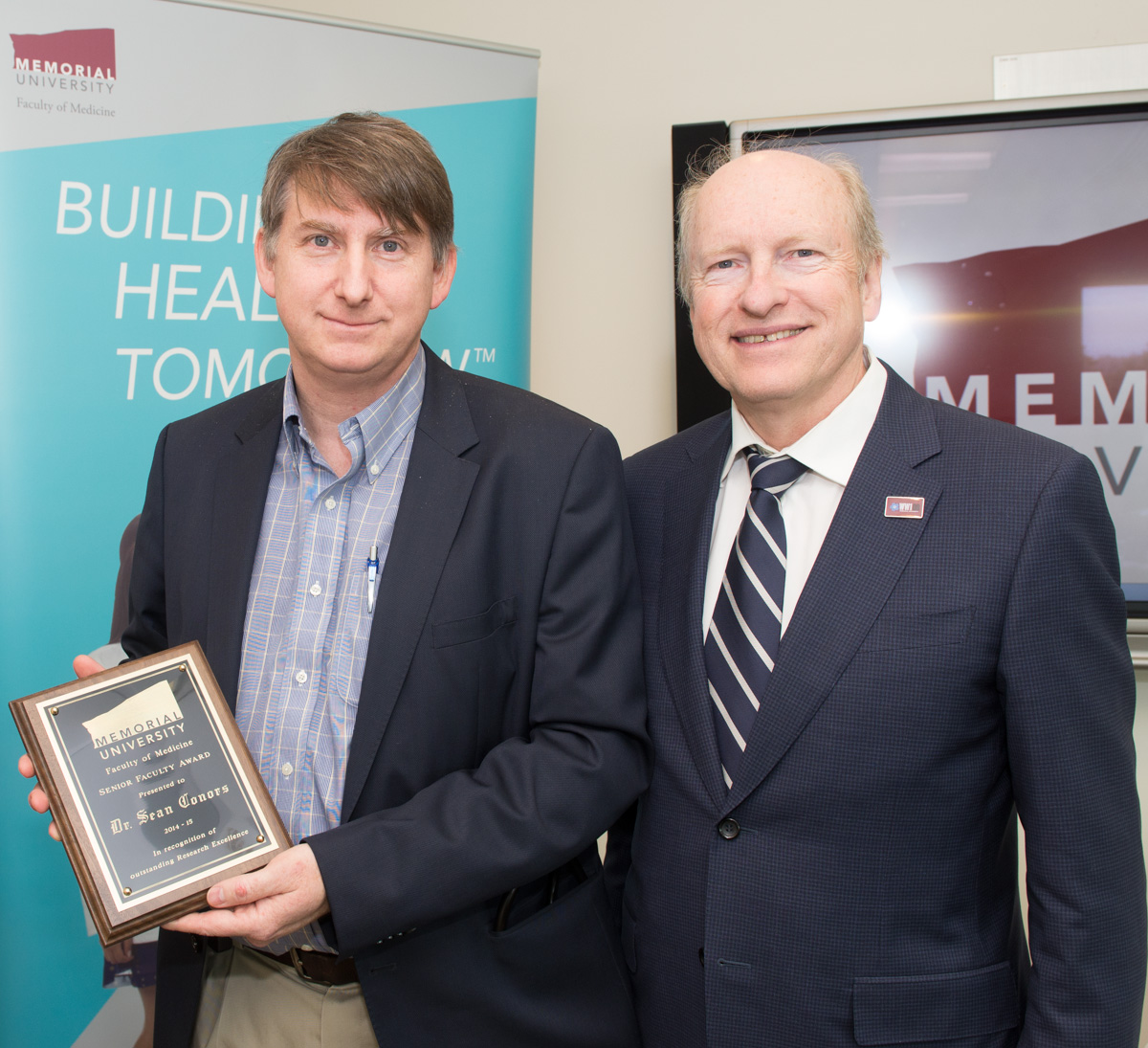 SENIOR FACULTY AWARD (CLINICAL)
DR. SEAN CONNORS
Dr. Connors is an associate professor of medicine and a staff cardiologist/electrophysiologist with Eastern Health. He completed his training at the Ottawa Heart Institute. When he began work in Newfoundland in 1999, a research cardiac genetics clinic was created and became an Eastern Health-funded clinic in 2004, due primarily to Dr. Connors advocacy and passion. He has headed this clinic since its inception.

Dr. Connors was the cardiac clinical lead for the team genetic/cardiac research projects which were aimed at elucidating the underlying genetic cause of arrhythmia and early sudden cardiac death (SCD). The team discovered a new causative gene for several families with arrhythmogenic right ventricular cardiomyopathy (ARVC) causing early SCD in Newfoundland. The team has subsequently learned that this gene is not limited to families in Newfoundland. This gene is now included in all commercially available genetic panels used for the diagnosis of ARVC worldwide.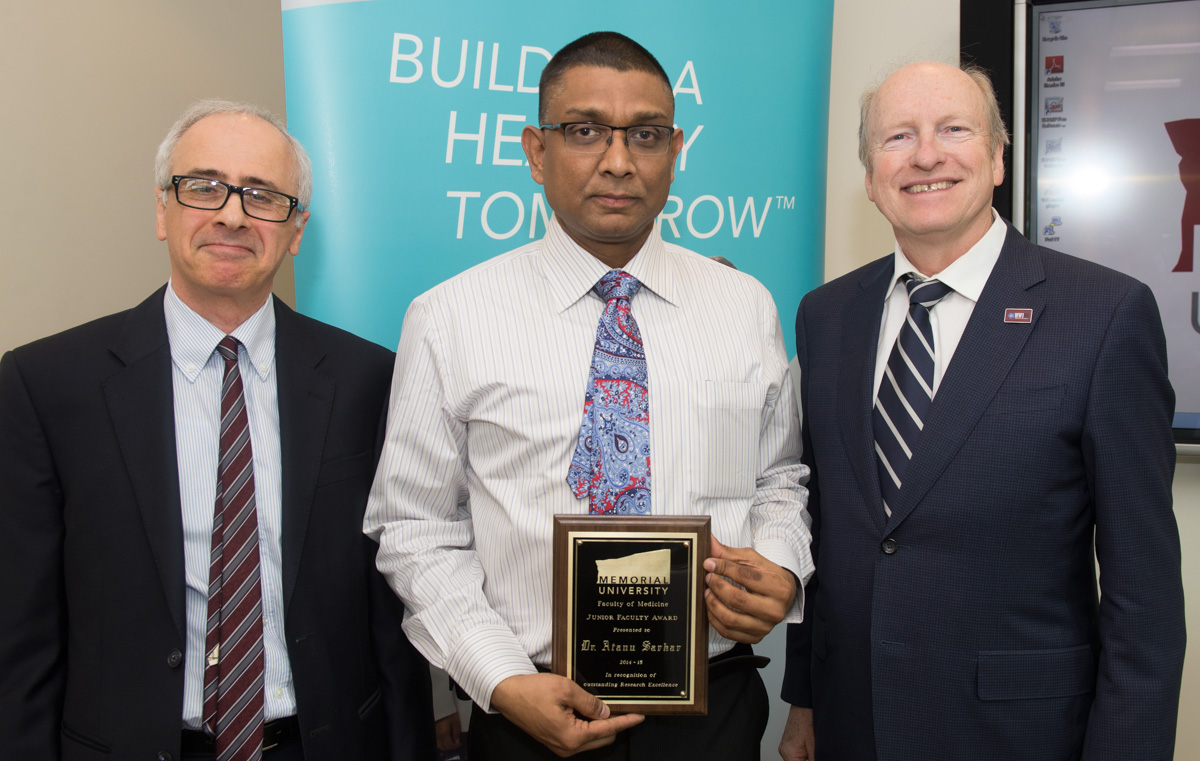 JUNIOR FACULTY AWARD (NON-CLINICAL)
DR. ATANU SARKAR
Dr. Sarkar joined the Division of Community Health and Humanities in 2010 as an assistant professor of environmental and occupational health. His primary interest is in the area of environmental contamination and its potential threat to human health. His focus area is in remote, rural communities of the province, particularly Aboriginal communities, and he is studying food security among vulnerable communities. Additionally, he is involved in studying aspects of occupational health such as the status and trends in employment benefits at Memorial.

As a principal investigator, Dr. Sarkar has led 11 research projects, and has been involved as a co-investigator in four additional research projects. In the last five years at Memorial University, Dr. Sarkar received several grants to carry forward his findings to an advanced level of researchMuch of Dr. Sarkar's research is of a collaborative nature with other faculties, campuses and universities as well as communities, community based organizations and governments.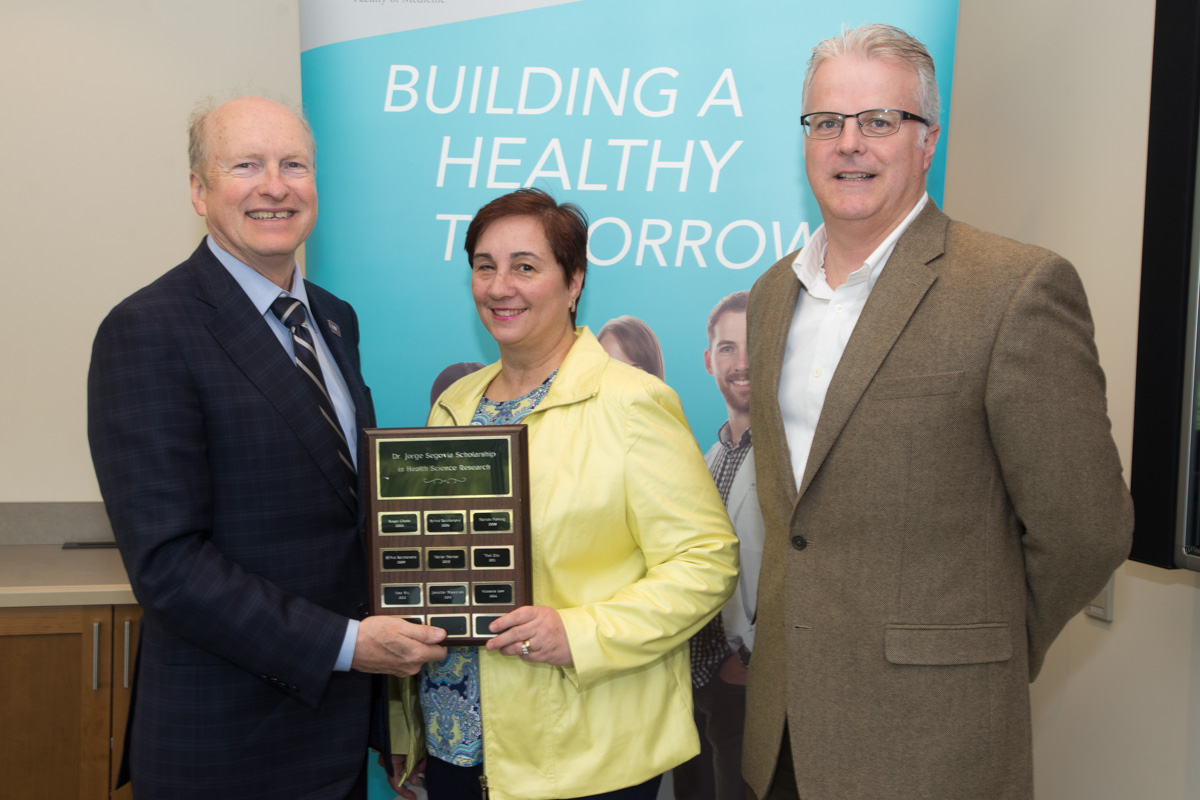 Max House Teaching Award
Dr. Susan MacDonald
The Max House Teaching Award acknowledges outstanding contribution of an individual to advancing CME/CPD planning, teaching and/or scholarly activity for physicians and health professionals.

This year the awardee for the Max House Teaching Award, Dr. MacDonald, is recognized for her excellence in continuing medical education and continuing professional development, and dedication and commitment to providing teaching to healthcare professionals, students and the general public.