Current Projects
Current Projects

Health Research Innovation Team in Multiple Sclerosis (HITMS)

Working with Dr. Craig Moore and Dr. Mark Stefanelli, our objective is to track MS annually for ten years using innovative methods in a cross-disciplinary team. We will identify novel biomarkers and disease targets to limit progression in MS. Specific research questions:
1. Can we identify novel cellular mechanisms responsible for promoting inflammation in MS?
2. Do these markers relate to changes in brain imaging, cognitive/physical performance, drug therapy, and/or disease relapse and progression?
3. Does brain atrophy and excitability of the brain correlate with subtle deficits in cognitive/physical performance such as dual-task ability (walking and thinking at the same time)?
Participants will be enrolled and data will be updated annually during regularly scheduled visits to the MS clinic (or in the event of a change in the participant's clinical status/medications). The study duration is anticipated to continue for at least 10 years (2015-25).

The following data profiles will be captured for each study participant: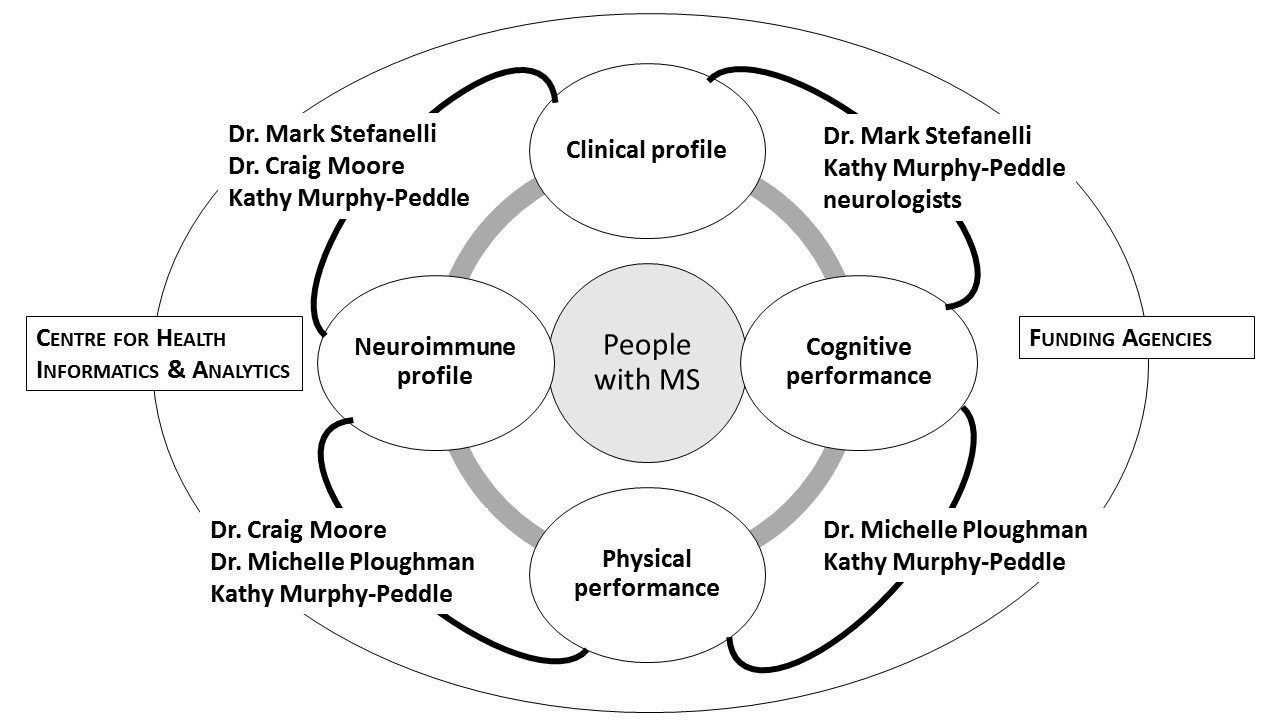 Please see our brochure for more information about the HITMS project


FLOW TRIAL: FLUOXETINE to OPEN the CRITICAL PERIOD TIME WINDOW TO IMPROVE MOTOR RECOVERY AFTER STROKE
We are a provincial site for the FLOW trial, a national clinical trial funded by Brain Canada, and Heart and Stroke Foundation Canadian Partnership for Stroke Recovery.
This multi-year trial aims to recruit 176 stroke patients across multiple (5-10) sites in Canada. Half of the participants will be given fluoxetine (Prozac) while the other half will be given placebo. All participants will undergo a 12-week structured exercise program while they are on drug/placebo. All study participants will undergo evaluation at baseline, immediately following the exercise program, and 6 months post-intervention.
For more information see the study protocol here.


Recent Publications

Submitted

DA Galloway, SN Blandford, T Berry, JB. Williams, M. Stefanelli, M. Ploughman, and CS Moore. miR-223 Promotes Regenerative Myeloid Cell Phenotype and Function in the Demyelinated Central Nervous System. Revision Requested GLIA Sept 2018
Devasayaham AJ, Kelly LP, Wallack, EW

, Ploughman M. Oxygen cost during mobility tasks and its relationship to fatigue in progressive Multiple Sclerosis. Submitted Archives Physical Medicine and Rehabilitation Sept 2018.
Jodi Edwards, Sandra Black, Shaun Boe, Lara Boyd,

Arthur Chaves

, Robert Chen, Sean Dukelow, Joyce Fung, Adam Kirton, Jed Meltzer, Zahra Moussavi, Jason Neva, Caroline Paquette, Michelle Ploughman, Sepideh Pooyania, Tarek Rajji, Marc Roig-Pull, Francois Tremblay, and Alexander Thiel. Canadian Platform for Trials in Non-Invasive Brain Stimulation (CanStim) Consensus Recommendations. Submitted Int J Stroke Sept 2018.
Chaves AR, Kelly LP

, Moore CS, Stefanelli, M, Ploughman M. Prolonged cortical silent period is related to poor fitness and fatigue, but not TNF, in Multiple Sclerosis. Submitted Clinical Neurophysiology Sept 2018
Downer, MB, Wallack EM

, Ploughman M. Octogenarians with multiple sclerosis: Lessons for aging in place. Submitted Canadian Journal on Aging August 2018.
Chaves AR, Wallack EM, Kelly LP

, Stefanelli M, Moore CS, Ploughman M. Asymmetry of Brain Excitability: A New Biomarker that Predicts Objective and Subjective Symptoms in Multiple Sclerosis. Revisions requested Behavioural Brain Research Sept 2018.
King M, Kelly LP Wallack E, Hasan, S.M.M., Kirkland MC, Chatterjee T, Curtis M,

McCarthy J, Ploughman M. Serum levels of Insulin-Like Growth Factor-1 and Brain Derived Neurotropic Factor as potential recovery biomarkers in stroke. Submitted Neurological Research May 2018.
Wallack EM

, Stockley C, Ploughman M, Butler R. Informing a telehealth intervention: Primary care physicians' perspectives on dementia management among rural community-dwelling Canadians. Submitted Canadian Family Physician Feb 2018
Devasahayam, A.J

,

Wallack, E.M

, Ploughman, M. Gaps in Medicare and the Social Safety Net Predict Financial Strain among Older Canadians with Multiple Sclerosis. Revisions Submitted to Journal of Disability Policy Studies June 2018.

Published

Abraha, B., Chaves AR., Kelly LP, Wadden K., Wallack EM

, McCarthy J., Ploughman M. A Bout of High Intensity Interval Training Lengthened Nerve Conduction Speed to the Non-Exercised Affected Limb in Chronic Stroke. Frontiers in Physiology July 2018
Kirkland MC, Downer MB, Holloway BJ,

Wallack EM, Lockyer EJ, Buckle NCM, Abbott CL

, Ploughman M. Bipedal hopping timed with a metronome to detect impairments in anticipatory motor control in people with mild multiple sclerosis. Clinical Biomechanics April 2018.
Barrett M, Snow JC, Kirkland MC, Kelly LP, Gehue M, Downer MB

, McCarthy J, Ploughman M. Excessive Sedentary Time during In-Patient Stroke Rehabilitation. Topics in Stroke Rehabilitation 2018 Apr 3:1-9. doi: 10.1080/10749357.2018.1458461.


Wallack E, Harris C

, Ploughman M., Butler R. Telegerontology as a novel approach to address health and safety by supporting community-based rural dementia care triads: randomized controlled trial protocol. Journal of Internet Medical Research Protocols 2018 Feb 22;7(2):e56. doi: 10.2196/resprot.8744.
Crozier J, Roig M, Fung, J, Thiel A, Giacomoantonio N., Eng JJ, Mackay-Lyons Trivino M, Ploughman M, Sweet SN, Bailey DM, Tang A. High-Intensity Interval Training in Stroke: An Opportunity to Promote Neurorecovery and Cardiovascular Health in Stroke Rehabilitation. Neurorehabilitation and Neural Repair March 2018.
Grover G

, Ploughman M, Philpott DT,

Kelly LP, Devasahayam AJ, Wadden K

, Power KP, Button DC. Environmental temperature and exercise modality independently impact neuromuscular performance in people with multiple sclerosis. Multiple Sclerosis Journal- Experimental Translational Clinical 2017 Dec 21;3(4):2055217317747625. doi: 10.1177/2055217317747625. eCollection 2017 Oct-Dec.
Ploughman M. As we enter a new era of multiple sclerosis rehabilitation, what can we learn from stroke? Invited Commentary The Lancet Neurology 2017 Oct;16(10):768-769. doi: 10.1016/S1474-4422(17)30301-0. 017 Sep 12. PMID:28920876.
Kelly LP, Devasahayam AJ, Chaves AR, Wallack EM,

McCarthy J, Basset FA, Ploughman M. Intensifying functional task practice to meet aerobic training guidelines in stroke survivors. Frontiers in Physiology (Clinical and Translational Physiology) 2017. https://doi.org/10.3389/fphys.2017.00809
Devasahayam, A.J, Downer M.B

., Ploughman, M. The effects of aerobic exercise on the recovery of walking ability and neuroplasticity in people with multiple sclerosis: A systematic review of animal and clinical studies. Multiple Sclerosis International 2017. https://doi.org/10.1155/2017/4815958
Ploughman, M,

Shears, J,

Quinton, S, Flight, C, O'Brien, M, MacCallum, P,

Kirkland, M.C

, Byrne, J.M. Therapists' Cues Influence Lower Limb Muscle Activation and Kinematics During Gait Training in Subacute Stroke. Disability and Rehabilitation Oct 17:1-8. doi: 10.1080/09638288.2017. PMID:29041823
Garland SN, Scurrey SR, Ploughman M. Prevalence and Predictors of Poor Sleep in Individuals with Multiple Sclerosis. International Journal of Behavioral Medicine June 2017 doi: 10.1007/s12529-017-9653-4 IF 1.89
Ploughman M. Breaking down the barriers to physical activity among people with multiple sclerosis. A narrative review Physical Therapy Reviews. April 2017 doi: 10.1080/10833196.2017.1315212.