Nov. 9, 2022
Nov 9th, 2022
With clocks "falling back" last weekend and ending Daylight Savings, I hope you have all adjusted to the change in daylight.
Remembrance Day
November 11 is Remembrance Day, a day to honour the memory of all those who risked their lives for freedom during World Wars I and II. Established as a memorial to the Newfoundlanders and Labradorians who lost their lives on active service during the First World War and subsequent conflicts, Memorial University draws inspiration from these sacrifices of the past as we help to build a better future for our province, our country and our world.
So much has happened over the span of the COVID-19 pandemic. I hope you will take time to reflect on the resilience of our people, and what we can do to be compassionate and kind to individuals and their families who are struggling in many ways as a result of our recent challenges.
Accreditation excellence
On Nov. 9, we held a small celebration in the atrium to celebrate the results of our Undergraduate Medical Education accreditation. President Vianne Timmons, O.C., attended to congratulate us on this education excellence recognition. Receiving a full accreditation status is a great accomplishment and once again, I would like to thank all faculty, staff and learners for your time and attention given to this important process for our undergraduate medical education program.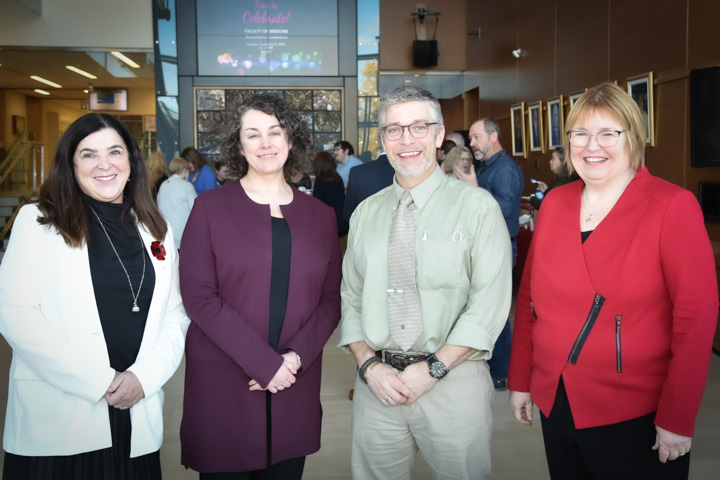 Photo by Jennifer Armstrong, Faculty of Medicine
Strategic planning days
On Wednesday, Nov. 2 and Friday, Nov. 4, we held two half-day sessions for the Faculty of Medicine's strategic plan Destination Excellence. Both sessions were offered in person and online to help include as many people as possible, from any location.
There were engaging discussions as well as presentations from working groups such as: culture of excellence, EDI, internationalization and the balanced score card. We also had panel discussions on accreditation for Undergraduate medical education, postgraduate education as well as the update on the Academic Unit Program for graduate programs in the Division of Biomedical Sciences and the Division of Community Health and Humanities and the importance of advancing excellence in our educational programs. In addition, we had a session to look at how to revise our strategic plan, which ends in 2023.
Our keynote speaker, who presented on Nov. 4, was Dr. Paul Banahene Adjei, Interim Associate Vice-President (Indigenous Research) and Interim Dean, School of Social Work. His presentation, The Scientization of Race and Black Pathology, was extremely informative. He discussed the ways in which medicine — and in particular, psychiatry — has in the past developed psychiatric diagnoses related to Black slaves wanting to escape and Black people advocating for civil rights. He also described some unethical practices such as the study of medications for syphilis in Black individuals in the United States, where some study participants were not given medication when an effective treatment was already available, which led to people dying. As a psychiatrist, I had never learned of these psychiatric diagnoses and it made me reflect on how we need to learn more about our history in medicine and the treatment of non-white individuals. One of Dr. Adjei's key messages was the importance of educating our learners, staff, faculty and the public about how we can treat Black individuals in a humane and compassionate manner.
Many thanks to all our presenters, facilitators, note takers, Adam Siscoe from HSIMS and participants who all contributed significantly to another successful strategic planning events. Special thanks to Ms. Gerona McGrath, project manager for the strategic plan, and the other members of the strategic planning committee:
Dr. Shane Arsenault
Ms. Terri Coles
Dr. Ann Dorward
Dr. Dolores McKeen
Ms. Cindy Whitton
Dr. Margo Wilson
2021-22 annual report
Our annual report, which encompasses news and updates from Apr. 1, 2021 to Mar. 31, 2022, is now available. This includes updates about the undergraduate medical education degree with the University of Prince Edward Island, updates for Destination Excellence and stories about public engagement activities, research breakthroughs, donor support and more. A digital version is available on our website. Printed copies are also available — you may contact our Communications Office to receive a hard copy.