Resident Research Day 2023
Mar 29th, 2023
On Jan. 30, 2023, the Faculty of Medicine hosted a Resident Research Symposium. Dr. Michael Strong, President of the Canadian Institutes of Health Research (CIHR), visited Memorial University's Faculty of Medicine in person and provided a keynote address for the symposium.
The Resident Research Symposium provided a valuable opportunity to raise the profile of our residents and their work, and to communicate to the wider community about the great clinical research underway at the Faculty of Medicine.
Resident research
Dr. Adam Comerford's research project was a retrospective cohort study looking at the maternal and neonatal outcomes of metahdone use during pregnancy. Dr. Comerford obtained data form the NL Perinatal Program at the Janeway in St. John's for the period between 2005 and 2020 to compare the outcomes of patients who do or do not use methadone. The findings indicated methadone use in pregnancy was associated with higher rates of preterm birth, fetal growth restriction and newborns requiring NICU admission. They also found an association between methadone use and microcephaly, but no other increased risk of congenital anomalty, and were able to determine significant difference in maternal demographic and social factors that can help with clinical counselling.
Dr. Kayleigh Maxwell's research project concerned the rate of ischemic heart disease (IHD) in Newfoundland and Labrador, which is one of the highest rates in Canada. The province also has an aging population with significant comorbidities, and frailty is an established predictor of worse outcomes in IHD. Fraility and quality of life are multidimensional variables that have not been extensively studied in the province's population. Dr. Maxwell's research is a prospective cohort study to determine the impact of frailty on mortality and morbidity for elderly patients with acute coronary syndrome (ACS) in Newfoundland and Labrador, to evaluate the relationship between frailty and quality of life for elderly patients with ACS in the province, and to supprot the deveopment of a scoring assessment tool to be administered to patients undergoing ACS care in the province to help guide management decision making. Frailty, quality of life and comorbidity assessments were completed for 280 patients with ACS in the province, with mortality and quality of life reassessed at the one-year mark. When controlling for all confounders, there was a significant correlation between higher livels of frailty and mortality in ACS patients, and the preliminary data shows a significant relationship between frailty and mortality of ACS events and quality of life at the time of the event, independent of other comorbidities and treatment factors.
Dr. Garrett Tingley's research project evaluated the impacts of a Department of Anesthesia initiative on length of stay and pain scores after cervical spine surgery. The Department of Anesthesia created a quality-improvement initiative promoting multimodal analgesia during surgery and postoperative pain control facilitated by an acute pain team after cervical spine surgery. The results of the study demonstrate a median reduction in length of stay of two days, as well as reductions in pain scores at rest and activity at 24 and 48 hours.
Dr. Rebecca Quilty's research project investigated Lyme disease, an infection spread to humans by the black-legged tick. In many areas of Canada, especially Nova Scotia, it is possible to contract Lyme disease. A late phase of Lyme disease is Lyme arthritis, which involves joint inflammation. Lyme arthritis can look like other joint infections that require emergent and invasive therapy, whereas Lyme arthritis is managed as an outpatient with antibiotics. The current standard diagnostic testing for Lyme arthritis is a blood test that performs well, but takes days to weeks to get a result. Dr. Quilty's aim was to test a new rapid blood test, the Sofia fluorescent immunoassay (SFIA), to see how well it worked to diagnose Lyme disease, with a goal to quicken that diagnosis. They used stored blood samples from children in Nova Scotia that were previously tested for Lyme disease by the current standard testing method, and we tested them with the SFIA. We compared the results for Lyme disease testing obtained with the SFIA to the standard testing method. We found that the SFIA performed well to diagnose and rule out Lyme disease with high sensitivity (100%) and specificity (96.4%). The SFIA holds promise as an effective point-of-care test for Lyme disease to help enable appropriate care and avoid unnecessary treatments.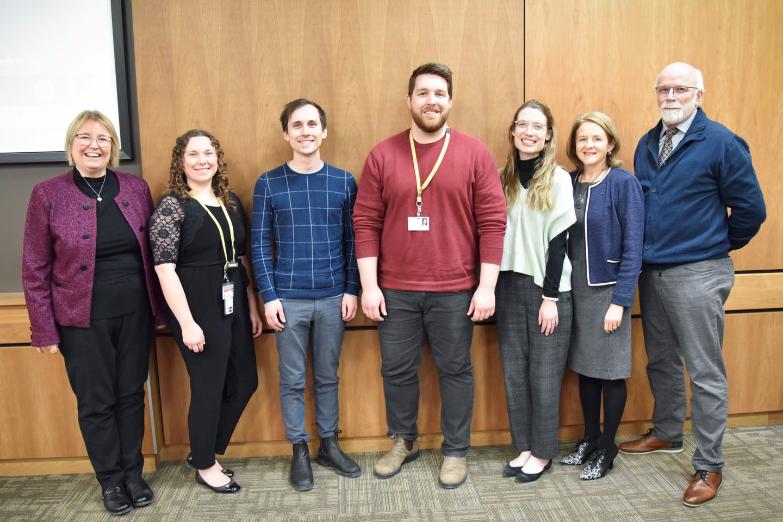 From left: Dr. Margaret Steele, Kayleigh Maxwell, Garette Tingley, Adam Comerford, Rebecca Quilty, Dr. Laurie Twells, and Dr. Michael Strong