Oct. 11 2022
Oct 11th, 2022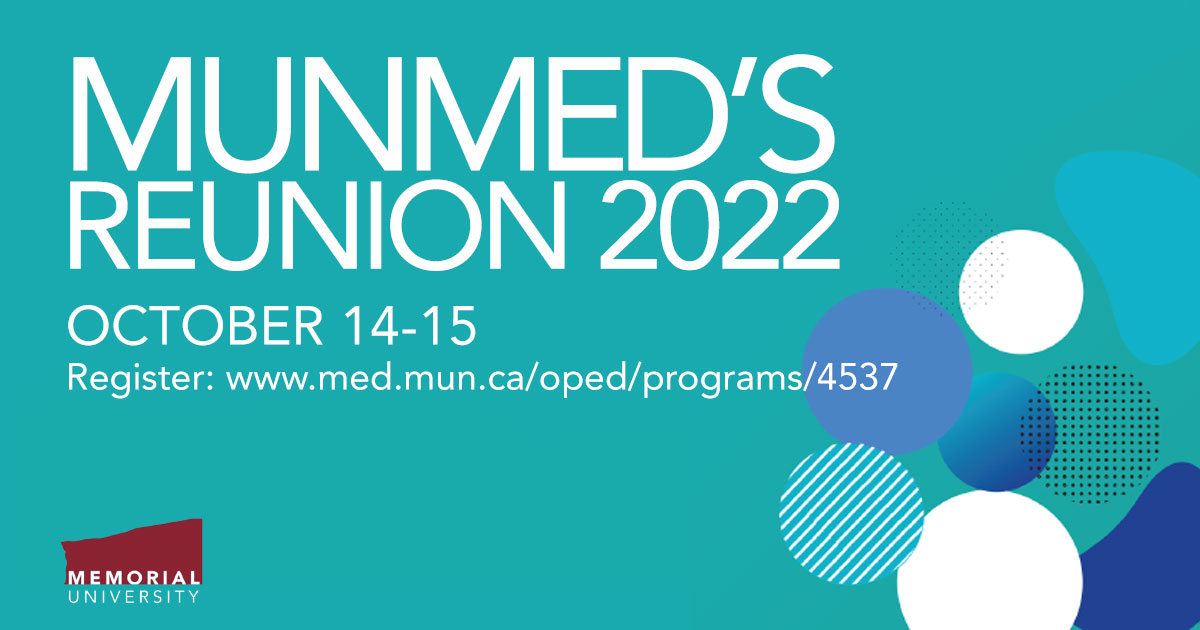 If you are a graduate from our Doctor of Medicine program, I hope you will join us for this year's MUNMed Reunion of 2022. We will be celebrating and honouring the graduates from the classes of 1977, 1982, 1987, 1992, 1997, 2002, 2007, 2012 and 2017. The reunion weekend will include two days of social activities, educational lectures, and plenty of time to reminisce with old and new friends. For more information and to register, please see the link. I look forward to seeing you there! https://bit.ly/medreunion2022
Destination Excellence 2022 planning half days
Registration is now open to all Faculty of Medicine faculty, staff, and learners for the 2022 Destination Excellenceupdate and planning half days. This year's sessions will take place on Wednesday, Nov. 2, 1 - 5 p.m. and Friday, Nov. 4, 9 a.m. to 1 p.m.
You will be able to take part in the sessions on-site at the Faculty of Medicine or online. Come hear about all the excellent work the project teams have been doing and about other significant initiatives at the Faculty of Medicine, such as the collaboration with the University of Prince Edward Island.
There will also be a plenary session on Equity, Diversity, Inclusion, and Anti-Racism (EDI-AR) offered by Dr. Paul Banahene Adjei, Interim Associate Vice-President (Indigenous Research) and Interim Dean, School of Social Work. )
To register for the November 2 session (1 p.m. to 5 p.m.): https://bit.ly/de22-1
To register for the November 4 session (9 a.m. to 1 p.m.): https://bit.ly/de22-2
If you have any questions about the sessions, please contact Gerona McGrath (gerona.mcgrath@med.mun.ca)
Alumna of the year
We are very proud of our alumni and I would like to share that earlier this month, Dr. Lisa Barrett, from the class of 2005 was named the Alumna of the Year at Memorial's Tribute Awards!
The Tribute Awards recognize alumni who have achieved distinction in their chosen fields, are committed to their alma mater and have made outstanding contributions to their communities. Dr. Barrett has created a legacy of selflessness through her trailblazing work with infectious disease. During the pandemic, she was centre stage as a trusted media spokesperson who contextualized public health policies in Nova Scotia. She maintains strong ties to Memorial and her home province through collaboration with researchers on immunology, public health and advocacy efforts. Congratulations Dr. Barrett!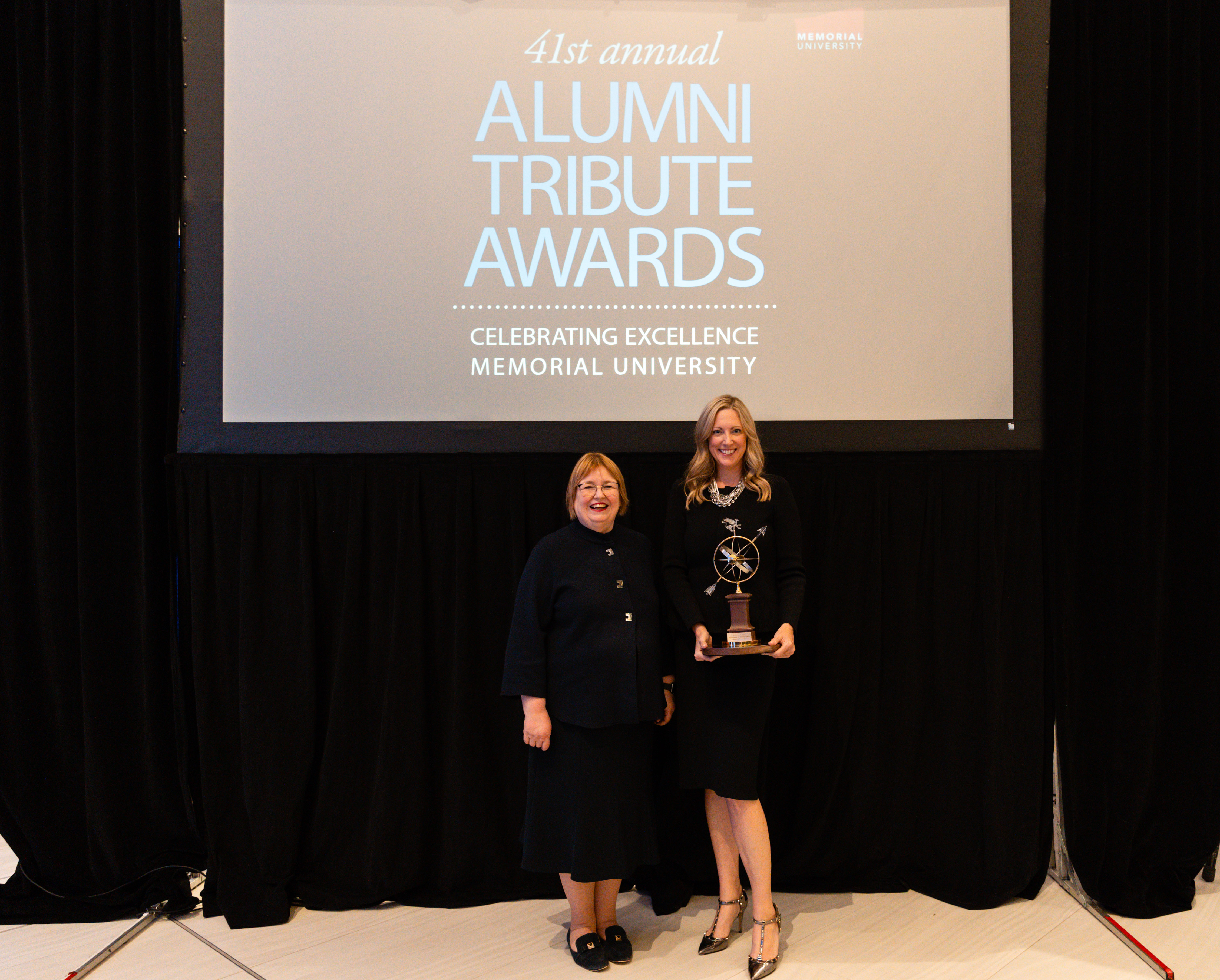 Excellence and achievement
Congratulations to Dr. Catherine Donovan and Dr. Proton Rahman of Memorial's Faculty of Medicine, and to Faculty of Medicine alum Dr. Janice Fitzgerald, on their investiture to the Order of Newfoundland and Labrador. As leaders in our province health-care systems and within your specialized fields, it is wonderful to see you recognized with this honour.
Employee service recognition
Last week, a ceremony was held recognizing employees who have reached 30+ years of service with Memorial University in 2021. We have a number of employees in the Faculty of Medicine who were celebrated, including:
30 years
Kenneth Ledez
Colleen Trelegan
Patricia Whelan
35 years
Judith Ford
Alan Goodridge
Sheila Mllins
Sharon Peters
Carol Ann Walker
40 years
Patrick Webber
On behalf of the Faculty of Medicine, I would like to thank all of these individuals who have made significant contributions to the Faculty!
National leadership recognition
Congratulations to Dr. Shane Arsenault on receiving the Kristin Sivertz Resident Leadership Award from the Royal College of Physicians and Surgeons of Canada. This award is given to a resident who has demonstrated leadership in Canadian specialty education and encourages the development of future leaders in medicine. Congratulations Dr. Arsenault!