April 27, 2023
May 2nd, 2023
National rural education recognition
I am excited to share with you that our Faculty of Medicine at Memorial University of Newfoundland has once again received both the Keith Award and the Rural Medical Education Award from the Society of Rural Physicians Canada (SRPC)!
This is the tenth time we have received the Keith Award which is presented to a Canadian post-graduate program which has excelled in producing rural family doctors. It identifies the university with the largest number of graduates of family medicine residency programs practicing in rural Canada for the most recent 10 years after graduation.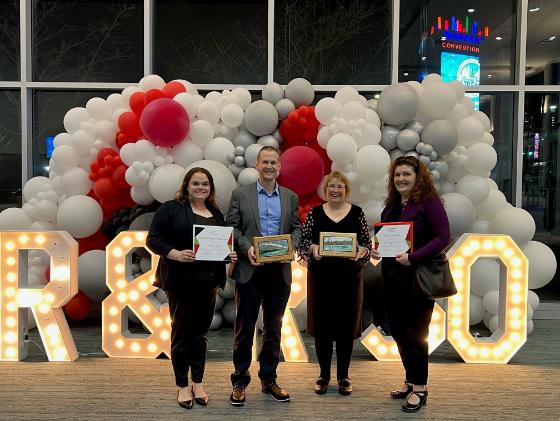 From left: Ms. Allison Best, Dr. Andrew Hunt, myself, and Dr. Lyn Power
The Rural Medical Education Award is presented annually to the program matching the most graduates to rural family medicine residency. Memorial also received this award in 2008, 2019, 2020 and 2021.
In addition to the Faculty of Medicine receiving these two awards, we also had some faculty and learners recognized during the SRPC Awards ceremony on Friday, April 21. Dr. Lyn Power from Burin, N.L. received a Rural Service Award; Dr. Samantha Harper from Happy-Valley Goose Bay received a Fellowship of Rural and Remote Medicine; Ms. Allison Best from the Doctor of Medicine Class of 2023 received a Student Leadership Award; and Mr. Daniel Pearce from the MD Class of 2024 received a Student Essay Award. Congratulations everyone – we are so proud of you!
Volunteer Group of the Year
Earlier this month, the Medical Graduate Student Society (MGSS) won Volunteer Group of the Year from Memorial's Student Volunteer Bureau. The MGSS has helped to organize many fundraisers, planned events – including helping to plan the annual Monte Carlo Charity Gala; advocating for fellow students and continuously sharing important information with them.
Congratulations to the MGSS executive and all of our graduate students for the many wonderful activities you have organized and promoted and for winning this Volunteer Group of the Year award!!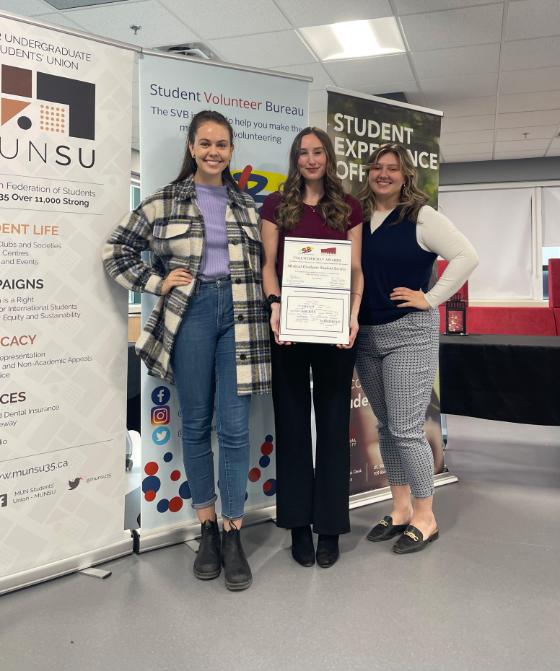 From left: Alison MacDonald, Jennifer Bent, Hilary Hennessey
Undergraduate Medical Education Accreditation Lead announced
I am pleased to welcome Dr. Jasbir Gill, Associate Professor, Discipline of Psychiatry, as the new Faculty Undergraduate Accreditation Lead (FUAL). Dr. Gill has extensive leadership experience in undergraduate medical education and will be leading us through our next accreditation cycle, with a Committee on Accreditation of Canadian Medical Schools (CACMS) follow up report due in 2024 and a formative interim review scheduled for 2026. Previously in this position was Dr. Taryn Hearn, who was also fulfilling her role as Associate Dean of Undergraduate Medical Education. Thank you Dr. Hearn for your leadership during our most recent accreditation and the months that have followed.
Join us for the next stage of Destination Excellence 2027 strategic planning
All Faculty of Medicine learners, faculty and staff are welcome to attend a strategic planning event that will be held on May 25, 9 a.m. to 1 p.m. The focus will be on strategic opportunities, examining challenges and reflecting on priorities for the coming years. Please consider registering so that you can be a part of the dialogue, collaboration, reflection and learning. To register, please visit the Office of Professional and Educational Development site.
Meridith Marks Mentorship Award presentation
On March 28, we held an event to present the Meridith Marks Mentorship to Dr. Rachel Ellaway, a professor in the Department of Community Health Sciences, and Director of the Office of Health and Medical Education Scholarship for the Cumming School of Medicine at the University of Calgary. The This Award recognizes an individual who excels in the mentorship of those involved in medical education scholarship and innovation.
The award commemorates the life and work of Dr. Meridith Marks, an alumna of the Faculty of Medicine, MD Class of 1987. The award was established in 2014 through the generous support of members of Dr. Marks' class, her family and the Faculty of Medicine.
Unfortunately, I was unable to attend the award presentation due to weather-related travel delays, but I would like to thank Dr. Reza Tabrizchi, Vice Dean, Research and Graduate Studies, for presenting this prestigious award to Dr. Ellaway.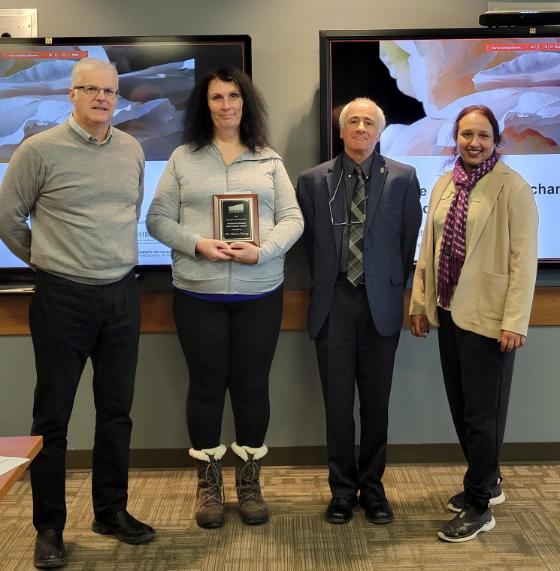 From left: Dr. Vernon Curran, Dr. Rachel ellaway, Dr. Reza Tabrizchi and Dr. Jinelle Ramlackhansingh
Photo by Jennifer Armstrong
In addition to receiving her award, Dr. Ellaway also presented a lecture on Challenges of changing medical education and a workshop entitled What kind of scholar are you? Thank you to everyone who was able to attend these events which I hear encouraged interesting discussions.
CLSC booking requests are now open for Fall 2023
The Clinical Learning and Simulation Centre (CLSC) is accepting session requests from Faculty of Medicine users for curriculum held from August 28 – December 21, 2023. Requests will only be accepted via the online booking form, which can also be found on the CLSC website.
Faculty of Medicine undergraduate and postgraduate curriculum is given priority up to June 1, 2023. Bookings are then opened to outside users. Please note a friendly reminder that the Standardized Patient (SP) Program has a high demand and requires time to arrange, recruit, and train our SPs.
Please list all requirements for your session on your booking request form. If your session requires the use of task trainers, SPs, high-fidelity mannequins, etc., we will need to know to ensure all of your needs are met. The CLSC cannot guarantee that additional resources will be available, if requested at a later date.
Confirmation of sessions will be tentative until you submit your objectives, cases and supporting materials. This documentation is required 6-8 weeks prior to the session, but you may attach them earlier to your booking form if you have them at the time of your request.
Tentative confirmations will be sent to Faculty of Medicine users after June 1, 2023. Users from outside the Faculty of Medicine will receives confirmations shortly thereafter. If you have any questions, please do not hesitate to reach out to the CLSC team.
Years of service
On April 11, Memorial University recognized faculty and staff for milestone years of service. It was wonderful to have so many people from the Faculty of Medicine recognized.
20 years of service
Dr. Bryan Curtis, Nephrology Fellowship Program Director and Associate Professor, Discipline of Medicine
Ms. Cynthia Whitton, Manager of Operations, Office of Professional and Educational Development
Mr. Dave Adams, Financial Analyst
Dr. Amrah Pirzada, Assistant Professor of Laboratory Medicine
Dr. David Pace, Professor, General Surgery and Bariatric Surgery
Dr. Laurie Twells, Assistant Dean, Clinical Research and Professor, Division of Community Health and Humanities
Dr. Robert Forsey, Clinical Associate Professor, Discipline of Family Medicine, Goose Bay Stream Lead
Dr. Tia Renouf, Associate Professor, Discipline of Emergency Medicine
Dr. Jeff Critch, Associate Professor, Discipline of Pediatrics (GI)
Dr. Jules Dore, Associate Professor of Cell Biology, Division of Biomedical Sciences
Ms. Lisa Fleet, Education Specialist – Program Development and Evaluation, Office of Professional and Educational Development
Ms. SheriLee Chambers, Anatomy Unit, Medical Laboratories
Ms. Stephanie Tucker, Electron Microscopy/Flow Cytometry/Confocal Microscopy Supervisor, Medical Laboratories
25 years of service
Dr. Chris Kovacs, Professor of Medicine (Endocrinology and Metabolism), cross appointed to Discipline of Obstetrics and Gynecology/Division of BioMedical Sciences
Gerard Farrell, Associate Professor, Discipline of Family Medicine and cross appointed to Discipline of Anesthesia
Dr. Vernon Curran, Associate Dean of Professional and Educational Development, and Professor, Division of Community Health and Humanities
In May, we will take the opportunity to recognize our faculty and staff who have been with the university for 30 and 35 years and I look forward to sharing more information about that in a future update.
Courtesy of the Culture of Excellence Project Team
In response to the Unit Assessment in 2018, the Faculty of Medicine began administering an anonymous Mistreatment Survey to gather feedback from faculty, staff and learners about their experiences with mistreatment. This is part of our commitment to maintaining a supportive work and learning environment that is free from any kind of mistreatment, sexual harassment and sexual assault. This survey has been administered twice so far and the feedback had been guiding our initiatives towards enhancing a culture of professionalism and respect at the Faculty of Medicine.
We are now requesting participation in the third iteration of the survey. You will have received information about this in recent weeks by email. Please complete the survey by May 31, 2023. If you require the link to the survey to be resent, please email communications.office@med.mun.ca or if you have any questions about the survey or past results, please contact Dr. Nic Fairbridge at Nicholas.fairbridge@med.mun.ca.