Faculty A-Z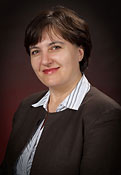 Sevtap Savas
Professor, Human Genetics; Cross appointment with Oncology; B. Sc., M.Sc., PhD (Bogazici)
Division of Biomedical Sciences, Human Genetics and Genomics
Phone:
(709) 864-6507 (phone), (709) 864-6537 (fax)
Email:
savas@mun.ca
Address:
Craig L. Dobbin Genetics Research Centre, Room: M5M324 Faculty of Medicine, Memorial University of Newfoundland St. John's, NL Canada A1B 3V6
Research Interests:
My main research areas are role of genetic variation (such as SNPs and CNVs) and their relation to clinical outcomes in individuals with a history of cancer; bioinformatics applications and establishment of biological databases; and social outcomes in individuals affected by cancer. I also happily lead the Public Interest Group on Cancer Research and actively engage with members of the general public through media, social media, and public events.
My goal is to improve the conditions and survival experiences of cancer patients and families. For this purpose, I do research in the lab, data analyses using computers, partner with patient and family members, and serve in local and national committees that have similar goals.
Education:
1999-1995: Ph.D. (Molecular Biology and Genetics), Bogazici University, Turkey
1995-1994: M.Sc. (Biology), Bogazici University, Turkey
1994-1989: B.Sc. (Biology), Bogazici University, Turkey
Professional Experience:
2020 – present: Professor, Division of Biomedical Sciences, Faculty of Medicine, Memorial University
2014 – 2020: Associate Professor, Discipline of Genetics, Faculty of Medicine, Memorial University
2008 – 2014: Assistant Professor, Discipline of Genetics, Faculty of Medicine, Memorial University
2008: Research Associate, Princess Margaret Hospital, Toronto, Canada
2006 – 2008: Research Associate, Mount Sinai Hospital, Toronto, Canada
2002 – 2006: Post-doctoral fellow, Mount Sinai Hospital, Toronto, Canada
1999 – 2002: Post-doctoral fellow, Louisiana State University, USA

Cross-Appointments

Discipline of Oncology
Division of Community Health and Humanities