Faculty A-Z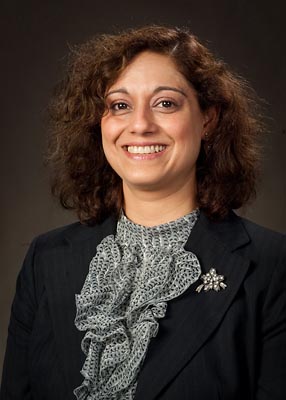 Sahar Iqbal
Associate Professor of Medicine, Cross Appointed to the Division of Community Health and Humanities BSc, MBBS(RMC), MSc(MUN), FRCPC, FACP
Medicine
Phone:
709-777-5976
Email:
sjiqbal@mun.ca
Address:
Room 116 Morrissey Wing South St.Clare's Mercy Hospital
154 LeMarchant Road
St. John's, NL A1C 5B8
Research Interests:

• Obesity, Diabetes, Medical education, E-learning in medicine

Current Research Activities:

• Obesity and attachment style disorder
• Game-based e-Learning in medical students: Memorial experience.
• Prevalence of Autoimmunity in Type 2 diabetics in Newfoundland and Labrador

Teaching:

• Chronic Disease Epidemiology with Community Health-Teach Epidemiology of COPD. Course MED 6247
• Clinical and classroom teaching for medical students, clerks, interns and residents

Graduate Students:

• Ms. K. Roy, Masters of Community Health, Memorial University of Newfoundland, since Fall 2013

Professional Service:
• Promotion and Tenure committee for non-bargaining faculty, Memorial University 2011-2012
• Clerkship promotion committee 2011 to date
• Medical school admissions interview committee 2010 to date
• Internal medicine residency training interview committee 2011 to date
• Internal Medicine Resident Research committee 2011 to date
• Reviewer for The International Virtual Medical School http://www.ivimeds.org/
• Reviewer for needs assessment and member planning committee for new content development and re-accreditation of following web-based courses offered by Professional Development and Conferencing Centre (PDCS), MUN.
1. Fetal Alcohol Spectrum Disorder (FASD) Online Continuing Education Program
2. Brief Clinical and Photo Presentations of Common Skin Disorders
3. Parkinson's Disease
4. Acute Coronary Syndrome
5. HIV/AIDS Diagnosis and Treatment
6. Acute and Chronic pain
7. Common Emergencies: Toxicologies

Recent Outreach Presentations:
• Speaker, Annual Diabetes Educators Conference-June 2008, NL
• Speaker, Annual Professional Day; Cardiac Diagnostic Technicians-May 2008
• Speaker, Annual Diabetes Educators Conference-June 2009, NL
• Speaker, Annual Professional Day; Cardiac Diagnostic Technicians-June 2009
• Speaker, Annual Diabetes Educators Conference-April 2010, NL
• Speaker, Newfoundland and Labrador Health Information Management Association(NLHIMA)-Professional Development Day-September 2011
• Speaker, Early Bird Learning-Mount Pearl Medical Practice-2011
• Speaker, Annual Professional Day Vascular Laboratory Technicians, May and June 2012
• Speaker, Annual Professional Day Vascular Laboratory Technicians, May 28 and June 4, 2013

Intramural Presentations:

Present lectures and practical information sessions attended by house staff and other healthcare workers, every two weeks focusing on the following topics:
• Chronic disease epidemiology
• Chronic disease prevention and management
• Therapeutics and current guidelines
• Insulin use interactive workshop

Participate in morning report, noon time teaching, journal club and EKG teaching for the house staff.


Conference Presentations:
• Poster presentation titled HbA1C. After the Honeymoon at 2007 Diabetes Translation Conference 2007, Atlanta, Georgia, USA
• Poster presentation titled Impact of Uvulopalatopharyngoplasty on Snoring and Obstructive Sleep Apnea. American Thoracic Society Annual Conference 2008 held in Toronto, Canada


Publications:
• Iqbal, S.J. & Azher, T (2008) Impact of Uvulopalatopharyngoplasty on Snoring and Obstructive Sleep Apnea, Proceedings and Program of ATS 2008 Toronto International Conference
• Iqbal, S.J. & Colbourne, S.A. (2006) HbA1C. After the Honeymoon, Proceedings and Program of 2007 Diabetes Translation Conference April 30-May 3, Atlanta, Georgia, USA
• Iqbal, S.J. & McGrath, J. (2006) Unexplained liver enzymes in Turner's syndrome: A case report. Proceedings and Program Canadian Digestive Diseases Week (CDDW) Annual meeting of the Canadian Association of Gastroenterology (CAG)
• Iqbal, S.J. & McGrath, J. (2005) Unexplained liver enzymes in Turner's syndrome: A case report. Proceedings and Program of American College of Physicians Meeting in Atlantic Canada
• Iqbal, S.J. & Roebothan, B.V. (2003) Characterization of individuals who consume native grown and locally available foods Abstract category: Nutrition and Metabolism. Program and Proceedings of 46th Annual conference of Canadian Federation of Biological Societies
• Kalyal, S.J., & Khan, M.M. (1994) Prospective review of thermal burn victims, Journal of Surgery, 8-9
• Kaylal, S.J. (1990) Obesity Shifa Rawalpindi Medical College Magazine
• Kalyal, S.J., & Shafi, S. (1990) Acromegaly- A case study. Shifa, Rawalpindi Medical College Magazine

Professional Societies Membership:
• Licentiate of the Medical Council of Canada
• Member of the Society of Royal College of Physicians and Surgeons of Canada
• Member of the American College of Physicians
• Member of the Canadian Society of Internal Medicine
• Member of the Clinical and Scientific Section and Diabetes Education Section of the Canadian Diabetes Association
• Member Canadian association of Medical education (CAME)