Faculty A-Z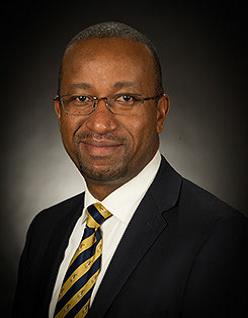 Rufaro Chitsike
Associate Professor of Medicine (Hematology) M.D. MMed Haem
Medicine
Phone:
(709) 777-2480
Email:
Rufaro.chitsike@mun.ca
Address:
Memorial University of Newfoundland Health Sciences Center Room 1179 300 Prince Philip Drive St.John's, Newfoundland Canada, A1B 3V6
Dr. Rufaro Chitsike completed his Hematology specialty training in 2010 at WITS University in South Africa and completed a Thrombosis Fellowship at McGill University in 2011. He is a Hematologist at the Health Sciences Centre with Eastern Health in St John's and is the Director of the Eastern Health Thrombosis Service. He is an Assistant Professor of Medicine in Hematology at Memorial University of Newfoundland & Labrador. He is actively involved in research pertaining to thrombosis and anticoagulation at Memorial University and Eastern Health. He leads an organization called TANL (Thrombosis & Anticoagulation Newfoundland & Labrador) which hosts a bi-annual Thrombosis Conference. He is an active member of Thrombosis Canada, where he served as an author of a clinical guide and has been on the planning committee for the annual Thrombosis Canada Conference. He is a member of the American Society of Hematology and the International Society of Hemostasis and Thrombosis. He was awarded the Memorial University Outstanding Teacher Award in 2015 for his Medical Student teaching in Thrombosis. He was also awarded the American Society of Hematology Abstract Merit Award in 2011 and the Ina Reinhardt Award in 2008 and 2007 from the South African Society of Thrombosis and Hemostasis for his research work in Thrombosis.