Faculty A-Z
Gary Paterno
Professor of Oncology B.Sc., M.Sc. Toronto, Ph.D. Ottawa
Administration
Phone:
709-864-6003
Email:
gpaterno@mun.ca
Address:
Division of BioMedical Sciences Faculty of Medicine Memorial University of Newfoundland 300 Prince Phillip Drive St. John's, NL, Canada, A1B 3V6
Cancer is not one disease but a class of diseases, linked by a common thread: cancer cells do not know when to stop growing. In normal tissues cell receives signals like, hormones or growth factors, that tell them what to do: to grow, to migrate, to die and so on. Cell receives these signals that are then translated inside the cell into the appropriate action. In cancer cells the signaling circuitry that controls cell growth has gone awry and the signal to grow can be inappropriately turned on or can't be switched off. We need to know more about how this signaling circuitry works. What happens when a cell is stimulated to grow? What happen a cell "decides" to become a cancer cell? Can we change the signaling and make the cell normal again? These are some of the questions we are trying to answer by studying a novel breast cancer related gene we have identified called MI-ER1. We have found that MI-ER1 can control a cells response to the hormone estrogen and is a powerful regulator of breast cancer cell growth. We have several projects aimed at uncovering how MI-ER1 functions at the molecular, cellular and organismal level and how it may serve as a target for the design of novel drugs and alternative cancer treatments http://www.medinnova.ca/erone.html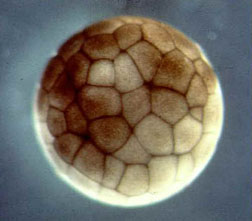 Inquiries concerning honours projects, summer research studentships, M.Sc. Ph.D and post-doctoral programs are welcome.
Projects
The regulation of estrogen receptor activity in the growth and progression of breast cancer.
MI-ER1 as a chromatin/transcription factor regulating gene expression during embryonic development and in cancer.
The role of fibroblast growth factor signaling mechanisms in the regulation of embryonic development.
Recent Publications
Ding, Z.. Gillespie, L.L. and G.D. Paterno 2004. The SANT domain of hMI-ER1 interacts with Sp1 to interfere with GC box recognition and repress transcription. J. Biol. Chem. 279: 28009-28016.
Post, J., Luchman H.A.., Mercer C. Paterno, G.D. and L.L. Gillespie 2004. Developmentally regulated cytoplasmic retention of the transcription factor xMI-ER1 requires sequence in the acidic activation domain. Intl. J. Biochem. Cell Biol. 37: 463-469.
Ding, Z. Gillespie, L.L. and G.D. Paterno 2003. Human MI-ER1 alpha and beta functions as transcriptional repressors by recruitment of HDAC1 to their conserved ELM2 domain. Mol. Cell Biol. 23:250-23258.
Teplitsky, Y. , Paterno, G.D. and L.L. Gillespie 2003. Proline 365 is a critical residue for the activity of XMI-ER1 in Xenopus embryonic development. Biochem. Biophys. Res. Comm. 308:679-683.