Faculty A-Z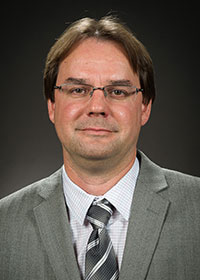 Sean Murphy
Associate Professor of Medicine (Nephrology) and Chair of Medicine B.Sc. St. Francis Xavier, B.Med.Sc., M.D. Memorial, FRCPC
Medicine Nephrology
Phone:
709 864-6452
Email:
sean.murphy@med.mun.ca
Address:
Faculty of Medicine Room M3M105 Memorial University, 300 Prince Philip Drive, St. John's, NL Canada A1B 3V6
What brought me to MUN? What Keeps Me At MUN?
I trained in Nephrology at Memorial University and was fortunate to join the group here after I completed my fellowship. I enjoy the mix of clinical work, research, and teaching at the undergraduate and post-graduate levels.
Education:
I completed my Internal Medicine and Nephrology training in St. John's, followed by a two year health research fellowship. I completed a certificate of medical teaching in 2011
Research/Teaching Summary:
I have been Chair of the Undergraduate Medical Studies (UGMS) Committee since 2011 and I have been involved in the Clinical Epidemiology graduate program since 2000. I have an interest in curriculum development at all levels of medical training.
My research interests include various aspects of the medical management of dialysis patients and medical education topics.
Publications:
Ravani P, Parfrey P,
Murphy S
, Gadag V, Barrett B. Clinical research of kidney diseases IV: Standard regression models. Nephrol Dial Transplant. 2008 Feb;23(2):475-82.
Murphy SW
, Parfrey PS. Left ventricular disorders in dialysis patients, in Principles and Practice of Dialysis, 4
th
edition, WL Henrich ed. Williams & Wilkins, Philadelphia, 2009.
Morton AR,
Murphy S
, Hirsch D, Leblanc M, Barré P, Lok C, Hercz G, Hodsman A,
Reslerova M, Levin A. Development and utility of a multi-dimensional grid to
assess individual mineral metabolism control in hemodialysis patients: A
potential aid for therapeutic decision making? Hemodial Int. 2010
Apr;14(2):200-10.
Parfrey PS,
Murphy SW
,
Cardiac Disease in Chronic Kidney Disease, in
Diseases of the Kidney, 9th edition.
Schrier & Gottschalk eds. Lippincott, William & Wilkins, Philadelphia, 2013 .
Hayward M
,
Curran V, Curtis B, Schulz H and
Murphy S.
Reliability of the Interprofessional Collaborator Assessment Rubric (ICAR) in Multi Source Feedback (MSF) with post-graduate medical residents. BMC Medical Education 2014;
14
:1049
Sekercioglu N
,
Curtis B
,
Murphy S,
Barrett B
. Sleep apnea in patients with chronic kidney disease: a single center experience. Ren Fail. 2015; Feb 37(1) :83-7
.
Murphy SW.
Longitudinal studies and determination of risk. Methods Mol Biol.
2015; 1281: 51-69.
Sekercioglu N
,
Curtis B
,
Murphy S,
Barrett B
. Sleep quality and its correlates in patients with chronic kidney disease: a cross-sectional design. Ren Fail. 2015; Jun 37(5) :757-62.