Faculty A-Z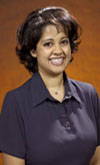 Maria Mathews
Professor, Department of Family Medicine BA, BSc (Calgary), MHSA (Alberta), PhD (Toronto)
Phone:
519 661-2111 ext 20678
Email:
mmathews@mun.ca
Address:
Schulich School of Medicine & Dentistry Western Centre for Public Health and Family Medicine
Research Interests:
I am an applied health services researcher. My research looks at functioning of the health system. Currently, My research falls into two broad themes: 1) physician workforce issues and 2) accessibility of cancer care. I use both quantitative and qualitative research methods and my projects routinely involve knowledge translation components
Current Research Projects:
Physician and Medical Practice Registry
Agency: CFI, IRIF, MUN
Investigator: Maria Mathews (PI)
Duration: 2008-

This project will build a research database to examine physican workforce issues in Newfound and Labrador.

Retention of Locally Trained Medical Graduates in Saskatchewan and NL
Agency: CIHR, IRIF, NLCAHR, Saskatchewan Learning
Investigators: Maria Mathews (PI), Bob Card, Jody Glacken & James Rourke
Duration: 2006-2009

This project examines physican mobility and the factors related to attracting and keeping different generations of physicians.

Waittime Related Experiences, Satisfaction, and Expectation for Cancer Care
Agency: CIHR
Investigators: Maria Mathews (PI), Matthew Piercey, Kathy Fowler, Bill Pollett, Sharon Smith, Veeresh Gadag, Peter Wang, Roy West, Marshall Godwin, Donna Bulman
Duration: 2008-2012

This project examines patients' satisfaction with wait times for breast lung, prostate and colorectal cancer.
Courses
I teach about Canada's health system, applied health services research methods, and knowledge translation.
MED6293 Knowledge Transfer & Research Uptake
MED6276 Current Topics in Canada's Health Care System
MED6279 Quantitative Methods for Applied Health Research
Community Health 1 - Health Care Delivery (MD Program)
Highlighted Accomplishments
2010: President's Award for Outstanding Research, Memorial University
2005-2010: New Investigator Award (CIHR/RPP)
Selected Articles Relating to Research on Physician Supply
Mathews M, Seguin M, Chowdhury N, Card R. (in press) Generational differences in factors influencing physicians to choose a work location. Rural and Remote Health
Fleming P, Mathews M. (in press). Retention of Specialist Physicians in Newfoundland and Labrador. Open Medicine.
Mathews M, Edwards AC, Rourke JTB. Retention of provisionally licensed international medical graduates: a historical cohort study of general and family physicians in Newfoundland and Labrador. Open Medicine 2008; 2(20): 37-44.
Mathews M, Rourke JTB, Park AD. National and Provincial Retention of Medical Graduates of Memorial University. Canadian Medical Association Journal 2006; 175(4):357-360.
Selected Articles Relating to Research on Accessibility of Cancer Care
Mathews M, Park AD. Cancer Care Providers' Perceptions of Barriers to Cancer Patients in Financial Need

Clinical Journal of Oncology Nursing 2009; 13(3):501-505.

Mathews M, Buehler SK, West R. Health care providers' perceptions of patient and provider responses to out-of-pocket costs for cancer care. Current Oncology 2009; 16(4):3-8.
Mathews M, West R, Buehler SK. How important are out-of-pocket costs to rural patients' cancer care decisions? Canadian Journal of Rural Medicine 2009; 14(2):54-60.
Miedema B, Easley J, Fortin P, Hamilton R, Mathews M. The economic impact on families when a child is diagnosed with cancer. Current Oncology 2008 15(4):8-13.
Selected Articles Relating to Knowledge Translation
Mathews M, Newbury J, Housser EM. Shaping policy: The Canadian Cancer Society and the Hormone Receptor Testing Inquiry. Current Oncology 2011;8(4):174-179.
Mathews M., Buehler SK, West R. On the Rock, In a Hard Place: Challenges in working with advocacy and care providers groups.[Reprint with update] Healthcare Policy 2006; (1): 45-50.