Faculty A-Z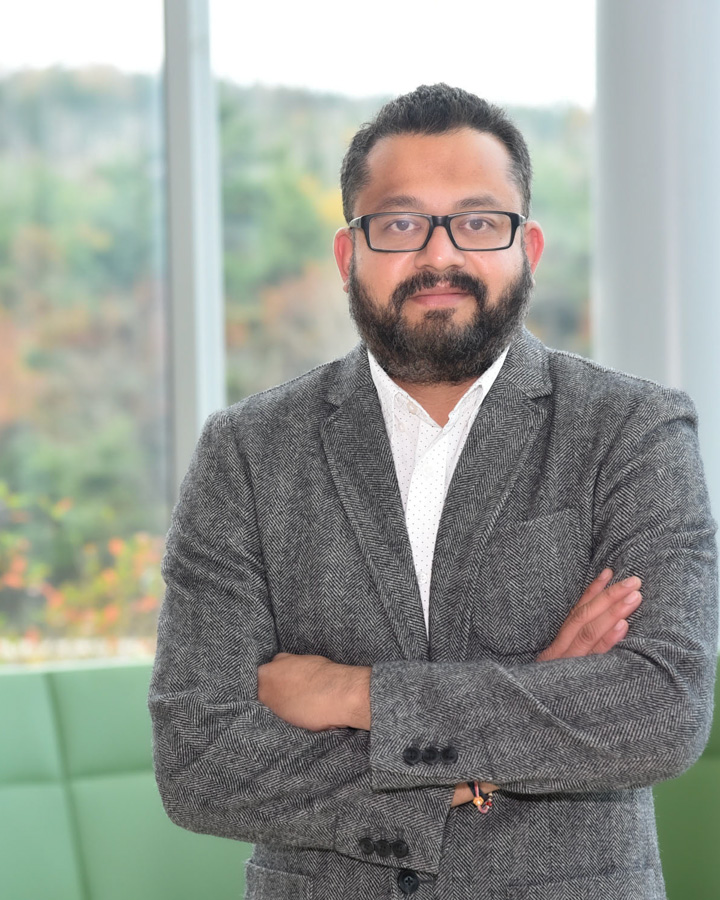 Deepak Kaushik
Assistant Professor of Immunology Ph.D.
BioMedical Sciences
Phone:
709-864-6028
Email:
dkaushik@mun.ca
Address:
Health Sciences Centre, Faculty of Medicine Division of Biomedical Sciences Memorial University of Newfoundland 300 Prince Phillip Dr. St. John's, NL Canada, A1B 3V6 Office: H5352A Labs: H5352 and H5344
Research interests
Multiple sclerosis (MS) is a highly inflammatory, demyelinating, and degenerative condition of the central nervous system (CNS). Due to its high prevalence within the country, MS is often referred to as "Canada's disease". Immune cells including T-cells, B- cells, macrophages and microglia (brain resident macrophages), among others, play important roles in the manifestation and progression of MS. 'Immunometabolism' is a newer discipline of Immunology which focuses on understanding the metabolic needs (energy requirements) of immune cells as they execute their functions. Our Lab focuses on understanding the role of different metabolic pathways that guide monocytes/macrophages and microglia to dictate neuroinflammation during MS pathogenesis. Using primary cell cultures, transgenic mouse models, and high throughput techniques such as scRNA-seq, we are exploring roles for novel immunometabolic players in the manifestation of MS pathogenesis. In addition to studying MS, we are also interested in identifying metabolic pathways that help microglia efficiently prune weaker synapses during the brain development.
We are currently seeking applications from highly motivated students with an immunology background for either master's or Ph.D. program. If interested, please forward one page Research Statement along with a CV and applicable transcripts to dkaushik@mun.ca.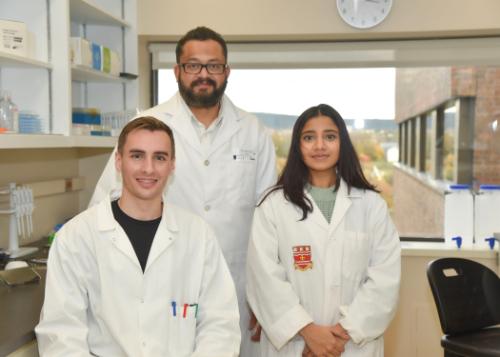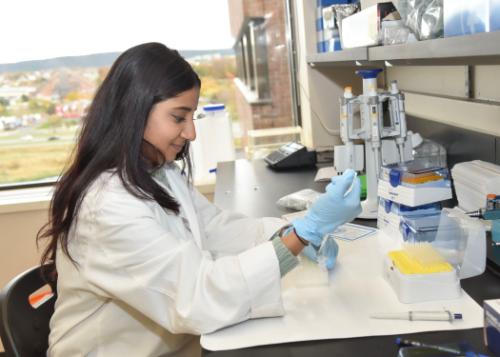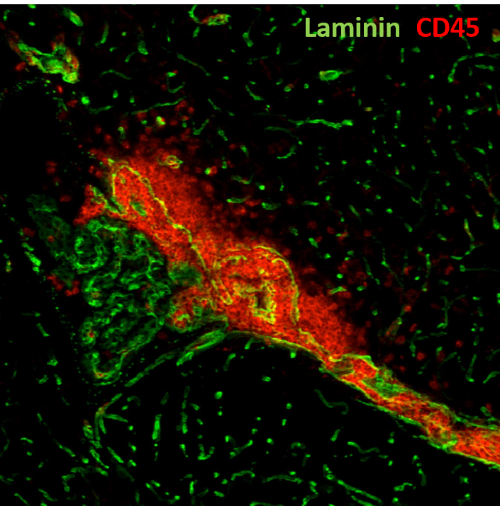 A confocal image of a cerebellar section of an EAE brain (a mouse model of MS) abutting the 4th ventricle. Meningeal inflammation is prominent during peak disease severity in EAE brains. Laminin (green) labels the basement membranes and CD45 (red) stains the immune cells as they transmigrate the CNS through the meninges. Kaushik Lab

PUBLICATIONS (2016-2022)
Ghorbani S, Jelinek E, Jain R, Buehner B, Li C, Lozinski BM, Sarkar S, Kaushik DK, Dong Y, Wight TN, Karimi-Abdolrezaee S, Schenk GJ, Strijbis EM, Geurts J, Zhang P, Ling CC, Yong VW. Versican promotes T helper 17 cytotoxic inflammation and impedes oligodendrocyte precursor cell remyelination. Nat Commun. 2022 May 4;13(1):2445.
Kaushik DK, Bhattacharya A, Lozinski BM, Wee Yong V. Pericytes as mediators of infiltration of macrophages in multiple sclerosis. J Neuroinflammation. 2021 Dec 24;18(1):301.
Rawji KS, Kaushik DK. Front Editorial: Editorial: Age-Related Neuroimmunology of Degeneration and Repair. Frontiers in Aging Neurosci. 2021 Aug 20;13:742620
Dong Y, Charlotte D'Mello, Moezzi D, Lozinski B, Kaushik DK, Ghorbanigazar S, Brown D, Francisca C. Melo, Tina Vo, and Yong VW. Oxidized phosphatidylcholines are novel neurotoxins in multiple sclerosis and are neutralized by microglia. Nat Neuroscience. 2021 Apr;24(4):489-503
Kataria H, Hart CG, Alizadeh A, Cossoy M, Kaushik DK, Bernstein CN, Marrie RA, Yong VW, Karimi-Abdolrezaee S. Neuregulin-1 beta 1 is implicated in pathogenesis of multiple sclerosis. Brain. 2021 Feb 12;144(1):162-185.
Morgan ML, Kaushik DK, Stys PK, Caprariello AV. Autofluorescence spectroscopy as a proxy for chronic white matter pathology. Mult Scler. 2021 Jun;27(7):1046-1056.
Kaushik DK, Yong VW Metabolic needs of brain-infiltrating leukocytes and microglia in multiple sclerosis. J Neurochem. 2020 Oct 6. doi: 10.1111/jnc.15206.
Bhattacharya A, Kaushik DK*, Lozinski BM, Yong VW. Beyond barrier functions: Roles of pericytes in homeostasis and regulation of neuroinflammation. J Neurosci Res. 2020 Dec;98(12):2390-2405. *co-first authors
Rawji KS, Young A, Ghosh T, Michaels NJ, Mirzaei R, Mishra MK, Kappen J, Kohlemainen K, Pu A, Tang W, Zein S, Kaushik DK, Keough MB, Plemel J, Calvert F, Knights A, Gaffney D, Tetzlaff W, Franklin RJM, Yong VW. Niacin-mediated rejuvenation of macrophages/microglia enhances remyelination of the aging central nervous system. Acta Neuropathologica, 2020 Feb 6. doi: 10.1007/s00401-020-02129-7
Kaushik DK, Bhattacharya A, Mirzaei R, Rawji KS, Ahn Y, Rho JM, Yong VW. Enhanced glycolytic metabolism supports transmigration of brain-infiltrating macrophages in multiple sclerosis. J Clin Invest. 2019 May 21;130. doi: 10.1172/JCI124012.
Faissner S, Mishra M, Kaushik DK, Wang J, Fan Y, Silva C, Rauw G, Metz L, Koch M, Yong VW. Systematic screening of generic drugs for progressive multiple sclerosis identifies clomipramine as a promising therapeutic. Nat Comm. 2017 Dec; 8(1):1990
Hahn JN, Kaushik DK, Mishra MK, Wang J, Silva C, Yong VW. Impact of Minocycline on Extracellular Matrix Metalloproteinase Inducer, a Factor Implicated in Multiple Sclerosis Immunopathogenesis. J Immunol. 2016 Nov 15;197(10):3850-3860
Kaushik DK, Yong HY, Hahn JN, Silva C, Casha S, Hurlbert RJ, Jacques FH, Lisak R, Khan O, Ionete C, Larochelle C, Prat A, Bar-Or A, Yong VW. Evaluating Soluble EMMPRIN as a Marker of Disease Activity in Multiple Sclerosis: Studies of Serum and Cerebrospinal Fluid. PLoS One. 2016 Oct 11;11(10):e0163802.

PUBMED: Kaushik publications