Faculty A-Z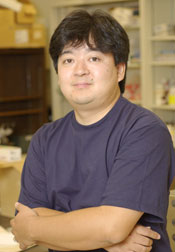 Kensuke Hirasawa
Professor of Immunology PhD University of Tokyo
BioMedical Sciences
Phone:
709-864-6058 / 709-864-6059
Email:
kensuke@mun.ca
Address:
Division of BioMedical Sciences Faculty of Medicine Memorial University of Newfoundland 300 Prince Philip Dr. St. John's, NL CANADA A1B 3V6 Email Address: kensuke@mun.ca Facebook page: click here to link
Welcome to the K. Hirasawa Laboratory

Cancer cells accumulate mutations that can increase growth rates and resistance to cell death. Although cancer cells are not all alike, they share certain cellular changes not present in normal cells. Our research goal is to eliminate cancer cells without harming normal cells by targeting these cellular changes specific to cancer cells. One of our projects focuses on oncolytic viruses, which efficiently replicate in cancer cells, but not in normal cells. We investigate what cancer-specific cellular changes support replication of oncolytic viruses in cancer cells. We also investigate the molecular basis for fluorescence detection of cancer cells by protoporphyrin IX, which can be used for fluorescence-guided surgery for tumor removal. Our research goal is to enhance fluorescence detection by modulating cellular changes specific to cancer cells.