Faculty A-Z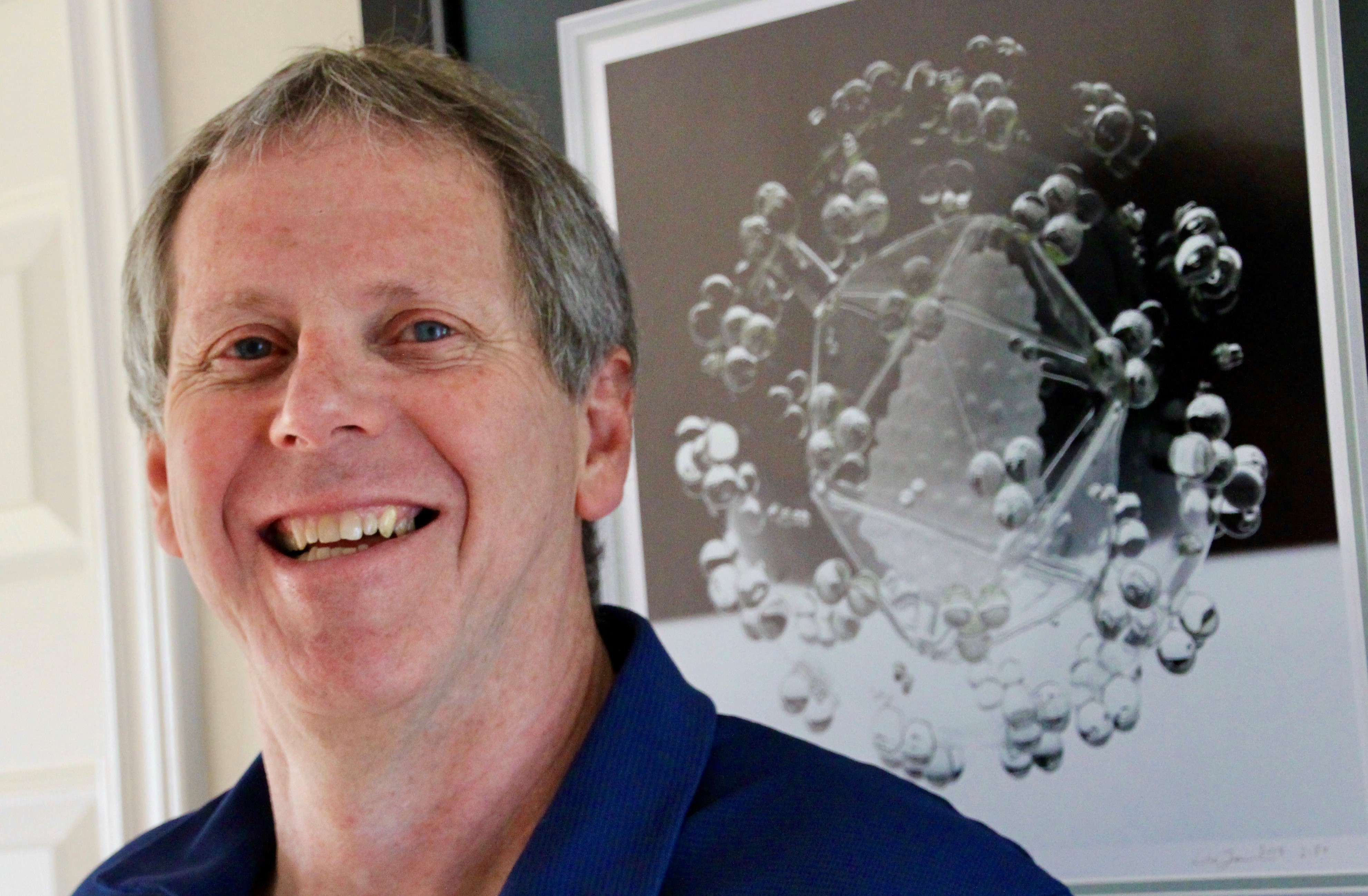 Michael Grant
Professor of Immunology, Associate Dean of BioMedical Sciences, PhD in Molecular Virology and Immunology, McMaster University
BioMedical Sciences
Phone:
709-864-6569/6004
Email:
mgrant@mun.ca
Address:
H1803 (Lab), H5362A (office)
ResearchGate Link


Description of Research
My laboratory studies the immunology of chronic viral infection with a focus on human immunodeficiency virus (HIV), hepatitis C virus (HCV) and cytomegalovirus (CMV). These viruses all have complex relationships with the immune system and a negative impact on human health. We work with a broad collection of cell lines and viral isolates to investigate the interface between virus-infected cells and cytotoxic lymphocytes, including the CD8+ T cells and natural killer (NK) cells responsible for controlling these viruses. The ultimate goal of this research is to develop immune-based strategies that slow the onset of immune senescence and limit the need for antiviral drugs.
Cytomegalovirus-infected human fetal lung fibroblast cells stained with crystal violet to reveal plaques.

Hepatitis C virus-infected human hepatocellular carcinoma cells with intracellular immunofluoresecent staining for HCV core protein expression.
Absence of CD57+NKG2C+ NK cells in NKG2C null CMV-negative individual (a) and unusual expansion of CD57+NKG2C+ natural killer cells in HIV-infected, CMV infected individual (b).

Research Topics:
Immunology of SARS-CoV-2 infection
Cytotoxic lymphocytes (NK cells, T cells)
Immunology of human immunodeficiency infection
Immunology of human cytomegalovirus infection
Immune senescence

We always want to get in touch with highly motivated students and potential post-docs. If you are interested in doing research within our group, please contact the group leader Michael Grant.

Education:
Postdoctoral Training:
Department of Microbiology and Immunology, University of British Columbia
Senior Scientist, Immune Network Research Limited, Vancouver, British Columbia

PhD: Molecular Virology and Immunology, McMaster University (1992)

MSc: Microbiology and Immunology, University of British Columbia (1989)

BSc: Biochemistry, University of British Columbia (1978)


Research Interests

The laboratory's primary interest is the immunology of human immunodeficiency virus infection. Specifically, we study how immunity can effectively control virus replication, how immune cell character changes when viruses evade the immune system and how chronic antigenic stimulation and immune dysregulation contribute to development of immune system senescence and associated morbidities.


Currently Funded Projects:

2020-2023 Characterization of Cellular and Humoral Immunity Against SARS-CoV-2 (CIHR/Covid-19 Immunity Task Force)

2016-2021 Broad Containment Potential in Human Cytomegalovirus-related Natural Killer Memory Cells (CIHR)

2019-2020 Vaccination to Reduce Age-related Morbidity (Aging Research Centre of Newfoundland and Labrador)

2019-2021 Effect of Maternal Cytomegalovirus Infection on Cord Blood Natural Killer Cells (Janeway Foundation)

2018-2021 Influence of cytomegalovirus infection on development of immune senescence in HIV infection.
(Memorial University of Newfoundland)

Current Students, Staff and Trainees




Recent Graduates



Hassan Kofahi, PhD candidate
Adeolu Adegoke, MSc candidate
Neva Fudge, Research Assistant
Staci Stapleton, Research Assistant
Kayla Holder, Research Technician
Maureen Gallant, Research Technician
Nicholas Newbook, GTEP trainee
Joey Heath, Undergraduate trainee
Kayla Holder, MSc
Stephen Penny, MSc
Krista Gladney, MSc
Matthew Parsons, MSc
Lisa Barrett, MD/PhD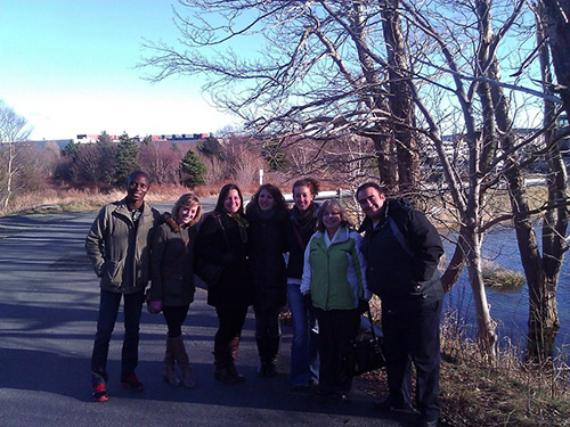 Selected Publications

Publications 2020
Grant, M.
Regulation of natural killer cells: analog peptide handshake goes digital
. AIDS. 2020 34(12):1857-1858.
Holder K, Grant, M. TIGIT Blockade: A Multipronged Approach to Target the HIV Reservoir. Front Cell Infect Microbiol 2020 May 5;10:175 doi: 10.3389/fcimb.2020.00175
Heath, J.
Grant, M.
The Immune Response Against Human Cytomegalovirus Links Cellular to Systemic Senescence.
Cells
2020
,
9
, 766. h
ttps://doi.org/10.3390/cells9030766
Publications 2019
Holder KA,
Grant MD
. Human Cytomegalovirus IL-10 Augments NK Cell Cytotoxicity. J Leukoc Biol. 2019 Aug;106(2):447-454. doi: 10.1002/JLB.2AB0418-158RR.
Comeau EM, Holder KA, Fudge NJ,
Grant MD
. Cytomegalovirus-Driven Adaption of Natural Killer Cells in NKG2C
null
Human Immunodeficiency Virus-Infected Individuals. Viruses. 2019 Mar 9;11(3). pii: E239. doi: 10.3390/v11030239.
Borzooee F, Joris KD,
Grant MD
, Larijani M. APOBEC3G Regulation of the Evolutionary Race Between Adaptive Immunity and Viral Immune Escape Is Deeply Imprinted in the HIV Genome. Front Immunol. 2019 Jan 11;9:3032. doi: 10.3389/fimmu.2018.03032.
Publications 2018
Holder KA, Lajoie J,
Grant MD
. Natural Killer Cells Adapt to Cytomegalovirus Along a Functionally Static Phenotypic Spectrum in Human Immunodeficiency Virus Infection. Front Immunol. 2018 Nov 12;9:2494. doi: 10.3389/fimmu.2018.02494.
Heath JJ, Fudge NJ, Gallant ME,
Grant MD
. Proximity of Cytomegalovirus-Specific CD8+ T Cells to Replicative Senescence in Human Immunodeficiency Virus-Infected Individuals. Front Immunol. 2018 Feb 15;9:201. doi: 10.3389/fimmu.2018.00201.
Holder KA, Comeau EM,
Grant MD
. Origins of natural killer cell memory: special creation or adaptive evolution. Immunology. 2018 May;154(1):38-49. doi: 10.1111/imm.12898.
Borzooee F, Asgharpour M, Quinlan E,
Grant MD
, Larijani M. Viral subversion of APOBEC3s: Lessons for anti-tumor immunity and tumor immunotherapy. Int Rev Immunol. 2018 May 4;37(3):151-164. doi: 10.1080/08830185.2017.1403596.
Publications 2017
Grant MD
, Larijani M. Evasion of adaptive immunity by HIV through the action of host APOBEC3G/F enzymes. AIDS Res Ther. 2017 Sep 12;14(1):44. doi: 10.1186/s12981-017-0173-8.
Holder KA,
Grant MD
. Modulation of the strength and character of HIV-specific CD8+ T cell responses with heteroclitic peptides. AIDS Res Ther. 2017 Sep 12;14(1):41. doi: 10.1186/s12981-017-0170-y.
Newhook N, Fudge N,
Grant MD
. NK cells generate memory-type responses to human cytomegalovirus-infected fibroblasts. Eur J Immunol. 2017 Jun;47(6):1032-1039. doi: 10.1002/eji.201646819.
Publications 2016
Parsons MS, Richard J, Lee WS, Vanderven H,
Grant MD
, Finzi A, Kent SJ. NKG2D Acts as a Co-Receptor for Natural Killer Cell-Mediated Anti-HIV-1 Antibody-Dependent Cellular Cytotoxicity. AIDS Res Hum Retroviruses. 2016 Oct/Nov;32(10-11):1089-1096.
Heath J, Newhook N, Comeau E, Gallant M, Fudge N,
Grant MD
. NKG2C
+
CD57
+
Natural Killer Cell Expansion Parallels Cytomegalovirus-Specific CD8
+
T Cell Evolution towards Senescence. J Immunol Res. 2016;2016:7470124. doi: 10.1155/2016/7470124.
Barrett L, Fudge NJ, Heath JJ,
Grant MD
. Cytomegalovirus Immunity and Exhaustive CD8+ T Cell Proliferation in Treated Human Immunodeficiency Virus Infection. Clin Infect Dis. 2016 Jun 1;62(11):1467-8. doi: 10.1093/cid/ciw148.
Selected Awards and Honours:
2020 Fellow, Canadian Academy of Health Sciences
2018 Cinader Award Recipient
2018 Memorial University of Newfoundland Faculty of Medicine senior researcher award
2018 Chair, CIHR Virology and Viral Pathogenesis grant review panel
2018-present Chair, Canadian Foundation for AIDS Research Scientific Advisory Committee
2015-2017 President, Canadian Association for HIV Research
2014, Chair, Canadian Association for HIV Research annual conference
2007-2011 Chair, CIHR HIV/AIDS Research Advisory Committee