Dec. 14, 2022
Dec 14th, 2022
The holiday break is fast approaching! I hope you will have an opportunity to relax and spend time with family and friends, if possible.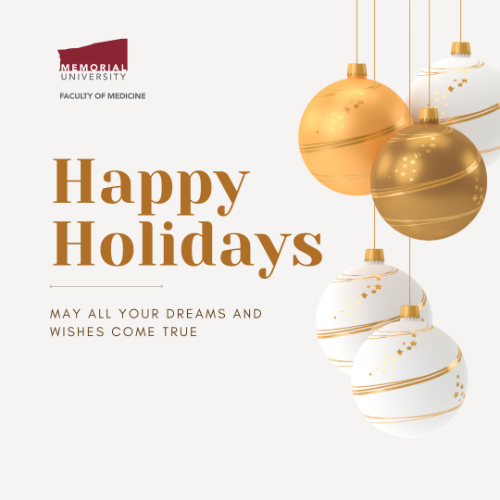 Supporting our learners
This year, Giving Tuesday fell on Nov. 29. Thanks to our generous donors, gifts made between Nov. 27 and 29, 2022, were matched up to $50,000 with a donation to the Thriving Student Fund. Thank you to everyone who donated! As part of the campaign, I shared an #UNselfie photo and provided a donation to the Annual Resident Research Day in the Faculty of Medicine.
The need to support our learners continues as we head into the holidays. As you may know, the cost of living has been increasing and is very high for our learners. If you are planning additional giving before the end of the year, please consider supporting our students -- every dollar helps! You can select the Undergraduate Student Emergency Fund or the Graduate Student Emergency Fund when making an online donation.
Alum receives international award
Congratulations to Dr. Lee Errett, who received the Chinese Government's Friendship Award for 2021! At the award ceremony on Dec. 3, 2022, Chinese ambassador H.E. Cong Peiwu described the award as "the highest award to commend foreign experts who have made outstanding contributions to China's modernization drive."
A renowned cardiologist in Canada, Dr. Errett has made more than 20 trips to China. He led members of the Bethune Medical Development Association of Canada to provide free medical services and perform surgical operations, and he has given hundreds of academic lectures in China. After the COVID-19 pandemic was declared, Dr. Errett, along with the GMDAC members, sourced and sent to China 40,000 N95 masks and many extracorporeal membrane oxygenation (ECMO) life-support machines.
Dr. Errett is a proud Faculty of Medicine graduate from the class of '77, and he continues to be passionate and committed to moving the Faculty of Medicine forward! We are very proud to have Dr. Errett as our ambassador.
Discipline of Laboratory Medicine research day
On Friday, Dec. 2, I had the pleasure of welcoming faculty, staff and learners attending the Discipline of Laboratory Medicine's research day. This annual event is an opportunity for faculty, staff and residents to share research and knowledge. Here at the Faculty of Medicine, we have a special responsibility to advance the health of the people and communities we serve, and advancing research knowledge is an important part of that.

On November 2, the Culture of Excellence Project Team participated in the Destination Excellence Planning Day and received valuable feedback on sustaining a learning and work environment that is free of intimidation, bullying and harassment. The main messages from participants were:
Establish an Office of Professionalism with a dedicated lead and resources.
Increase communications around the processes for reporting mistreatment and the resources/options that are available to anyone who has been mistreated.
Increase training opportunities for faculty, staff, learners and leadership.
Continue administering the mistreatment survey on a biennial basis.
Deliver consistent messaging around the concept and practice of professionalism on a regular basis in order to change culture.
Thank you to everyone who provided feedback!
Fundamentals of Clinical Research modules
Research is an important aspect of advancing our medical knowledge and improving patient care. A series of modules, Fundamentals of Clinical Research, is now available and will provide clinical faculty and postgraduate residents with an overview of various aspects of clinical research. Each module is asynchronous and accredited, so you can complete them at your own pace and in the order that you feel is most appropriate for your learning and research experience. The modules have been developed by subject matter experts from the Faculty of Medicine. For more information about course content, visit the Office of Professional and Educational Development website.
This program has been a collaborative effort between OPED, the Office of Research and Graduate Studies, and the Clinical Research Directors Committee in the Faculty of Medicine. Thank you to everyone who has been involved in creating this valuable resource.
Happy holidays,
Margaret