Faculty A-Z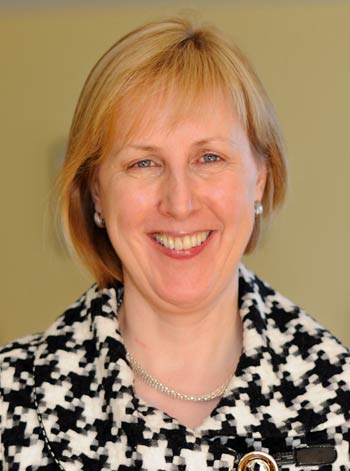 Frances Scully
Associate Professor of Medicine (Hematology) M.B., B.A.O., B.Ch. Dublin, F.R.C.P.I., FRCPC
Medicine Hematology
Phone:
709-777-8066
Email:
mfscully@mun.ca
Address:
Room 1184, HSC mfscully@hemostasis.ca
Dr. Mary-Frances Scully holds a position as an Associate Professor in the Department of Medicine at Memorial University. She is the Director of the Adult Provincial Hemophilia Program.
Her clinical work is as an Adult Hematologist/Oncologist at the Health Sciences Centre in St. John's. She studied medicine at University College Dublin, (UCD) and trained in medicine and pediatrics at UCD and Trinity from 1979 to 1984.
She then took a six month leave to work as a Community Pediatrician at a Buddhist monastery in Mundgod, India. In Canada, she trained at University of Toronto, Queen's University, McGill and Université de Montréal.
She has been an active member of the Thrombosis Interest Group of Canada, now Thrombosis Canada and the group now called the Association of Hemophilia Clinic Directors of Canada since 1991.
She is a founder of the NL Thrombosis, Blood and Immune Disorders Education and Research Project with Dr. Pali Kamra and Dr. Mani Larijani which can be located online at www.med.mun.ca/NLBlood Disorders. Dr. Scully's research is focused on improving outcomes for individuals living with rare disorders of the blood and immune system living in geographically remote areas.
Dr. Scully's current research interests include identifying potential epigenetic factors influencing the outcome for patients diagnosed with hematologic malignancy in the province of Newfoundland and Labrador (NL) and developing a system to identify adverse events associated with therapy for these disorders. She is also interested in the prevalence of intracranial hemorrhage in NL.
Dr. Scully's major area of research is in the epidemiology of Hereditary Bleeding Disorders in NL and the optimal therapy for their management. She is especially focused on the large cohort of patients with the Valine to Alanine type of mild hemophilia A and in the very rare condition of Factor XIII deficiency.
Newfoundland and Labrador Thrombosis, Blood and Immune Disorders, Education Research Project
A Project of Dr. Mary-Frances Scully, Associate Professor, Division of Hematology/Oncology, Memorial University of Newfoundland and Dr. Palinder Kamra, Clinical Associate Professor, Department of Pediatrics, Memorial University of Newfoundland

Cancers of the blood and immune system account for 20 per cent of cancer patients in the province of Newfoundland and Labrador. Myeloma and lymphoma are the most common blood cancers. Cancer, diabetes mellitus, stroke, heart disease, blood clots and anemia are highly prevalent in our province. We have become concerned by the possibility that the number of patients presenting with primary resistant leukemia, lymphoma, and myeloma may be increasing.

The anemia of chronic disease is a very common complication of cancer, inflammatory arthritis, uncontrolled diabetes, kidney disease, inflammatory bowel disease and other inflammatory disorders. Anemia caused by iron deficiency occurs at all ages; in young children, teenagers, pregnant women and in elderly people with disorders of the digestive system. Untreated, unrecognized anemia contributes to a decreased quality of life and prolongs hospital stays.

Hemochromatosis is another genetic cause of illness. These patients accumulate iron in their bodies leading to toxicity. The incidence of a variety of genetic mutations is known to be elevated in the Newfoundland and Labrador population.

Five per cent of the population is heterozygous for the Factor V Leiden mutation. Two per cent of the population is heterozygous for the Prothrombin gene mutation. These mutations, under certain circumstances, may increase the risk of the individual experiencing venous or arterial clotting problems such as deep venous thrombosis, pulmonary embolism, myocardial infarction and stroke.

Approximately ten thousand individuals in the province are taking oral anticoagulant therapy to prevent further blood clots. Blood clots are a common complication of cancer therapy, diabetes mellitus as well as being common complications of obesity, inactivity, surgery, injury, cardiac failure, lung failure, inflammatory bowel disease, liver and kidney disease, and other rare illnesses.

In addition to these common disorders, Newfoundland and Labrador has the highest reported rate yet in Canada of rare bleeding disorders. In particular, there is a very high prevalence of mild hemophilia A and severe Factor XIII deficiency. In North America, five to 10 per cent of women experience problems with heavy periods or bleeding with pregnancy. Some become severely anemic and can have life threatening bleeding.

In summary, disorders of the blood and immune system affect a very high proportion of the population of Newfoundland and Labrador. The Newfoundland and Labrador Thrombosis, Blood and Immunology Research and Education Project is designed to promote and develop education and research to address these challenges.