Faculty A-Z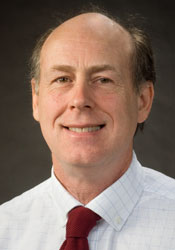 David Saltman
M.D. Memorial, FRCP(C), Ph.D. Edinburgh
Retired
Phone:
(709) 777-8751
Email:
David.Saltman@med.mun.ca
Address:
Dr. H. Bliss Murphy Cancer Centre 300 Prince Phillip Dr. St. John's, NL A1B 3V6
---
Research Interests:
Health Advocacy
New Drug Development
Community Oncology
Current Research Projects:
The role of the oncology pharmacist in direct patient care and pdrescribing
Awareness of symptoms of chronic lung diseases by those at risk
Anti-smoking legislation: Banning smoking in cars with children and smoking bans on university campuses
Selected Publications - Peer Reviewed Articles:
Walker S, Saltman D, Colucci R and Martin L. Awareness of risk factors among those at risk for lung cancer, COPD and Sleep Apnea: a Canadian population-based study. Can Respir J 2010; 17(6):287-94.
Overend, A., Khoo K, Delorme, M., Krause, V., Avanessian, A. and Saltman, D. Evaluation of a nurse-led telephone follow-up clinic for patients with indolent and chronic hematological malignancies: a pilot study. Can Oncol Nurs J. 2008; 18(2): 64-73.
Fairman, J., Wang, R.U., Liang, H., Zhao, L., Saltman, D., Liang, J.C., and Nagarajan, L. Translocations and Deletions of5ql3.1 in Myelodysplasia and Acute Myelogenous Leukemia: Evidence for a novel critical locus. Blood 1996;88 (6): 2259.

Morris, S.M., Kirstein, M.N., Valentine, M.B., Dittmer, K.G., Shapiro, D.N., Saltman, D.L. ,and Look, A.T. Fusion of the tyrosine kinase gene ALK to the nucleolar phosphoprotein gene NPM in human t(2;5)-positive lymphomas. Science 1994;263: 1281.
Saltman, D.L., Dolganov, G.M., Warrington, J.A., Wasmuth, J.J., and Lovett, M. A physical map of fourteen loci on human chromosome 5q22-33 by two color fluorescence in situ hybridization. Genomics 1993; 16(3):726.
Saltman, D.L., Dolganov, G.M., Pearce, B.S., Kuo, S.S., Callahan, P.J., Cleary, M.L., and Lovett, M. Isolation of region specific cosmids from chromosome 5 by direct hybridization with microdissection clones. Nucleic Acid Res. 1992;6: 1401.
Fleischmann, R.A., Saltman, D.L., Stastny, V., and Zmeimer, S. (1991) Deletion of c-kit proto-oncogene in the human developmental defect piebald trait. Proc Natl Acad Sci, USA 88: 10885.

Current Appointments:
Board Member, Cancer Advocacy Coalition of Canada

Chair and Porfessor of Oncology, Memorial University of Newfoundland

Scientific Advisory Board Member, Sorcimed Biopharma