Faculty A-Z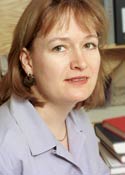 Carolyn Morris-Larkin
Associate Professor of Laboratory Medicine M.D. Memorial, FRCPC
Lab Medicine Pathology
Phone:
709 777-7298
Email:
clarkin@mun.ca
Address:
Department of Pathology Health Sciences Centre, 300 Prince Philip Drive St. John's, Newfoundland & Labrador Canada A1B 3V6 Room: H1545
Assistant Professor (1990) to Associate Professor (2000) in Pathology, Faculty of Medicine, Memorial University of Newfoundland, Aug. 1990 to current date.
Staff pathologist, Eastern Health (formerly
HCCSJ
and The General Hospital) with practice privileges in the divisions of: Anatomic Pathology 1990- current date.
Cytology 1990-2005 Hematological Pathology 1990-current date.
Immunology 2006-current date Locums in General Practice and Maternity in the St. John's area, July 1986 - 1987
Study of the pathology of a Newfoundland family with medullary and papillary thyroid carcinoma. Genetic Analyses of a Family with Familial Medullary and Papillary Thyroid Carcinoma. The Journal of Endocrine Genetics, 1,27-32 (1999). Kogan, MD; Green, 1.S.; Kwan, A; Morris-Larkin, C.; Myers, S. and Mulligan.
Long survival of primary pineal melanoma with radiation treatment only. Can J of Neurol Sci, 2007, May; 34 (2):251-3. Barron, J; Morris-Larkin, C; Finch, T; Maroun, F; Hache, N; and Yousef, G.
Study of the cardiac pathology of a Newfoundland family with arrythmogenic right ventricular cardiomyopathy.
Ongoing project in collaboration with Ms. Kathy Hodgkinson and Dr. Barry Gallagher.
The expression of T-regulatory cells in Hodgkin's Disease.
Ongoing project in collaboration with Dr. Sheila Drover and Ms Katherine Sparrow