Faculty A-Z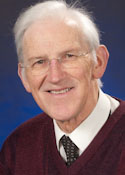 Joseph A. Curtis
M.B., Ch.B. Sheffield, B.A.O. Cork, M.R.C.P. UK, FRACP Australia, FRCPC
Phone:
777-4626
Email:
Joseph.Curtis@easternhealth.ca
Address:
Janeway Children's Hospital and Rehabilitation Centre 300 Prince Philip Drive St. John's NL A1B 3V6
Clinical Interests:
Growth abnormalities in early childhood
Delayed puberty
Advancements in management of Type 1 Diabetes
Assessment of atherosclerosis in Diabetes
Education Interests:
Introducing and demonstrating aspects of pediatric endocrine dysfunction to medical students and residents.
Research Interests:
Vascular function in children with Type 1 Diabetes before and after intensive therapy with the insulin pump (project in progress).
Bone mineralization in Newfoundland children and adolescents from 8-18 years of age (study completed).
Successful treatment of Donohue syndrome with IGF-1 over a period of 11 years (writing in progress)
Presentation and genetic findings in adrenocortical insufficiency in Newfoundland and Labrador children (writing in progress).
Publications:
Ultraviolet Irradiation for Hepatic Rickets. Archives of Disease in Childhood, 64: 617, 1989.
Congenital Hypothyroidism and Goiter in Childhood. Canadian Family Physician, 1990 ; 36 1821-1824.
Gaucher's Disease with Mitral Valve Calcification. Pediatric Cardiology, 1992, 13: 127-128.
The Management of Diabetes in Childhood and Adolescence. Canadian Family Physician, Vol 48: 2002.
High Incidence of Childhood Type 1 Diabetes in the Avalon Peninsula, Newfoundland, Canada.
Diabetes Care, Vol 27, No 4, April 2004.
Very High and increasing incidence of Type 1 diabetes mellitus in Newfoundland and Labrador, Canada.
Pediatric Diabetes, 2008: 9 (Part II): 62-68.