Register
Memorial University provides registration through Memorial Self Service.
Students are responsible for ensuring that their registrations are accurate and appropriate.
Steps to Register
Login to Memorial Self Service using your MUN Login and password. You can also access Self Service through my.mun.ca.


Select the Student Main Menu.


Select Registration.

There are two methods for addings classes. Through the Look up Course Offerings menu or through the Add/Drop Classes menu.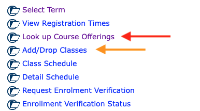 Look up Course Offerings menu
This method allows you to search courses by subject. There is also an Advanced Search option to further refine your search.
Select Look up Course Offerings
Select the term you want to seach under the Search by Term drop down menu (e.g: 2022-2023 Fall) and then click the Submit button.
Select your Subject and the click Class Search button.
You can also narrow your search by clicking the Advanced Search button.
Under Advanced Search you will be able to narrow results by a variety of fields, including:

Course number
Campus
Course level
Instructor
Start and end times
Days of the week
Select the course you want.
Check the university Calendar for prerequisites and corequisites.
Check this version of the Course Offerings for reserves that may exist for a certain course or section of a course.
Check the attributes of the course by clicking on the CRN of the course.
Click the Register, or Add to Worksheet buttons.
Click Submit Changes.
Add/Drop Classes menu
This method allows you to quickly register for a course if you know the course reference number (CRN) in advanced.
Select Add/Drop Classes
Select the term for which you want to register for courses.
At the bottom of the following screen. Enter the CRN(s) into the fields.
Click Submit Changes.
View your schedule
Under the Student Main Menu, select Registration and then click Class Schedule for a timetable version of your schedule. We recommend double checking to make sure you are registered for courses on the correct campus. You can do this through the Detail Schedule menu.
Detail Schedule will provide you with further details about your registered courses, such as:
Campus
Location of course, if it's on campus (i.e. what building)
Course level
Credits
Grade mode
Looking for help?
St. John's campus students
Contact the Registrar's Office at 709 864 4445 or email registrar@mun.ca.
Grenfell Campus students
Contact the Registrar's Office at 709 637 6298 or (toll-free) 1-866-381-7022 or email info@grenfell.mun.ca.
If you are not able to register online due to internet problems or restrictions, the university has as alternate registration option. The Alternate Registration form must be filled out and emailed to registrar@mun.ca before your assigned registration window. This option is not available if you have outstanding fees or if there are time conflicts in your schedule.