MUN Login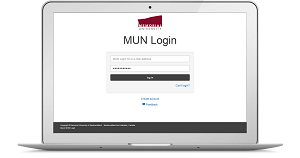 MUN Login is your gateway to accessing a number of Memorial's online services.
Some services you may access with your MUN Login account:
The services that you can access using your MUN Login account depend on your role at Memorial (e.g. student, faculty, staff, alumnus, visitor, etc.).
Student computer lab login (Labnet)
Employee computer login (Memorial domain)
Memorial Exchange Email
Need help? Contact the ITS Service Desk.