New voices
Nov 28th, 2022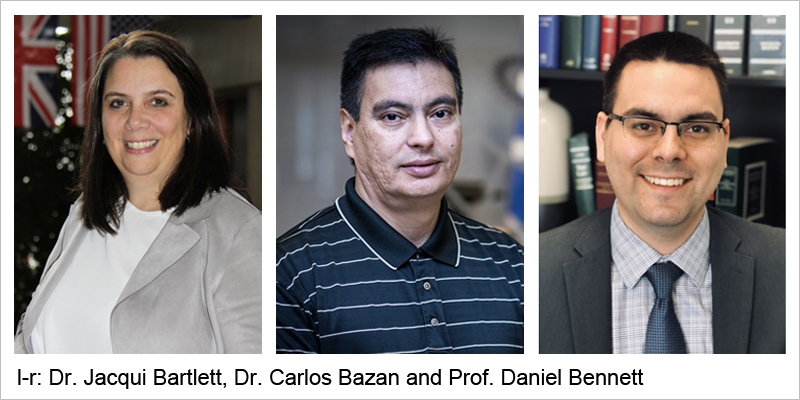 Memorial's business faculty has bolstered its law, technology and innovation expertise by adding three new faculty members to its roster.
Dr. Jacqui Bartlett, Dr. Carlos Bazan and Prof. Daniel Bennett joined the Faculty of Business Administration over the summer and fall.
"Technology and innovation is a burgeoning sector in Newfoundland and Labrador, and indeed, around the world," said Dr. Travor Brown, interim dean. "By adding these new faculty members, we're expanding the strong foundation we already provide in educating our students, and better positioning them to achieve success across all sectors of society, be it public, private or not-for-profit."
Technology, startups and the law
Dr. Bartlett holds a master of business administration (MBA) degree from Memorial and a PhD in intellectual property law from the University of Leicester.
She has 25 years of experience in working with entrepreneurs and small businesses in the technology sector, including eight years as in-house counsel for start-ups in Newfoundland and Labrador and three years running a law clinic for start-ups at Dalhousie University.
She also taught entrepreneurship, small business management, business law and strategy at Memorial's Grenfell Campus for over 10 years.
She joins the business faculty as an associate professor in entrepreneurship, law, small business and strategy.
"I'm delighted to be returning to St. John's and Memorial University," Dr. Bartlett said. "I had a strong connection to the local innovation ecosystem before moving to Corner Brook and Grenfell Campus, and now I am very much looking forward to reconnecting with friends and building new relationships in my new role. The Faculty of Business Administration continues to support the start-up community, and I'm grateful to be part of this journey."
'Many aspects of my work motivate me'
Dr. Bazan is an assistant professor of technology entrepreneurship, a role cross-appointed to the Faculty of Engineering and Applied Science.
He joined Memorial in 2017 as a faculty member and one of two chairs in entrepreneurship at the Business and Engineering faculties. The other chair was held by Dr. Alex Stewart. In 2022, he joined the business faculty as a full-time faculty member.
"… what makes me excited to get out of bed in the morning is knowing that I'm helping build this vibrant entrepreneurial ecosystem in our province." — Dr. Carlos Bazan
Dr. Bazan's research areas of interest are entrepreneurship, small business, technology transfer and commercialization, new product development, computational social science, and innovation and entrepreneurial ecosystems.
His primary research work lies at the intersection of academia, innovation and entrepreneurship and is concerned with turning academic research outcomes into successful businesses.
"Many aspects of my work at the business faculty motivate me," Dr. Bazan said. "Although, what makes me excited to get out of bed in the morning is knowing that I'm helping build this vibrant entrepreneurial ecosystem in our province. This entrepreneurial ecosystem is helping our young entrepreneurs create value for our society and diversify the local economy."
Dr. Bazan received a bachelor of science degree in civil engineering and a MBA from the Catholic University of Asuncion, Paraguay. He received a master of science degree in numerical methods from the Polytechnic University of Catalonia in Barcelona, Spain, and a master of science degree in business administration (finance) and PhD in computational science from San Diego State University in San Diego, Calif.
During his graduate studies, he was a Fulbright Scholar sponsored by Laspau and Harvard University.
Legal expertise
Prof. Bennett (B.Comm.(Co-op.)(Hons.)'10) is the first faculty member dedicated to teaching law. He joined the faculty in June as an assistant professor.
He earned his law degree at Osgoode Hall Law School, York University, in 2013, where he focused on corporate and Indigenous law. He is a beneficiary of Nunatsiavut, the Inuit of Labrador.
"I was thrilled to be provided the opportunity to teach law at the business faculty and carry out research related to the Indigenous peoples and legal systems in this province." — Daniel Bennett
Prof. Bennett has eight years of professional experience since being called to the bar in 2014. His law firm, Bennett Law, has a wide scope of practice in real estate, wills, estates, litigation, criminal law and personal injury. He has appeared in all levels of court in the province, and recently his successful 2019 case, Sun Construction Company Limited versus the Town of Conception Bay South, was cited by the Supreme Court of Canada in the emerging area of de-facto expropriation law.
Prof. Bennett is a trustee of the Labrador Inuit Settlement Land Claims Trust and past chair of the board of directors for SmartICE. He's also a former board member of the Conception Bay Area Chamber of Commerce and First Light.
He is interested in pursuing research at the intersection of Indigenous law and business, particularly complex investment trusts managed in the Inuit Nunangat that originate from settled land claims with the federal and provincial governments.
"I was thrilled to be provided the opportunity to teach law at the business faculty and carry out research related to the Indigenous peoples and legal systems in this province," Mr. Bennet said. "After having completed my commerce degree here over a decade ago, I'm excited to now collaborate with some of the professors who taught and mentored me along the way."