Opportunities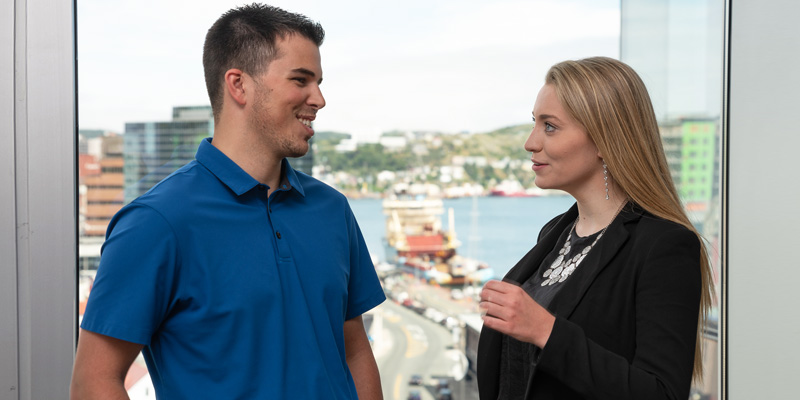 For companies:
Send us your business challenge
The world has changed with the pandemic and low oil prices, forcing companies to find different ways of doing things. This is especially true for the NL oil and gas supply and service sector that needs to look at new ways to deliver services and products.
Cenovus Centre is partnering with an R&D funding organization called Mitacs and MUN Faculty of Business Administration to fund consulting projects that our oil and gas supply and service sector need done to be able to emerge stronger following the current economic climate. Mitacs has co-funded over 10,000 projects across Canada, helping small businesses be more innovative. Cenovus Centre connects small businesses to top undergrad and graduate-level business students and experts who can deliver new solutions, technologies and business models for global markets.
Send your post-COVID Business Challenge to Karen Lacey or call 709-864-7347. We will get back to you with a tailored solution and the resources available to help tackle your business challenge.
Student intern hiring opportunity
Cenovus Centre is pleased to provide NL companies the opportunity to hire student interns to meet the needs of their organizations in exchange for experience that helps the students hone their skills and explore future career paths. The centre offers wage subsidy up to $5,000 per student and connects undergraduate students at the Faculty of Business Administration at Memorial University with a small or medium-sized business for a part-time internship in the field of sales and supply chain management.
If you would like more information (or any assistance and support in the areas of sales and supply chain management), please contact Karen Lacey or call 709-864-7347.
For students:
More supply chain management co-op placements within Cenovus Energy Inc. will be open for students from Memorial University's bachelor of commerce (co-operative) program in the near future.
Sales and supply chain management employment opportunities will be created for students from Memorial's bachelor of business administration program.
Additional training and support will be provided to students who show interest in sales and supply chain management. More information will be forthcoming as soon as it becomes available.