Advisory Board Research Impact Award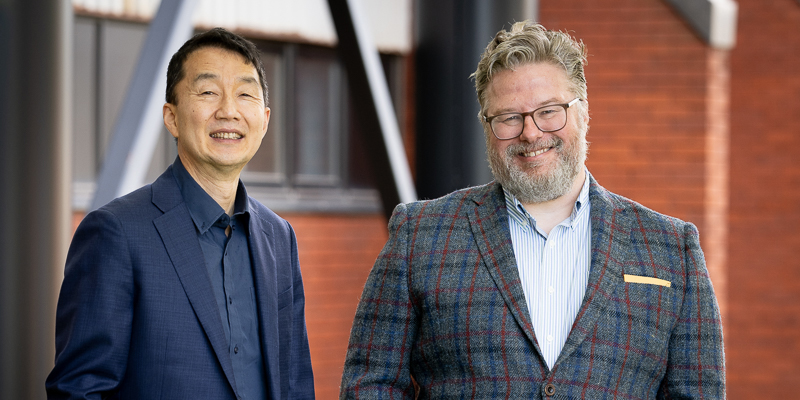 Leaders at Memorial's business faculty have recognized a study that has implications for managers at global consulting firms for its practical impact.
Dr. Chansoo Park and Dr. Tom Cooper received the Faculty of Business Administration Advisory Board Research Impact Award for 2022.
Their paper, Knowledge Creation Capability and the Impact on Innovation Performance in Global Consulting Firms: The Role of Human and Social Capital, was published in a prestigious academic journal, the Canadian Journal of Administrative Sciences.
Dr. Park is an associate professor of international business. Dr. Cooper is a professor of strategy.
Dr. Yang Pok Rhee of Dong-A University in South Korea is a co-author on the study.
"We're absolutely thrilled and deeply honoured to be this year's recipients of the Advisory Board Research Impact Award," said
Dr. Park.
The researchers surveyed 172 consultants in subsidiaries of multinational management consulting firms in South Korea, lending "unique authenticity and relevance to our research," said Dr. Park.
They concluded that tacit knowledge, or knowledge that is abstract and implicit, is critical in driving innovation performance in global consulting firms. However, this form of knowledge is under-valued.
Conversely, explicit knowledge creation doesn't substantially impact innovation performance.
They also found that human capital has a negative moderating effect on the relationship between tacit knowledge creation and innovation but a positive effective when knowledge creation is explicit. The negative effect was stronger in senior consulting groups.
Interestingly, social capital didn't have any moderating effects on knowledge creation capability and innovation.
Dr. Park and Dr. Cooper believe this finding means that firms should recognize the value of experience and be less prescriptive, allowing consultants to collaborate with clients to develop innovative solutions.
They also suggest that senior consultants may be more successful as managers while junior consultants may be effective innovators.
"Our research should encourage managers to prioritize tacit knowledge creation in recruitment and training processes," said Dr. Park. "We believe our insights will help organizations maximize their innovative potential and gain a competitive edge."
The business faculty's advisory board is comprised of business and organizational leaders across a variety of sectors as well as members of the university community.
The research impact award recognizes practical research impact on teaching, practice or policy.