Associates program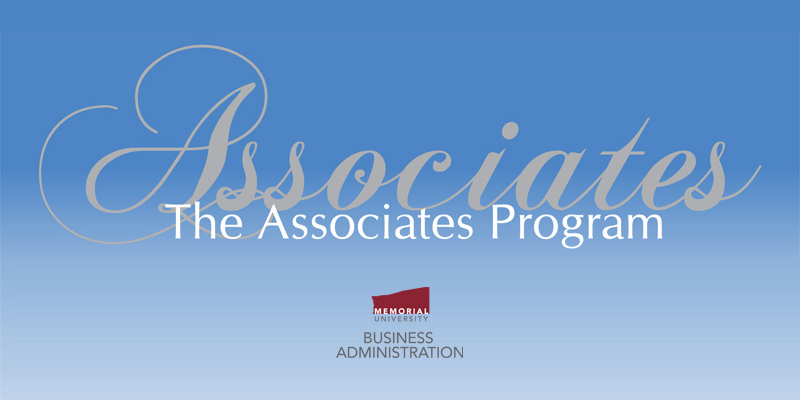 The Associates Program is your opportunity to have real impact on and enhance the learning experiences of today's business students.
A vital connection between Memorial's Faculty of Business Administration and the corporate community, the Associates Program directly benefits students by funding scholarships, supporting participation in conferences and business competitions, and enabling participation in other activities that better prepare them to be innovative thinkers and leaders.
Associates Program members are Newfoundland and Labrador's top business and management leaders who are also the province's leading employers. As an Associates Program member, you will benefit from exclusive networking and training opportunities while supporting the next generation of business leaders.
Types of membership
The Associates Program has two levels of membership. These levels allow all of our business community to be involved with our Faculty, no matter the size or scope of your business.
Tier 1: $3,000 annually
Tier 2: $1,500 annually
Level
Engaging
Ideas
Associate's
Luncheon
Partners
Celebration
Recruitment
Invites
Facility
Access
Website
Recognition
Bloomberg
Trading Lab

---

Tier 1

---

Tier 2

---
Benefits to your organization
Engaging Ideas: Business, academic and government leaders come together with both academic and practitioner guest speakers for discussions on topics of current interest.
Associates Luncheon: This luncheon will happen once during the fall and winter semesters and will be hosted by our interim dean, Dr. Travor Brown. It will be an opportunity to network with other Associate Program members along with the dean and our faculty, and students.
Partners Celebration: Associates Program members are invited to join us for our Partners Celebration. Starting in 2019, this celebration will have a fresh new approach as we will now celebrate the successes of both current and future leaders. By incorporating the recognition of our students' achievements, this event allows for our students to be a part of a celebration that recognizes and honours the winners of our annual awards program.
Recruitment: Associate Program members receive assistance in recruiting top students from undergraduate and graduate programs by facilitating student information sessions at the Faculty of Business Administration.
Invites: Associates Program members receive advanced notice of and invitations to special events and presentations.
Facility access: The faculty boardroom, dining room and other facilities are available to Associate Program members for private functions. The access to our facility also includes access to our Bloomberg terminals which are located in our White Trading Lab. The terminals allow us to connect to the global financial market in real-time where we gain access to diverse, accurate data related to finance, historical finance, technology, news and trends.
Website recognition: Associates Program members are recognized for their involvement in this important program through our website.
For more information about our Associates Program, please email deanfba@mun.ca.