Trio secure tri-agency funding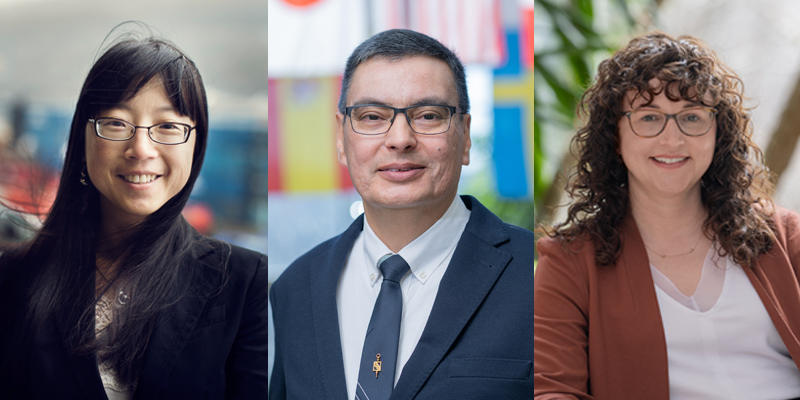 Business researchers earned nearly $230,000 in federal tri-agency funding in 2022.
Dr. Ginger Ke won a $130,000 Discovery Grant from the National Sciences and Engineering Research Council (NSERC).
Dr. Carlos Bazan and Dr. Jennifer Jewer each won Insight Development Grants worth $54,649 and $45,188 respectively from the Social Sciences and Humanities Research Council (SSHRC).
The grants total $229,837.
Dr. Ke, professor of management science and operations management, is focusing her research on a project called Transportation of Hazardous Materials: Uncertainty, Behaviour and Time-dependency.
She aims to better understand existing hazmat networks around the globe, and propose adaptive solutions to facilitate hazmat transportation and urgent response decisions should a crisis occur, such as the 2013 train derailment in Lac-Mégantic, Que.
Dr. Ke's project has three themes: managing hazmat transportation in uncertain environments (such as labour action, supply shortages or weather disruptions); incorporating route choice behaviour (like individual preferences or subjective selections) into hazmat network design challenges; and designing networks and route plans in networks with time dependent factors (such as population density and traffic flow depending on the time of day).
Dr. Bazan is an assistant professor of technology entrepreneurship.
His project, Quantitative Entrepreneurship Research Informed by Gender Studies, aims to provide insights into elusive questions concerning the gender gap in entrepreneurship.
Prior research in the field has approached the gender gap with a binary idea of biological sex, which Dr. Bazan believes may be one of the reasons for inconsistent results in the literature.
He will be the first to apply a gender lens, applying feminist methodologies including viewing gender with a continuous, or self-identifying, approach.
His research will also incorporate this gender-based analysis into quantitative entrepreneurship research to explore the entrepreneurial intention of university students.
The result, he hopes, will provide some answers about why fewer women than men participate in entrepreneurship, and help universities, academics, practitioners and policy makers design inclusive entrepreneurial ecosystems.
Dr. Jewer is an assistant professor of information systems.
Her project, Dynamic Capabilities for Digital Transformation: The Role of Information Technology (IT) Governance, aims to address the question of why 70 per cent of digital transformations fail.
Digital transformation is defined as organizational change that's triggered and shaped by the widespread diffusion of digital technologies.
A major driver of this high failure rate is that digital transformation is not just about the technology, but also requires transforming an organization's structure and contexts, reshaping a company and its organizing logistics around IT.
While research exists in some aspects of the digital transformation process, Dr. Jewer aims to provide a comprehensive understanding of how it should be governed, and how organizational structures, processes and relational mechanisms around that transformation influence the success of digital transformation efforts.
She hopes to produce a new framework that will help managers focus on the most promising governance mechanisms for building digital transformation capabilities and reinventing IT governance to accelerate digital transformation.