Delia Warren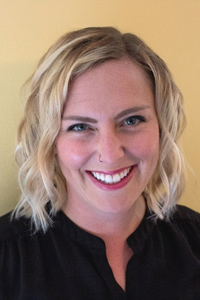 Where are you from?
I was born and raised in St. John's, NL.
Where, and in what area, did you do your undergraduate?
I did my undergraduate degree in mechanical engineering at Memorial.
Why did you choose to get an MBA?
I was working in the oil and gas sector at a time when mass layoffs were occurring, not only at my company but across the whole industry. I was at a point in my career where I felt my interpersonal and leadership strengths weren't being fully utilized as I was engaged in structural design work, usually with very little interaction with the greater project. Furthermore, I had always had aspirations to work in the renewable energy industry and to drive de-carbonization initiatives so I decided that this was the time to make a change.
I applied for Memorial's MBA program to develop my management skills, gain a deeper understanding of global energy markets and to provide me with credentials to make this major career shift. Looking back, it was the best decision I could have made.
Why did you choose Memorial for your MBA?
I had an excellent undergraduate experience at Memorial, and as I had just returned to my hometown after years working abroad, it felt natural to return here. I had done research into the various MBA programs that were available but Memorial's seemed to have the best value. I also appreciated the course offerings in areas such as sustainability and corporate social responsibility.
How would you describe your experience as a graduate student at Memorial?
I had an absolutely fantastic graduate experience at Memorial. The MBA program exceeded my expectations in so many ways. While I initially embarked on my MBA journey with the sole focus of moving away from technical work into a more management-based role in renewable energy, I learned and was given the opportunity to research so many things along the way that I would describe it as a transformational experience.
The value of this experience is highly attributable to the quality, experience and passion of the professors, along with the many options for extracurricular development and engagement.
How well do you believe the MBA degree has prepared you for your career and what are the important characteristics of the degree that help you in your current work?
I'm currently working as a lead renewables consultant in Boston, Mass. with Xodus, a global energy consultancy. I carry out supply chain analyses and provide market entry advice to businesses and organizations across the United States, driving the rapid development of the offshore wind sector in North America.
This role requires navigating a broad and diverse network of clients, partners, stakeholder groups, etc. I manage a number of projects for local clients, and I assist on other projects through research, strategy development and advisory services. This is truly my dream job and I love that through the MBA program I was able to both benefit from my technical background in the offshore sector, and utilize my new and improved business and leadership skills.
During the interview process for this job, I was asked to deliver a presentation on international market entry and I drew directly from my experience and the resources I used while representing Memorial at various case competitions during the MBA program. I truly believe this is what helped me get the job!
Day-to-day, the knowledge and understanding of business and leadership principles I gained through the MBA program are instrumental in allowing me to excel in my current role. I feel well prepared to meet the challenges I face through my work, and regularly refer back to my notes and textbooks for guidance.
As a consultant, skills I use that were learned during my time as a graduate student at Memorial include industry and competitive analysis, international business relations, stakeholder management, project management and leadership, and marketing. The numerous presentations I was required to deliver during the program have also been indispensable in building my confidence for the many public speaking engagements that result from my current role.
Do you have any advice for current and/or future graduate students?
One thing that I found very useful in the MBA program is the amount of freedom we are given in our studies with regards to choosing sectors and businesses to research or apply businesses principles to. I tailored my MBA experience to focus on sustainability and renewable energy/energy transition. Beyond courses relating to these subject areas, I chose specific companies and sectors for my market research projects, including a double-credit research project into off-grid energy systems. I would encourage any students going through this program to take a similar approach as it makes the work much more engaging and relevant when you can relate it to something you are passionate about.
I would also highly recommend trying out for the John Molson MBA International Case Competition and any other case competitions that are available. I learned so much through my experiences at these competitions — being able to apply the curriculum to real world issues, come up with solutions on the fly, and present them to prominent members of the business community really cemented my understanding of the material and helped build my confidence.