P.J. Gardiner 2021 Newfoundland and Labrador Entrepreneur of the Year Award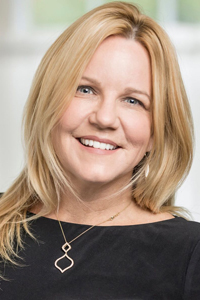 Deirdre 'Beep' Ayre
Deirdre 'Beep' Ayre
Head of Canadian operations
Other Ocean Group Canada
In 2006, on her brother Andrew's urging, Deirdre "Beep" Ayre spearheaded the establishment of Other Ocean's original videogame development studio on Prince Edward Island — a spinoff of a company Andrew founded in California in 1991. In 2007, Ms. Ayre oversaw the establishment of Other Ocean's quality assurance company, Sculpin QA, followed by establishing Other Ocean's second development studio in St. John's, N.L. In 2013, Other Ocean's original P.E.I. development studio was acquired by corporate giant Electronic Arts. In 2016, Ms. Ayre re-established Other Ocean's production presence on P.E.I. by expanding Sculpin to include development of original intellectual property.
Ms. Ayre is recognized for her commitment to economic and social diversification in Atlantic Canada, her collaborative efforts with educational institutions, and her success in recruiting top talent from around the world. Nationally, she is known as a fierce advocate for the Atlantic Canadian high-tech sector, particularly in the areas of skills development and immigration. In July 2018, Other Ocean Group, with its partners, was nominated for an Emmy Award for their development work on the globally successful Rick and Morty franchise. Other Ocean currently employs over 80 people in Atlantic Canada and its current release, Project Winter, is enjoying worldwide success.
Ms. Ayre was the first Atlantic Canadian to be elected to the board of the Entertainment Software Association of Canada. She is a board member and past chair of the Canadian Interactive Alliance and founder and chair of VideogamesPEI. She is a member of the board of Innovation P.E.I. and the economic steering committee for the City of St. John's. She is an ex officio for the Premier's Council for Recovery and Growth on P.E.I. In 2018, Ms. Ayre was awarded the Newfoundland and Labrador Association of New Canadian's Diversity Award, presented to a manager who "strives for equality, diversity and inclusion across all aspects of gender, ethnicity, ability, age, sexual orientation and similar grounds."
Ms. Ayre is a past member of the University of P.E.I. Mathematical and Computational Sciences Advisory Council and a past member of the advisory committee for P.E.I.'s Entrepreneurial Launchpad Program. She is a past member of Memorial University's computer science advisory committee and has regularly partnered on various skills development initiatives with the College of the North Atlantic and Holland College. Ms. Ayre is a founder and past vice-president of the Newfoundland and Labrador Interactive Alliance. She is a past participant of the Conference Board of Canada's Leaders Roundtable on Immigration and the Conference Board's Roundtable on Skills and Post-Secondary Education. She was a member of the board of Young Adult Cancer Canada and a past president of Planned Parenthood Newfoundland and Labrador.
Ms. Ayre graduated from Ryerson University with a bachelor of applied arts (radio and television). She considers home to be on her two favourite islands and splits her time accordingly.