2020 Dr. Victor Young Graduate Student Citizenship Award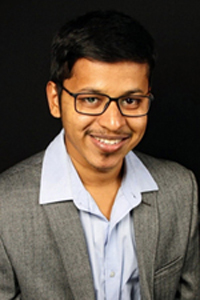 Pragadeesh Ravichandran
Pragadeesh Ravichandran
MBA '20
Pragadeesh Ravichandran has demonstrated an extensive commitment since the beginning of his master of business administration (MBA) program at Memorial in 2018.
A native of Tamil Nadu, India, Mr. Ravichandran volunteered in several leadership roles across various entities. During his student life, he served as an operations lead with TEDx Harbourside Park, vice-president of internal affairs with the International Students Resource Centre (ISC), and campus ambassador with Guard.me Insurance, to highlight a few.
Mr. Ravichandran believes that volunteering has had a profound impact on his real-life experience and considers it as the best way to socialize, network, learn new skills and make a meaningful contribution in the process. He is a strong follower and believer of the saying that, "We can't help everyone but everyone can help someone."
His heavy involvement with the student affairs and his service-oriented mindset has led to him being recognized with several awards and scholarships. In 2020, he was awarded the Dr. Alex Faseruk MBA Scholarship for Excellence in Service and the Graduate Students' Union Award for Excellence in Community Service, both of which recognize an individual with demonstrated outstanding service and contributions to the community. His volunteer journey also enabled him to receive the platinum level award from the Student Volunteer Bureau.
Mr. Ravichandran is very thankful for all the great leaders and inspiring people he met through volunteering but regards his work as a tiny speckle of all the great things that people do for the community. He calls for the need of more community service for the world moving forward.