Our New Writer in Residence's Workshops Will Be a Bootcamp for Emerging Authors
Jan 7th, 2022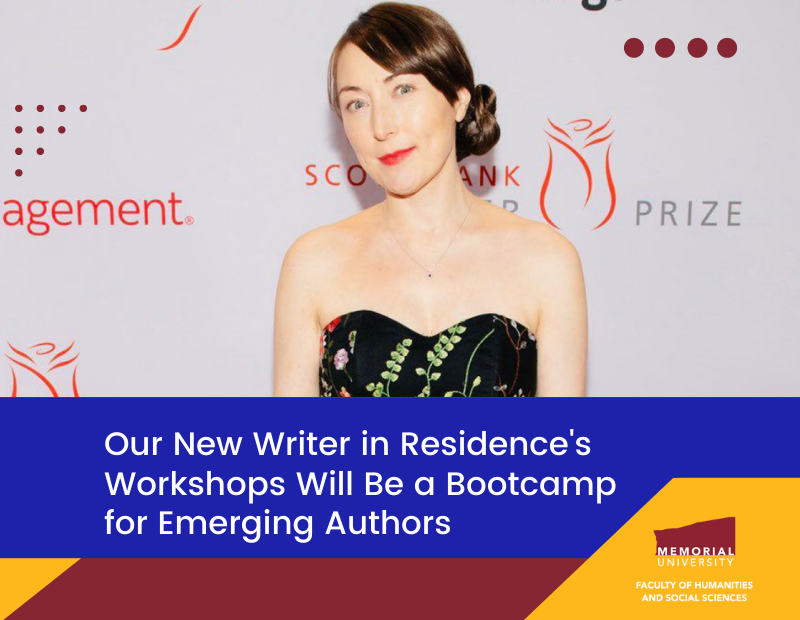 Memorial's Department of English has a new writer in residence for winter 2022, and she's looking to help the next wave of authors out of Newfoundland & Labrador get started on the right foot.
Arguably the hottest writer out of N.L in recent years, Megan Gail Coles has been recognized by our province's and our country's most prestigious literary awards – the Winterset Award and Giller Prize respectively – and she's published in all literary forms from short stories and novels to plays and poetry.
It is the vivacity and humanity of her writing that has won her so many accolades, but also her pragmatism about her profession: there's more to being a writer than writing. Knowing this, she's using her residency to offer a * for emerging writers. Her workshop offerings will be as follows:
Writing Prose
Participants will provide and receive constructive feedback on their first draft of short fiction piece shared with the group.
Editing Prose
Participants will present and consider their rewritten pieces as edited according to prior workshop feedback, and incorporate further feedback into their final polish.
Publishing Prose
participants will explore short story funding and publication opportunities, including grant writing, literary journals, agents, and publishers.
Presenting Prose
Participants learn to will select and rehearse excerpts for public and digital performance as per literary readings, launches and festivals.
Closing Student Reading
Participants will present their work at a public reading.
*Anyone wishing to participate in the seminars must apply by submitting a CV and 500 word fiction sample to mgcoles@mun.ca by January 10, 2022. Participants will be notified by January 21. More details here.*
Q: Why did you to include workshops on things like editing and reading skills in addition to the standard writing workshop?
Published writers are well aware that there are many factors beyond raw talent contributing to potential success in arts and letters. Unfortunately, this information is not always apparent to emerging writers who may have made false assumptions regarding the literary arts and the industry of publishing.
I speak from personal experience as I too presumed that writing would be an individual pursuit in solitude based solely on the merits of the work. Which is not to say that is not a major component in the creative process. It is. Nothing will replace the time spent writing and thinking and rewriting. Craft will always be foundational to thriving literary careers. Though there is something to be gained from honing your editing skills early. Especially skills that allow an emerging writer to meet editorial feedback in a self-assured and constructive manner. Mastering the ability to process editorial commentary effectively and efficiently will prevent the considerable self-doubt or grandiosity that often hinder emerging writers from achieving their goals and intentions.
In addition to this, many new writers have no notion of how to impactfully share their prose. They make obvious and countless mistakes that do the work a great disservice. Presenting your work should help, not harm your career. Not everyone can be a house on fire onstage but they can certainly do better than being boring. Poor presentation skills yields low festival invitations, seminar opportunities, media interviews. It is something that will continue to be even more important in our shifting digital world. There are ways to improve even the shyest and tamest delivery. I aim to share this knowledge.
Q: Likewise, what prompted you to have a workshop on publishing prose?
I have worked and continue to work in the publishing industry in a variety of roles so I am familiar with aspects of the professional side of being a writer that may be unknown to many emerging writers. This information is readily available to individuals who have friends and family members working in the literary arts but it was and remains virtually unavailable to individuals from non-creative backgrounds.
This was my experience and I made numerous mistakes navigating the publishing industry some of which threatened my livelihood and mental well-being. I think it is important to inform emerging writers of their rights, obligations and boundaries so they can maintain informed and respectful consent in situations that might otherwise lead to exploitation, poverty and professional peril.
Q: What will YOU be working on during your residency?
I am writing a collection of short stories, a new play and working on some academic papers.
---
Megan's inaugural reading will take place Wednesday, January 19 at 7pm in Suncor Hall, School of Music.