David Cochrane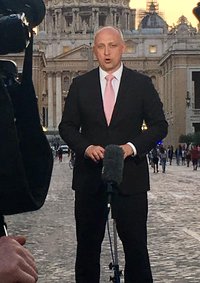 David Cochrane is a senior reporter with the CBC's Parliamentary Bureau in Ottawa. Before relocating to Ottawa he spent nearly 20 years in St. John's as the CBC's Provincial Affairs reporter. David hosted the political television program On Point with David Cochrane as well as On Point Radio. He has also guest hosted national programs such as Power and Politics, The House and CBC News Network. David graduated from Memorial University in 1997 with a double major in English and history. He was the news editor of The Muse from 1995-1997
How and why did you decide to attend Memorial for your degree?
It's so long ago now I'm not sure I can remember! When I hit grade 12 it was very clear that a significant group of my friends would be going to MUN. I was definitely going to attend university and the idea of staying close to home and being with familiar faces was appealing. My father also did his engineering degree at Memorial. So a MUN degree ran in the family.
What drew you to do a degree in English?
English was always my best subject in school and I was a voracious reader in the teenage years. I went to MUN intending to apply to law school and a degree in English with a minor in political science seemed like a solid foundation for that. Of course, I never did go to law school and I finished with a joint major in English and history which helped launch my journalism career.
Do any particular memories stand out from your time here as an undergraduate/graduate student?
My time at The Muse was the most significant event for me at MUN (aside from meeting my wife of course!) as it gave me a clear direction and sense of purpose for my career. That's where I caught the journalism bug and started to build the skill set I needed to get my foot in the door as a professional reporter. Having that newspaper hit the stands every Friday for the two years I was there was the thing I enjoyed most as an undergrad.
What sort of extracurricular activities were you involved in?
I played rugby before injuries and an overall lack
of athleticism prompted me to give that up in my early 20s. The Muse was where I dedicated the bulk of my free time. I often say I majored in Muse and minored in MUN.
If you could do any course over again, what would it be?
It's not a course I would do again, but a course I wish I had done… I regret not doing any economics courses. I spend a lot of time covering government finances (I'm our lead budget reporter) and attending economic summits such as the G7 that I regret not having that economics training. A course I loved that I did in third year was Gothic Fiction with Elizabeth Miller. She was such an enthusiastic prof it made the class a lot of fun. And it's a cliche for MUN students of my vintage, but War and Aggression with Elliot Leyton was a great course.
What's the best piece of advice you ever received?
I got this from my old rugby coach Terry Hogan when I was about 15. "Do what you love and you will be successful." It has proven true. Your job demand so much of you on a daily, weekly, yearly basis that if you don't love it you will be miserable and you will struggle. That's become more clear as I've gotten older and started a family. Your career infringes on your time to do many things. So it has to be something you really want to do every day.
How did you first get interested in politics?
When I was just starting out at CBC in St. John's I quickly realized that every significant decision in Newfoundland
and Labrador ran through Confederation Building in some way. If you wanted to be on the big stories, you needed to be on the political beat. That's what got me interested.
You've been the senior political reporter for CBC in Ottawa for over a year now – must be incredibly exciting. What's been a stand out moment for you to date?
In one year I've been to Japan, the US, France, Germany and Italy on assignment covering the prime minister. That's a rare opportunity that opens the door to even rarer opportunities. I just finished a week-long swing through Italy with Prime Minister Trudeau to attend the G7 in Sicily and then a formal visit with the Pope at the Vatican. During the Vatican visit we were given a private tour of the Sistine Chapel. Just the media, the prime minister and his staff. That was a tremendous privilege.
What's the biggest misconception the general public has about journalists/broadcasters?
That we takes sides or are biased. Obviously that's true in extreme cases. But 99 percent of the journalists I know are sincerely trying to do a good job and tell the best possible story. Nobody wants to be seen as a shill for one party or another. They want their work to be good and to stand the test of time.
What do you say to those who question the value of an arts degree?
They're wrong. All postsecondary education has value. And the way work is changing now with automation and technological change, skills such as flexibility, adaptability, communications, and comprehension are invaluable. Those skills are baked into an arts degree.
What would people be most surprised to learn about you?
I like science fiction and fantasy movies. I love superhero movies. I also like video games. A lot. These are the geeky indulgences I carried with me into adulthood. With a three-year-old and a six- month-old I don't get to indulge in those as much as I'd like. So I'm really hoping my sons like those things when they get older.
What advice would you give a student who is unsure of what to study?
I think it goes back to the best piece of advice I got -- do what you love. Life is too short to be miserable and doing things you don't like.
What's your favourite place to visit?
When I lived in St. John's the answer was Rome, New York and San Francisco. Now that I live in Ottawa, the answer is St. John's.
What are you reading and listening to these days?
I mostly listen to news and sports in my free time. But the tree three artists I listen to most right now are The Tragically Hip, The Rolling Stones and the Talking Heads. My musical tastes have been locked in for quite some time!
As for reading, three books a night every night at bed time with my three-year-old. I read whatever he picks out. It's the best part of the day.
What are you most looking forward to within the next year?
Spending time with my family. Our oldest boy (aka
The Toddler) is three. Our youngest is six months. These are precious times and my wife and I plan to soak up every second that we can.