SPARKS Fly - Memorial-grown literary festival enters its sixth year
Jan 9th, 2015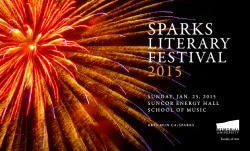 SPARKS Fly - Memorial-grown literary festival enters its sixth year
Fans of Newfoundland and Labrador writers and writing will soon come together at the SPARKS Literary Festival, a celebration of the written word in Newfoundland and Labrador.
The sixth annual festival will be held at the Suncor Energy Hall in Memorial's School of Music on the St. John's campus on Sunday, Jan. 25, from 10 a.m.-6 p.m.
The main part of the day is organized into four sessions, each of which will feature readings in a variety of genres and voices.
"A new development this year is our inclusion of works which marry text and the visual," said Mary Dalton, festival director and founder, English professor and poet. "Jenny Higgins will read from her book Perished: The 1914 Newfoundland Sealing Hunt Disaster and show images of some of the documents connected with that harrowing event. Don Austin will read from a poetic sequence, which also is a game designed by visual artist Tara Bryan.
"Several of our major writers, among them Michael Crummey, Don McKay and Russell Wangersky, have released new books this year; they will be giving voice to them at the festival. Our new creative writing faculty member Lisa Moore will participate. And we have three visitors from outside the province reading: Shoshanna Wingate from New Brunswick, Linden McIntyre from Toronto, and Thomas McCarthy, a poet and novelist based in Cork City, Ireland."
The day-long event also features various displays reflecting the variety of ways literature is produced in Newfoundland and Labrador. ISER Books, the Newfoundland Quarterly and literary journals Riddle Fence and Paragon will be among those displaying work. The Memorial University Bookstore will be selling books by all participating writers.
With the support of Brown Fitzgerald Morgan & Avis, SPARKS is once again sponsoring a poetry competition. This year submissions are welcome on any subject in any style or form. Cash awards for three poems will be awarded at the festival and the deadline for submitting entries is Jan. 16. Law firm Cox & Palmer sponsors the $2,500 SPARKS Literary Award, which acknowledges outstanding achievement in any genre in the field of creative writing by a current or recent participant in Memorial's creative writing courses. The winner will be announced during the festival's closing events.
An evening reception will follow. Admission is free and parking will be available in lot 15B. Further details on the festival, the poetry competition and a complete schedule can be found at www.arts.mun.ca/sparks.