Provincial leaders debate sponsored by CARE
Oct 8th, 2015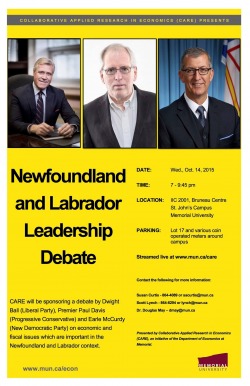 Provincial leaders debate sponsored by CARE
Provincial political party leaders will take part in a pre-election debate on the St. John's campus of Memorial University on Wednesday, Oct. 14.
The event is presented by Collaborative Applied Research in Economics (CARE), an initiative of the Department of Economics at Memorial.
The debate takes place from 7-9:45 p.m. in the lecture theatre of the Bruneau Centre for Research and Innovation, room IIC-2001. The event is open to the public and the media.
Dwight Ball of the Liberal Party, Premier Paul Davis of the Progressive Conservatives and Earle McCurdy of the New Democratic Party have all agreed to participate.
Organizers will provide four questions to all three parties two weeks in advance of the debate. The moderator will read the questions verbatim.
Each party leader will have time to respond to each question, followed by a discussion of the question among all three leaders before the moderator moves the debate onto the next question.
The debate will provide an opportunity to promote greater understanding of both the economic and fiscal issues facing the province, said Dr. Wade Locke of CARE and the Department of Economics, Faculty of Arts.
"This debate should facilitate the ability of Newfoundlanders and Labradorians to make a more informed decision on Nov. 30," said Dr. Locke.
CARE's philosophy, adopted by its principal investigators – Dr. Doug May, Prof. Scott Lynch and Dr. Wade Locke – is that the provision of unbiased and technically competent analysis, delivered in an understandable format, is essential for public discourse and debate on important public policy issues faced by Newfoundland and Labrador. Consistent with this philosophy, CARE is not an advocacy group, it is not a consulting agency and it is not politically affiliated. The self-identified mandate of CARE is to promote greater understanding of applied economic issues within the Newfoundland and Labrador context.