Last Days in Vietnam
Apr 24th, 2015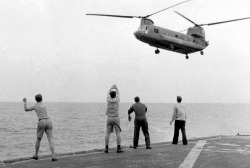 Last Days in Vietnam
On the 40th anniversary of the fall of Saigon (April 28, 1975), Memorial University's Department of Sociology and the Avalon Woodturners Guild are co-sponsoring a free screening of the Academy Award-nominated documentary Last Days in Vietnam.
A Q&A with world-renowned wood artist Binh Pho will follow the screening. Mr. Pho was a teenager on April 28, 1975, and narrowly missed being evacuated the evening American troops withdrew from Saigon. His story is featured in the film.
The screening begins at 7 p.m. in room A1043 of the Arts & Administration Building and free parking is available in lot 15B.