HSS double major John Isiswe Mweemba has won the N.L Human Rights Commission's 2021 Human Rights Award
Dec 9th, 2021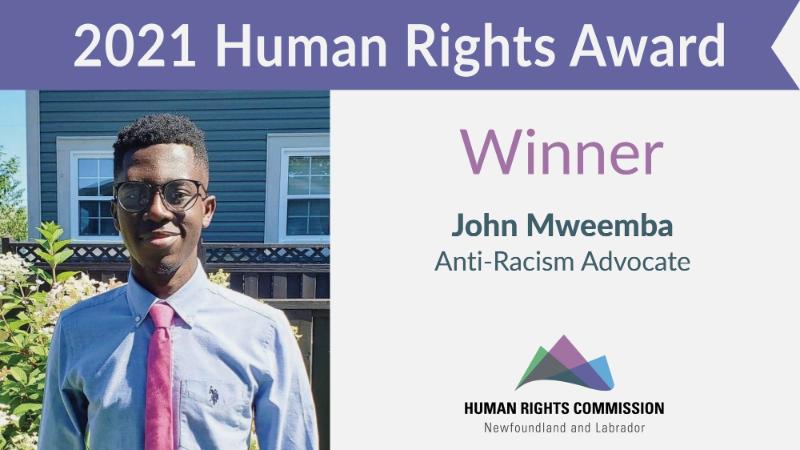 The Human Rights Commission of Newfoundland and Labrador has announced that HSS double major John Isiswe Mweemba (political science / law & society) is the winner of their 2021 Human Rights Award.
The annual award recognizes an individual who has "made meaningful contributions to advancing and furthering human rights in the province."
John says that joining Memorial's political science program in the faculty of humanities and social sciences in 2018 inspired him to become the anti-racism advocate he has become, and credits Memorial professor Dr. Christina Doonan for helping him get started.
John was particularly motivated by the needless death of George Floyd in 2020. After Floyd's death, he created a space for black students to come together, which led to the formation of BSA MUN: the Black Students' Association at Memorial. John became BSU MUN's president and founder and played a pivotal role in establishing the vibrant community it is today.
"The BSA MUN has networked via social media, met with Senator Ravalia, made viral videos about black history and hosted events for black history month for all to learn," reads the press release about his nomination.
This work led to John being recognized by Memorial's 2021 David Kirkland Leadership Award, which is presented to a student with at least a B average who has made exceptional contributions to the Memorial community through their leadership and volunteer efforts during the past year.
Since then, John was elected as the MUNSU director of advocacy, and the position has enabled him to raise awareness of anti-racism in national spaces, and become the Chairperson of the CFS Black National Caucus. Remarkably, he is the first person living in Atlantic Canada to occupy this role.
In addition, John works with the Human Rights Commission (Community Justice Connect Program) and the Black Voice Collective ANC group.