Fifty years of scholarship results in Inuktitut dictionary
Oct 30th, 2015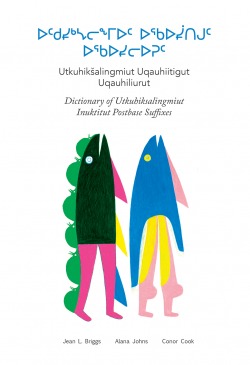 Fifty years of scholarship results in Inuktitut dictionary
This week the Nunavut Arctic College officially released Utkuhiksalingmiut Uqauhiitigut Uqauhiliurut, Dictionary of Utkuhiksalingmiut Inuktitut Postbase Suffixes. The dictionary was authored by Memorial University anthropologist Dr. Jean Briggs, Dr. Alana Johns (University of Toronto) and Conor Cook of Inuit Uqausinginnik Taiguusiliuqtiit.
The Hon. Paul Quassa, the Minister of Education, made the announcement of the dictionary's publication on Tues. October 27 in the Legislative Assembly of Nunavut. In his remarks, Minister Quassa thanked Dr. Briggs and her co-authors for "their persistence, detail and dedication to Inuktitut."
The publication of the dictionary represents 50 years of scholarship by Dr. Briggs who first learned to speak the Utkuhiksalingmiut dialect during her doctoral fieldwork in 1963–1968, in Chantrey Inlet, Northwest Territories (now Nunavut). During this time she became fluent in Utku and development a rich understanding of the culture.
"In order to help me learn the dialect, I wrote down as many as possible of the words I heard around me. I did not at first intend to create a dictionary from this vocabulary, but when I came home, linguists with a scholarly interest in the history and structure of Inuktitut persuaded me to publish the Utkuhiksalingmiut words I had recorded, because previously that central Arctic dialect was unknown to scholars," said Dr. Briggs.
"After the Utkuhiksalingmiut had moved to the multidialectal town of Gjoa Haven, they themselves expressed strong interest in having a dictionary of their dialect, because they feared it was being lost or greatly changed through contact with other Inuktitut dialects and with English. I found this reason compelling, as I owed the Utkuhiksalingmiut a great deal for their help during many years—now nearly five decades—of anthropological fieldwork."
Dr. Briggs was awarded a Tribute Award in 2014 from the Memorial University of Newfoundland Pensioners Association (MUNPA) and has been awarded four major Social Sciences and Humanities Research Council-funded grants since retiring, for work on the Utkuhiksalingmiutitut (Utku) dialect of Inuktitut.