A twist of fate
May 18th, 2016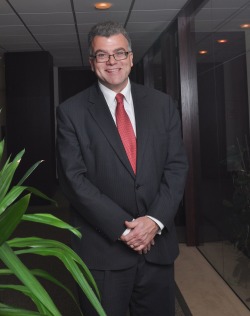 A twist of fate
It's not every day that the vice president of a nationally renowned communications firm collects an MA.
For Summa Strategies' Jim Armour, it's been a long time coming.
The St. John's native originally began his graduate work at Memorial in 1989 after completing a BA in history and political science at McGill. In 1991, with his coursework and much of his research finished, he headed back to the mainland to start writing his thesis. Two and a half decades later, in a strange twist of fate, his thesis was finally delivered to Dr. Sean Cadigan.
"My original supervisor was J.K. Hiller, but Sean agreed to take me on for round two. He and I were graduate students together. He pestered me constantly at the time to stop reading and start writing. Little did he know that he'd still be repeating that refrain 25 years later," said Mr. Armour.
Dr. Cadigan enjoyed his role as Mr. Armour's supervisor.
"It was a lot of fun to work with somebody who was really dedicated to the project he had carved out for himself," said Dr. Cadigan. "I knew he always wanted to see this through and I was happy to be able to help him do it."
According to Mr. Armour, his delay in delivering the thesis was due to "life taking over" rather than a case of writer's block.
"Due to work, family and other commitments, the thesis kept getting pushed further and further onto the back burner. The goal was always to complete it though. Our cat was actually named Moses after my thesis topic as a living reminder to finish the thing," said Mr. Armour, who is based in Ottawa.
"The poor animal held up his end of the bargain for 20 years or so until he breathed his last so I figured it was about time that I held up mine."
He contacted Memorial's history department who gave him a retroactive leave of absence back to when he left the program.
The Reverend Moses Harvey
Mr. Armour's thesis Castles in the Air: The Life, Time and Influence of the Reverend Moses Harvey delves into one of Newfoundland's most prominent men of letters.
A Presbyterian minister-turned journalist who wrote extensively about Newfoundland in the late 19th century, Harvey is best remembered today for his first-hand accounts of the Great Fire of 1892 and writing about the habits of the giant squid.
He wrote countless articles and books about the island, the importance of a railway, landward economic development and the need to modernize the fishery. He also corresponded with dozens of newspapers in Canada, the U.S. and Great Britain. Here at home, Harvey edited the Evening Mercury and served as the official spokesperson for two prime ministers – Sir William Whiteway and Sir Robert Thorburn.
"The late 19th century was a time of great change in Newfoundland and Moses Harvey was at the centre of most of it," said Mr. Armour. "He's been largely overshadowed, however, by D.W. Prowse so I thought he deserved some of the spotlight."
For the professional communicator and writer, returning to academia took some adjustments.
Among these were issues around retaining information and the inability to pull traditional all-nighters ("anything past 10 p.m.") but overall Mr. Armour identifies some unique benefits as a result of delaying his masters.
"My professional future didn't hinge on the outcome, which was very liberating. I also came at my subject with a little more perspective and perhaps sympathy than I had originally. In many ways, it's a much stronger thesis," he said, quickly adding that he doesn't recommend procrastination as an approved academic research tool.
"The biggest adjustment I had to make was learning how to put up with the stares of disbelief when I pulled out some paper and a pencil at the library. You'd have thought I was chiseling my notes into a stone tablet," said Mr. Armour who acknowledges technology's role in accessing key digital records in Belfast and the north of England.
He is eagerly anticipating making his graduate degree official at the convocation ceremonies on May 31.
"What I'm most looking forward to is raising a glass with friends and family. The trouble with waiting so long to finish your thesis is the people that I'd like to thank the most are no longer here, but you can be sure that I'll be toasting them as well."