Rare syndrome no impediment to graduation
Oct 30th, 2014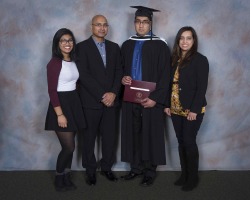 Rare syndrome no impediment to graduation
Graduation is a special time for many of us. This year, for the Rabbani family, it was perhaps a little more special than most.
Ibrahim Rabbini, who graduated with a BA in philosophy at Memorial's fall 2014 convocation ceremonies, suffers from a rare genetic condition known as 22q11.2 Deletion Syndrome that affects 1 in 4000 people. As a result he has various cognitive and visual spatial learning issues causing him to stress over exams and to have challenges with his long and short-term memory.
With support and encouragement from the team at the Glen Roy Blundon Centre, Mr. Rabbani was able to gain confidence and work towards the best academic results possible for him. This included the implementation of academic accommodations to write his tests and exams, in accordance with Memorial's Accommodations for Students with Disabilities Policy.
"I have high exam anxiety," he explained. "I was not able to focus on writing exams in the classroom or even in the gymnasium with all my peers because it was extremely intimidating seeing others leave before me or realize the limited time I had to write exams."
Mr. Rabbini is originally from Ontario but opted to attend Memorial after spending his formative years in Atlantic Canada and because of Memorial's excellent reputation, smaller class sizes, as well as his desire for new experiences. He singles out Dr. Suma Rajiva (philosophy) and Dr. Jennifer Porter (religious studies) as being particularly inspiring.
"Each of them gave me a reason to push my knowledge and abilities to the limit. In their courses, I was able to stay interested, and invest the most time and effort I could muster into my assignments."
To show their gratitude to Memorial and to increase awareness of 22Q, Mr. Rabbani's family has established a scholarship in his name to be awarded annually to an undergraduate student in the Faculty of Arts who has a recognized disability.