Rare photos on exhibit
Dec 15th, 2014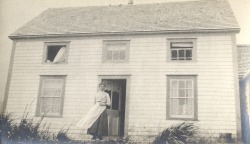 Rare photos on exhibit
A unique collection of photographs is currently on exhibit on the 3rd floor of the Queen Elizabeth II Library.
E. Mary Schwall: Traveller, Mission Volunteer and Amateur Photographer is a series of black and white photographs taken in the summers of 1913 and 1915 when Mary Schwall was a volunteer for the Grenfell Mission.
The exhibit includes photographs from all of the communities in Newfoundland and Labrador en route from her home in Bedford, Massachusetts, via Mulgrave, Nova Scotia, to the Grenfell Mission, in St. Anthony, Newfoundland and Battle Harbour, Labrador. The photos provide a unique glimpse into the daily life of communities in Newfoundland and Labrador in 1913 and 1915, through the lens of a tourist/traveller and amateur photographer.
Dr. Katherine Side who has researched the collection, curated the exhibit with the assistance of Linda White, archivist in the QEII Library, archives and special collections department.
"To the best of my knowledge, this is the first time the collection has been displayed," said Dr. Side, who is currently the interim associate dean, School of Graduate Studies and also an associate professor in the gender studies department. "What I have tried to provide for viewers is some background about who Mary Schwall was, how this collection was acquired and what it provides, in terms of our understanding about tourist travel in Newfoundland, Grenfell Mission volunteers and amateur photography at the turn of the 20th century."
According to Dr. Side, there is a body of scholarly work that suggests that photography was one of the ways in which women at this time could document their independence, and Schwall's collection illustrates this quite nicely.
The exhibit runs until January 15, 2015.