MUNPA tribute awards to arts faculty
Dec 3rd, 2014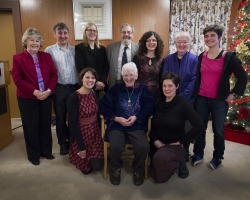 MUNPA tribute awards to arts faculty
Anthropologist Dr. Jean Briggs and administrator and philosophy professor Dr. Evan Simpson were awarded the 2014 MUNPA Tribute Award, which recognizes the importance of the ongoing contributions of Memorial's retirees to the university or the community.
Since her retirement in 1994, when she received a Henrietta Harvey Professorship, Dr. Briggs has maintained her characteristically intense level of activity, both academically and in her community service.
She has been awarded four major SSHRC-funded grants since retiring, for work on the Utkuhiksalingmiutitut (Utku) dialect of Inuktitut. Three of these were team grants, for work on a postbase dictionary – the Dictionary of Utkuhiksalingmiut Inuktitut Postbase Suffixes. This dictionary will be published in 2015 by Nunavut Arctic College. A larger dictionary of wordbases is in process.
Dr. Briggs lived in the Arctic for a total of six years between 1963 and 2002, during which time she became fluent in Utku and developed a rich understanding of the culture.
"This makes her literally the only person in the world who can undertake the extremely ambitious and innovative work of documenting the entire Utku language in a deeply nuanced and detailed manner," said Dr. Adrian Tanner, who nominated Dr. Briggs for the award along with Dr. Carrie Dyck and Dr. Roaul Andersen. He explains that for this work, Dr. Briggs collected 600 recordings after retirement. These recordings form the basis for the Utku dictionary. To do the recordings, Dr. Briggs interviewed Utku elders (including her adoptive Utku mother) in the language.
"This is a significant accomplishment in itself: it is virtually unprecedented for dictionary work on Inukitut (or any First Nations language) to be conducted entirely in the language; this makes the dictionary project particularly valuable because the word-meanings are not mediated through English," said Dr. Dyck.
In 1996, Dr. Briggs received an honourary doctorate from the University of Bergen, Norway. In 1999, she was awarded both the Boyer Prize in Psychoanalytic Anthropology, and the Victor Turner Prize for Ethnographic Writing for her second book, Inuit Morality Play, published in 1998. In 2001, she was made a Fellow of the Royal Society of Canada. She was a visiting scholar at the University of Alaska at Fairbanks in 2003, and in 2005 was awarded the Lifetime Achievement Award by the Society for Psychological Anthropology. In 2006 an entry in the Encyclopedia of Anthropology was devoted to her work.
For more information on Dr. Briggs' life and work see www.mun.ca/gazette/1999-2000/Jan.27/newspage9.html and today.mun.ca/news.php?id=8870.
Dr. Evan Simpson is an honourary research professor and a former member of the philosophy department.
"For many of us retirement is mostly a matter of moving from one payroll to another. Everyone can look forward to the change, especially when Memorial does so much to recognize its retirees as ongoing and active members of the community," said Dr. Simpson. "Receiving a Retiree Tribute Award is a welcome reminder of this continuity."
At his retirement Dr. Simpson was vice-president (academic) and he re-assumes the position on a pro tempore basis in 2010 at the request of Memorial's president Dr. Gary Kachanoski.
He was nominated for the award "because of his continuing and profound contribution to the development of Memorial" according to Dr. Shane O'Dea, who nominated Dr. Simpson for the award along with Ms. Maire O'Dea and Dr. Michael Collins.
Dr. Simpson has stayed active in the philosophy department by participating in seminars, publishing research articles and working on an upcoming book. He has also chaired a number of review committees, was an active promoter of the Teaching and Learning Framework and co-chaired the family campaign aspect of the 2009 Capital Campaign.
A past president of MUNPA, Dr. Simpson is credited with giving the organization a much stronger voice within Memorial University. He served as the chair of the Aboriginal Initiatives Task Force in 2008 and currently serves as the Interim Advisor to the President on Aboriginal Affairs.