Geography department launches research report
Feb 26th, 2015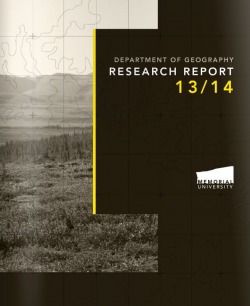 Geography department launches research report
The Department of Geography is pleased to announce the production of their second annual Research Report, sharing the exciting research happening in the department with the wider university community and beyond!
The department's Geography Research Group pulled together the projects and talent featured in the report. Five research clusters are represented by faculty-led research projects: Dr. Joel Finnis' research in marine forecasting; Dr. Carissa Brown's investigation of species distributions; Dr. Charles Mather's research in resource sustainability; Dr. Arn Keeling's research of industrial and military pollution in the North; and Dr. Alvin Simms' work in the mapping and analysis of health indicators. This is only a sample of the great research that the department is involved in. The "Talent" section features a group of outstanding graduate students who are embarking on shining careers in the arts and sciences.
The Department of Geography acknowledges the Vice President (Academic's) Scholarship in the Arts Initiative for supporting the publication of their Research Report.