Department of English hosts conversation about boreal forests, poetry and multimedia
Nov 4th, 2014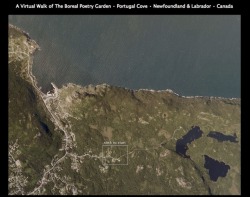 Department of English hosts conversation about boreal forests, poetry and multimedia
Memorial University's Department of English is hosting a conversation about boreal forests, poetry and multimedia on Thurs., November 6 featuring local environmental artist and poet Marlene Creates and ecocritic Dr. Derek Gladwin of the University of Alberta.
Ms. Creates' multimedia environmental artwork and landworks provide excellent examples of how the internet can develop environmental awareness for people through what some scholars call "place-based practice." She will begin with some examples of her site-specific environmental work, which spans over three decades, and then she will address a seemingly contradictory move, which was to make a virtual walk for the internet of the patch of boreal forest where she lives in Portugal Cove.
Dr. Gladwin's interdisciplinary research converges on the areas of environmental humanities, spatial studies and social systems related to postcolonial, gender and Gothic studies. He will discuss how generating
 multi-sensorial experiences engages an audience more effectively, and
 ultimately provokes environmental awareness through personal experiences of
 place. Their talk will be combined with a multimedia presentation of some of these ideas.
"What's exciting about this event is a chance to hear two people, from different disciplines – the art world and the academic – talk with each other about their shared interests," says Danine Farquharson, associate professor of English and organizer of the event. "Those interests are so relevant to many of us today; they're both asking how we can develop an environmental ethos in the 21st century using innovative forms of social and multimedia."
All are welcome to the talk which takes place Thurs., November 6 from 8 to 9:30 p.m. in room 1046 of the Arts and Administration building.