Creating a consciousness
Mar 3rd, 2016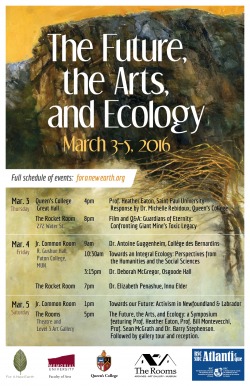 Creating a consciousness
The second in an ongoing series of initiatives aimed at creating collaboration among humanities and social sciences scholars about the future of the planet will take place this week in St. John's.
The Future, the Arts, and Ecology (March 3 - 5, 2016) is a follow-up to the Sept. 2015 event The Future of Nature which was held on the west coast of Newfoundland.
"We are particularly interested in bringing the arts and the sciences together in a publicly engaged way," said Dr. Sean McGrath of the Department of Philosophy. "We are looking forward to creating a consciousness in Newfoundland that does not yet exist, one in which ecological concerns are taken as serious as economic concerns."
One of the key events is a presentation by Innu Elder Dr. Elizabeth Penashue who will give her perspective on why the land is sacred to her people. Just last week Dr. Penashue Dr. Penashue embarked on a trek on the Trans-Labrador Highway to protest the Muskrat Falls development.
Dr. Maria Mayr of the Department of German and Russia, who co-organized the event, is particularly exited about Elizabeth Penashue's visit.
"The kind of integral approach to ecological questions we are exploring over the three days of The Future, the Arts, and Ecology, essentially calls for a rethinking of all areas of human activity as interrelated and encourages one to take into account the insights provided by all kinds of different value and knowledge systems," said Dr. Mayr. "Therefore, I am very grateful that Dr. Elizabeth Penashue has agreed to share some of her perspectives on the human-nature relationship with us, given that these perspectives draw on a value-system rather different from the one currently dominating Western consumer society."
According to Dr. McGrath, the appearance of Dr. Heather Eaton from Saint Paul University in Minnesota (she is discussing Earth Democracy: Ecology, Ethics and Spirituality for a Viable Future) is the first collaboration between Queen's College and the Department of Philosophy.
"Not too many people know as much about the ecological crisis facing the world as Heather," added Dr. McGrath.
Among the other keynote speakers are Dr. Deborah McGregor who is a specialist in aboriginal affairs at Osgoode Hall Law School and Antoine Guggenheim, a specialist in Catholic theology and philosophy at Bernardine College in Paris who will guide attendees into some of the theological depths of Pope Francis' 2015 encyclical on the environment.
The Future, the Arts and Ecology is supported by the Social Sciences and Humanities Research Council, the Royal Society of Canada (Atlantic), the Faculty of Arts and Vice President (Academic)'s fund for scholarship in the arts. The departments of sociology, gender studies, German and Russian, and philosophy have all contributed to the event.
For a complete schedule of events see http://foranewearth.org/, like For a New Earth on Facebook or follow @foranewearthorg on Twitter.