ARTS alumnus wins Winterset Award
Mar 30th, 2015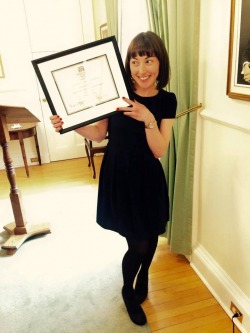 ARTS alumnus wins Winterset Award
Megan Coles, an alumna of the Faculty of Arts, was named the winner of the 2014 BMO Winterset Award at a recent ceremony at Government House in St. John's.
She received the $10,000 award for her short-story collection Eating Habits of the Chronically Lonesome, which is published by Killick Press.
A writer and playwright, Ms. Coles graduated from Memorial in 2003 with a degree in English.
She is a native of Savage Cove on the Great Northern Peninsula and, after graduating from Memorial, attended the National Theatre School of Canada. She is the co-founder of Poverty Cove Theatre COmpany and is currently working on a number of theatrical works.
The BMO Winterset Award celebrates excellence in Newofoundland and Labrador writing. Books in any genre by Newfoundland and Labrador authors published in 2014 were eligible this year; 26 books were submitted by publishers from across the country. The award honours the memory of social historian and author Dr. Sandra Fraser Gwyn and is named aftter the Winter Avenue home in St. John's in which she grew up.