Karl Wells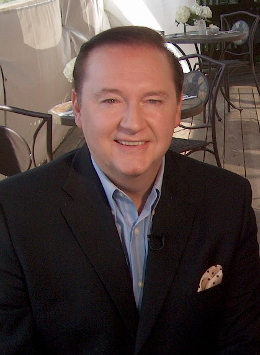 Karl Wells is widely known for his 31-year career with the CBC. Most of Karl's CBC career was spent delivering a nightly weather report on "Here and Now." This was done in conjunction with conducting live remote interviews with guests in communities across the province. Since retiring from CBC Television Karl has continued to pursue a career as a food critic, writing a weekly Dining Out column for The Telegram, as well as food and non-food pieces for other publications.
In 2008 Karl began producing and hosting the program, "One Chef One Critic", for Rogers TV. The cooking show features a special guest in every episode, cooking demos from chefs and chats with wine experts. To date "One Chef One Critic" has produced 125 episodes and is expected to film an eighth series of episodes this spring.
In 2013 with the release of the book, Cooking with One Chef One Critic, Karl Wells became a published author.
He is a permanent judge with the Canadian Culinary Championships, an accredited personal chef and a recipient of the Sandy Sanderson Award given by the national body of the Canadian Culinary Federation. For more info see www.karlwells.com.
How did you get started at Memorial?
I graduated from high school at 16. My parents were pointing me in the direction of MUN. I had an interest in theatre but my options were limited. There was no Fine Arts Program at MUN in 1970. When I was growing up the idea of someone from Newfoundland going off to become a stage actor was pretty far-fetched. (At that time my family had never heard of Gordon Pinsent.) So I decided to begin my higher education by studying English at MUN.
Do any particular memories stand out from your time as an undergraduate? What did you do your undergraduate degree in?
Eventually I made the decision to complete the conjoint degree program and graduated with a B.A. and B.Ed.
I remember in my first year many English professors still wore the black academic gown. That really impressed on me that I was no longer in high school. It was cool that one of my English professors was Dr. Helena Frecker, Memorial's first woman graduate. She was a natural teacher.
Another natural teacher and great talker was Dr. Otto Tucker. He was a fixture of the Education Faculty during my years and had a great influence on me as a human being. So did Professor Bernie Borisoff, a member of the Education Faculty who taught speech. (He was one of Francis Ford Coppola's high school teachers in New York.) I remember taking part in a MUN Readers Theatre production of Under Milk Wood directed by Bernie. The great Newfoundland poet, Al Pittman, was in that show. (I've been thinking about that play for voices a lot lately since this year marks the 100th birthday of the author, Dylan Thomas.)
Extracurricular activities took up a lot of my time as well. I was fortunate to get a part-time paying job at the MUN Educational Television Centre. It was located in the basement of the Education Building. We produced TV versions of for credit courses as part of MUN's distance education program. I worked there as a production assistant, cameraman, audio operator, VTR (videotape) operator and announcer. I also worked as a MUN radio volunteer news reader before CHMR got a broadcast licence. In those days we were on the Thompson Student Centre public address system.
Around the world it was an exciting time on university campuses. Students were challenging the establishment. The Vietnam War was raging. The Kent State shootings had just happened and then came the FLQ crisis. At Memorial, however, it was business as usual. Apart from one sit-in at the Administration Building (something about tuition fees I think) my class was focused on graduating and joining the workforce. Of course, in my case, I became fascinated with making TV programs at ETV. My academic studies suffered as a result.
You were well known as the CBC weatherman for 31 years – how did you get started at the national broadcaster?
I had begun working as a summer replacement announcer at the CBC in 1974, and also as a radio actor in 1974. Management seemed to like and respect me. When I graduated from MUN in 1976 I was offered another summer position at the CBC. Toward the end of that summer I was offered a full time position and I spent the next 31 years there. It was the classic case of being in the right place at the right time.
Two years after hiring me the director of television for CBC Newfoundland offered me the weather position on "Here and Now", as well as anchor of the late night news program, "Newsfinal". I think the weather gig was the carrot to get me to work a permanent evening shift.
I stayed as the late night anchor for 12 years until I was asked to do a more elaborate weather broadcast involving a community segment. Later, I worked a split shift when I became a national TV weather broadcaster on a morning show called "CountryWide". It aired on one of the first CBC digital cable channels called, "Country Canada Network".
Weather men/women often become local celebrities, sometimes more so than news readers – see the current popularity of Ryan Snodden – to what do you attribute this phenomenon?
In my case, it had nothing to do with the weather. It had everything to do with what I was doing on the remote community broadcasts outside the studio, in conjunction with the weather. Our ratings began to climb immediately after we started that segment. People became fascinated with the live broadcast and wanted to watch each evening just to see where I was going to be that night and who I might be speaking with.
You've been the restaurant reviewer for The Telegram for several years now and now co-host One Chef One Critic on Rogers. Were you always interested in food? How did those initiatives come about?
A passion for food and cooking is in my genes. There's no question about it. Before my dad went into the grocery business he was a professional chef. His brother was a professional chef and my mother's father, my grandfather, earned his living as a chef. I was visiting professional kitchens with my dad when I was six. My grandmother taught me how to make an apple pie when I was 10. I loved the experience and eventually taught myself how to cook.
Back in 2003, because I had been doing food segments on a show called "Food Chain" for the "Country Canada Network", a guy called me from western Canada and asked me if I'd like to write restaurant reviews of St. John's restaurants for a national website. I said sure, and that's how I became a restaurant reviewer. A year later The Telegram was looking for a restaurant reviewer. Apparently they'd done a focus group and one of the results was a suggestion they add restaurant reviews to the paper. So, Miller Ayre, the publisher and Russell Wangersky, the editor, hired me to write restaurant reviews. It's been over 10 years and I think I'm finally getting the hang of it.
After I took early retirement from the CBC it was quietly suggested that I do a weather show for Rogers TV. After spending a full career in TV weather I had zero interest in doing more of the same.
When I suggested to somebody that I might be interested in going back on television with a food or interview show, I was pitched the idea to do "One Chef One Critic". We chatted about what kind of show it might be and I suggested filming it in my house with various guests and segments. Everything came together very quickly and before you knew it, I was back on television. This spring we're hoping to film our eighth series. I think we'll be approaching 140 episodes by 2015.
What's the most exciting thing going on right now in the NL food scene?
Without a doubt it is the fact that we now have many chefs in St. John's and a handful outside the overpass, who actually know how to cook. It's fine to have brilliant local ingredients but unless you know what to do with them, what's the point? It's a sin to see a piece of local lamb or fish ruined by someone who doesn't have a clue what they're doing. I'm excited about the future of our local restaurant scene because many of these talented chefs are training up the next generation of chefs. And, as long as our economy continues to be healthy, these upcoming chefs will stay here and possibly open their own restaurants one day. We're actually on the verge of that happening I think.
What do you consider the relevance of your arts degree to your varied career?
I'm not sure it's the degree as much as it was the wonderful experience of being in an academic environment for just over five years of my life. I met and socialized with some very interesting, very bright people. These were critical thinkers with lots of passion and great ideas. Sitting at a table in one of the MUN cafeterias with some of these folks was an education in itself.
University opens your mind and exposes you to information that otherwise you might only learn haphazardly over a lifetime.
I always recommend university or post-secondary education to people. Not because it will help you get a job, but because it makes you a more seasoned person.
What's a typical day like for you?
Most days begin with time spent catching up on various online newspapers. I thoroughly enjoy some of the Canadian sites as well as many UK newspaper sites. I'm also a big New York Times fan.
Later I will either spend time writing my "Telegram" column or writing a magazine piece. I just had an 800 word piece about St. John's published in Harry magazine for example. Much of the remainder of the day is spent working for Rogers TV, either as producer of "One Chef One Critic" or as their sponsorship representative (I regularly meet with companies and organizations that might be interested in sponsoring the community channel to assist our efforts in producing 100 per cent local television content).
In the evening my spouse and I may cook dinner and enjoy a glass of wine, or go out to a restaurant. Then I'll relax and watch the latest episode of "Coronation Street" followed by some BBC, CBC or CNN news.
What's your favourite meal to cook at home?
Anything that includes some kind of meat, onions, garlic and a little beer or wine, covered and cooked over low heat for an hour or two. In other words, a braise.
Who is your most memorable guest to date for the program?
Mark Critch. He's a friend and in three appearances over the years he's been charming and funny and always manages to do or say something completely demented.
What's the biggest misconception the general public has about food critics?
Two things. First that we're supposed to be cheerleaders for restaurants and write puff pieces about them regardless of whether they're good or not. Or, there's the misconception that because we're "critics", our main job is to find fault.
Personally I prefer the term restaurant reviewer. I think people get hung up on the word critic. When I visit a restaurant I go in hoping for a wonderful experience with beautiful food and friendly, efficient service. That's what I want to write about. That's what I get passionate about. A theatre critic wants to listen to great dialogue and see fine acting. A music critic wants to hear wonderful music performed brilliantly. Sometimes that doesn't happen. Then it's my job to let my readers know honestly what the experience was like, in a fair and balanced manner. I always strive to be constructive in my criticism. The last thing I want to do is be negative for the sake of being negative.