Graduate student receives scholarship honouring late Beothuk scholar
Mar 25th, 2014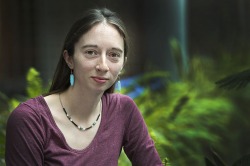 Graduate student receives scholarship honouring late Beothuk scholar
Master of arts student Jeralyn Bohms from the Department of Archaeology received the 2013 Pioneer's Scholarship at an event earlier this month held in honour of the late Beothuk scholar and former Memorial faculty member Dr. Ralph Pastore.
Dr. Pastore, who passed away 12 years ago, is credited with discovering the Boyd's Cove Beothuk site and was a prolific writer on Beothuk archaeology.
"I'm very honoured to have received the Dr. Ralph Pastore Pioneer Scholarship," said Ms. Bohms, who arrived at Memorial after completing a graduate degree in Wisconsin. "One of the aspects of Dr. Pastore's work that resounds with me is his dedication to sharing his research with the communities where he worked. I hope to live up to that precedent with my work in the Inuit community of Rigolet, where I will be doing my master's research this summer. I am grateful to the Pastore family, the Amina Anthropological Resources Association, Adventure Canada and all the other individuals who contributed to the scholarship fund for sharing their generosity."
For her master's thesis, Ms. Bohms will be excavating an 18th-century Inuit communal winter house at the Double Mer Point site near the town of Rigolet, Labrador, under the supervision of Dr. Lisa Rankin, head of Memorial's Department of Archaeology.
"I am delighted that Jeralyn was awarded this scholarship," said Dr. Rankin. "Her research on European-Inuit contact aligns well with Dr. Pastore's and like Ralph, she made the move to Newfoundland from the U.S. to further her research. International graduate students don't always have the same access to scholarship funds that our Canadian students do and I am grateful that the Amina Anthropological Resources Association opened up this competition to all students studying in the North."
Dr. Pastore moved to St. John's in 1968 to begin lecturing at Memorial. His most notable contribution to Beothuk studies was determining the multifaceted reasons for Beothuk demise. In addition to adverse interaction with European settlers, he cited factors such as non-adoption of a fur trade, disease, starvation, competition for resources with Europeans, avoiding contact with Europeans, and the precarious nature of Newfoundland's ecology for their extinction. For its impact on Newfoundland and Labrador's cultural heritage, the Boyd's Cove site was designated a Provincial Historic Site in 1999.
"Ralph discovered over 25 sites in the Notre Dame Bay area, the most famous of which is Boyd's Cove," said Dr. Latonia Hartery, president of the Amina Anthropological Resources Association and Social Sciences and Humanities Research Council post-doctoral fellow in Memorial's Department of Archaeology. "Through his research, we gained a more rounded view of who the Beothuk were as people, and his work is still the starting point for anyone interested in Beothuk Archaeology."
The scholarship was sponsored by the Amina Anthropological Resources Association, the travel company Adventure Canada, the Pastore family, the Mogford family and Dr. Ingeborg Marshall. An overview of Ms. Bohms research supported by this award can be read at www.aminainc.org/Scholarship/Scholarship_Bohms.html.
Those interested in further information on the scholarship can contact Dr. Hartery at ljharter@aminainc.org.