Arts student wins Cuffer Prize
Nov 27th, 2013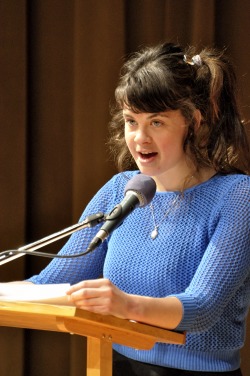 Arts student wins Cuffer Prize
Eva Crocker, a student in the creative writing stream of the MA in English literature, has been named the winner of The Telegram's annual Cuffer Prize for short fiction.
Beating out 175 entries, Ms. Crocker received the top prize and $2,000 for her story Skin and Mud.
The story was written for a Memorial University creative writing class and tells the story of two boys in a rural community who experience a sexual encounter at a young age.
"The English department is thrilled that Eva has fulfilled all our expections for her," said Dr. Donna Walsh, head of the Department of English Language and Literature. "We expected great things and she delivered!"
Ms. Crocker read from her work at the 2013 SPARKS Literary Festival.