An extraordinary ordinary man
Dec 18th, 2015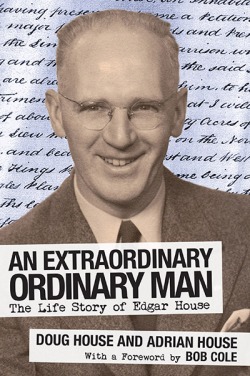 An extraordinary ordinary man
Everyone should have a father, grandfather and teacher like St. John's native Edgar House. A new publication from ISER Books, An Extraordinary Ordinary Man, tells House's life story in his own words, as compiled and edited by his son, Memorial University honorary research professor and sociologist Doug House, and grandson, musician Adrian House.
The author of six previous books, Dr. House says this one was special.
"It's about my father and I did it with my son so I can say it's a family enterprise," said Dr. House, who recorded 20 hours of conversations with his father starting in 2000. "There was a sense that we would want to make some sort of a family document but it has grown into something much more. "
Dr. House is quick to acknowledge the assistance he received from Memorial including a Smallwood grant, the assistance of the folklore department (all of the original tapes are now housed in MUNFLA, Memorial University's Folklore and Language Archive) and "the great crew at ISER Books."
The elder House's detailed reminscences give life and considerable colour to the historical record of 20th century Newfoundland and Labrador.
From running home from Rawlin's Cross to Winter Place with news of the 1918 armistice to holding chemistry lessons for Mercy Convent sisters in the labs of Bishop Feild College (changing "the habits of the nuns" in the process) to the shocking language of a certain five-year-old named John Crosbie, Edgar House (who passed away in 2006 at the age of 94) recounts anecdotes of famous Newfoundlanders, such as Joey Smallwood, Bob Cole and Tommy Ricketts, in a supremely engaging and inimitable voice.
"He came from a time when story telling was more of a given and people were more proficient at it. He was used to telling stories with a beginning, middle and an end," said Adrian House, who has included examples of the audio interviews on the book's accompanying website, www.edgarhouse.ca.
The first headmaster of Bishop Feild College to be born and educated in Newfoundland and Canada, Edgar House spent the final 24 years of his working life at the Newfoundland Tuberculosis Association (now the Lung Association of NL). He was a gifted athlete, a tireless volunteer for the Rotary Club and a member of Memorial University's Board of Regents. He received an honourary doctorate from Memorial in 1994.
ISER Books managing editor Alison Carr says it was important to publish the book.
"There are relatively few memoirs about suburban St. John's in this era. So it fills a gap in the scholarship – but it's so much more than that," said Ms. Carr. "Edgar House was an extraordinary man to those who knew him, but even if you've never heard of him before, his life story offers a fascinating glimpse of what it was really like – what St. John's looked, smelled, and sounded like – in the first part of the 20th century."
What strikes one throughout the book is the level of cooperation between people and institutions.
"When people had an issue, they got on with it, with no complaining," said Dr. House who cites the building of the Fieldian grounds, fundraising for the original Memorial Stadium and the establishment of a bowling alley at Bishop Feild (the proceeds of which ultimately paid off the mortgage on the Fieidian grounds) as examples.
Credit for the book's title goes to Doug House's brother-in-law George (Jordy) Squires.
"Edgar wasn't rich or famous or powerful but he was extraordinary in the fulfillment he received from his life and the joy with which he lived it," said Dr. House.
Adrian House adds, "He was also very engaged in his community. I think his example shows how you can have a positive and powerful influence on people around you through friendships and volunteer work."
Memorial's associate director of alumni affairs, Lynn Cadigan, is Doug House's niece and Edgar House's granddaughter.
"Gampy was who I want to be," said Ms. Cadigan. "He was kind, respectful, generous and very inspiring. I wish he was alive when I came to work here as it would have made him so very proud."
Doug House has some simple advice for those who are interested in recording the stories of aging family members.
"Do it. So many people think about it and for whatever reason don't follow through. I am so happy I don't have that regret."
Did he learn anything new about his father?
"You only know your father when he is a man. From interviewing him and compiling the book, I learned a lot about his childhood and his relationship with his own father George – who he was very influenced by and had a lot of respect for," said Dr. House. "In my own life growing up, whenever I accomplished anything, my father would often say to me: 'George House would have been proud.'"
An Extraordinary Ordinary Man is available in bookstores throughout the province including Costco, Belbin's, Broken Books and the Downhomer in downtown St. John's. It can also be purchased online from ISER Books – who are offering 30 per cent off online or telephone orders until December 23 (use the discount code HOLIDAY15 at the checkout).
An official launch will be held at 8 p.m. on Jan. 14 at the Ship. All are welcome.